Concesionarios de Dodge cercanos (Titusville, FL)
13 concesionarios en un radio de 50 mi
Central Florida Chrysler Dodge Jeep RAM
|
Ver inventario
8675 Commodity Cir, Orlando, FL 32819 (38 mi)
Abierto ahora

10:30 A M - 7:30 P M
Evaluaciones de compradores
3.3
(80)
Everything was great! I plan to use them again! Very Professional!

Horario de ventas:
dom.: 10:30 A M - 7:30 P M
lun.: 9:00 A M - 9:00 P M
mar.: 9:00 A M - 9:00 P M
mié.: 9:00 A M - 9:00 P M
jue.: 9:00 A M - 9:00 P M
vie.: 9:00 A M - 9:00 P M
sáb.: 9:00 A M - 9:00 P M
Deland Chrysler Jeep Dodge Ram Incorporated
|
Ver inventario
2173 S Woodland Blvd, Deland, FL 32720 (40 mi)
Abierto ahora

11:00 A M - 5:00 P M
Evaluaciones de compradores
3.4
(20)
We were very interested in the 2014 Ferrari offered by this dealership. Drove 5 hours to see if, and were in ongoing negotiations for a period of time. When we raised our offer we received a text message that the car was sold that morning. Ok but here's the catch, we were still negotiating at a price apx. 20K higher than the car was actually sold. This dealer continued to negotiate with us, lowered the online price, and sold the car to another buyer without giving us the opportunity to buy it at the lowered price. Very, very poor business practices.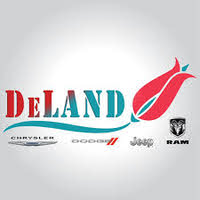 Horario de ventas:
dom.: 11:00 A M - 5:00 P M
lun.: 9:00 A M - 8:00 P M
mar.: 9:00 A M - 8:00 P M
mié.: 9:00 A M - 8:00 P M
jue.: 9:00 A M - 8:00 P M
vie.: 9:00 A M - 8:00 P M
sáb.: 9:00 A M - 8:00 P M
Daytona Chrysler Dodge Jeep Ram & FIAT
|
Ver inventario
1450 N Tomoka Farms Rd, Daytona Beach, FL 32124 (47 mi)
Abierto ahora

11:00 A M - 6:00 P M
Evaluaciones de compradores
4.8
(6)
Horario de ventas:
dom.: 11:00 A M - 6:00 P M
lun.: 9:00 A M - 9:00 P M
mar.: 9:00 A M - 9:00 P M
mié.: 9:00 A M - 9:00 P M
jue.: 9:00 A M - 9:00 P M
vie.: 9:00 A M - 9:00 P M
sáb.: 9:00 A M - 7:00 P M
Mostrando concesionarios 11 - 13 de 13