Looking for a Used Roadster in your area?
CarGurus has 7 nationwide Roadster listings and the tools to find you a great deal.
2007 Tesla Roadster
Overview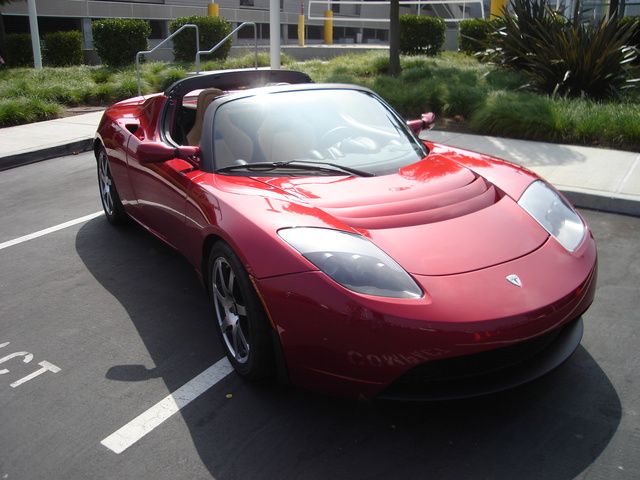 When PayPal's founder, who has a NASA contract for the next space shuttle, joins a Silicon Valley electronic visionary who has a propensity for fast cars and a group of investors that includes Google's founders, you might expect an unusual product. How about a car that resembles a Lotus Elise, gets from 0 to 60 in less than 4 seconds, and has a 130-plus-mph top speed, yet ranks six times as efficient as the best sports car and produces one-tenth the pollution, because it uses no motor oil, oil filters, or air filters and has no exhaust emissions?
The Tesla Roadster could be the tipping point for the end of the internal combustion engine. This electric motor vehicle attempts to synergize the latest battery, computer, and electronic engineering. This amazing sports car has three basic elements: the Energy Storage System (ESS), the motor, and the Power Electronics Module (PEM).
The ESS, or the battery pack, forms the heart of any electric vehicle. Enter Martin Eberhard, the aforementioned Silicon Valley visionary. He had a eureka moment that led to the tying together of numerous lithium-ion batteries into the vehicle's "fuel tank." This technology provides plenty of long-lasting power to drive the car for 250 miles under normal usage on one charge, which takes 3.5 hours.
The watermelon-sized motor weighs about 70 pounds. Stack that against a Z06 Corvette's V8! The electric motor spins in twin ceramic bearings to a 13,500-rpm redline. However, unlike a gasoline engine that revs to deliver its torque, the electric motor has full torque at 0 rpm. Step on the accelerator and the Tesla Roadster surges from 0 to over 130 mph. "Electro-magnetic" acceleration - a rush of speed without the normal cacophony of exhaust pipes, air intake, or gearshifts.
The brains of the operation lie in the PEM. These are software-controlled electronic subsystems that integrate the car's power management - the voltages, the motor's proper speed and direction of rotation, torque, charging, regenerative braking, and regulation of the battery pack cooling system.
Bundle all this technology up in an design and manufacturing agreement with Lotus Cars, and you have one very green, very fast, and very beautiful sports car.
What's your take on the 2007 Tesla Roadster?
Have you driven a 2007 Tesla Roadster?
Cars compared to 2007 Tesla Roadster
Looking for a Used Roadster in your area?
CarGurus has 7 nationwide Roadster listings and the tools to find you a great deal.