Honda Accord Coupe
Model Overview
New Honda Accord Coupe

The 2015 Honda Accord Coupe has been announced, but it is not yet available for purchase.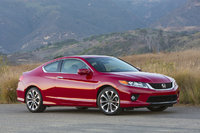 Used Honda Accord Coupe
Honda Accord Coupe Questions
About the Honda Accord Coupe
The Honda Accord was introduced as a hatchback in 1976, and its coupe version came into being as part of the third generation of Accords, which began in 1986.

The popular two-door has earned its fine reputation for its economy, practicality, and no-nonsense functionality. Through all of this, it's a simple yet stylish car.