Register Chevrolet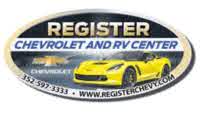 Hoy
8:00 A M - 7:00 P M
(Abierto ahora)
Mostrar horas de atención
Ocultar horas de atención
Buscar usados
Buscar nuevos
Por auto
Por carrocería
Por precio
Filtrar resultados
Otros concesionarios cercanos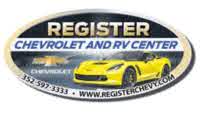 Hoy
8:00 A M - 7:00 P M
(Abierto ahora)
14181 Cortez Blvd
Brooksville
,
FL
34613
Evaluaciones del concesionario
Todas las evaluaciones son de visitas verificadas al concesionario. –
Más información
Got back to me but I never made it there
This dealer was very nice understood exactly what I needed thank you I'll be calling back they said he go above and beyond call of duty looks really impressed me For somebody to go this far and do what he said he would do I'll be buying from him definitely if you're in the market you should be looking 2 buy from those dealership what a great management and a great team he has just goes to show you what a great manager will do he's got a great team that shows you hismanagement skills and how far he'll go to make sure he's got the right team working for him
25 jul. 2019
Respuesta del concesionario actual:
Jennifer thanks for the kind words. Please check back if you need anything.
I attempted to confirm the vehicle I was interested in had the option package listed as the pictures showed a vehicle with wheels, etc. not typically associated with that package. I was assured it had these options and encouraged to come in for a test drive. However, I was able to confirm it did not have these options using the vehicle's VIN. As honesty and respect for my time are important to me when purchasing a car, I will be looking elsewhere.
25 jul. 2019
Respuesta del concesionario actual:
Matt, I emailed you back and said it had a 360 back up radar type system. Being we were closed Sunday I said I would check to see if it entailed the side blind on Monday. You said you did a vin check and showed it did not and said thanks.
They were very helpful , informational and fast.
14 may. 2019
Respuesta del concesionario actual:
Thank you Vickie for the kind words.
My experience at register Chevrolet was awesome Rob Gibson was amazing. Look forward to future business with this sales person.
15 abr. 2019
Respuesta del concesionario actual:
Thanks for positive review. Rob is new to car sales and will appreciate the kind words. Will pass it on.
22 ene. 2019
Respuesta del concesionario actual:
Thanks for taking the time. Please contact us if you need any further information.
The staff was very helpful and went above and beyond to make you feel good about your purchase. GREAT job.
6 sep. 2018
Respuesta del concesionario actual:
Thank you so much for the business! We are glad you chose us for your next vehicle!
Mostrar evaluaciones anteriores del concesionario
10
Got for price we discussed and no additional fees that most dealers try to add on
receptionist kept routing me into the 'please call back' abyss
I worked with Alex. Straight forward, knowledgeable and offered a very good deal. Would highly recommend.
I received a return contact and a reasonable offer almost immediately.
Updates sent daily. Will consider buying my Cruse from this dealer or the Clearwater dealer. Good prices.
THe salesperson responded quickly and had good "follow through".
Great buying experience. No hassles, no games, very straight forward negotiating process. I drove up from Sarasota in the vehicle I traded - 20 minutes after arriving at the dealership, I was driving my new car home! Very pleased with the whole experience (and the SUV).
prompt internet response to questions