Quality Auto Mall (Ford)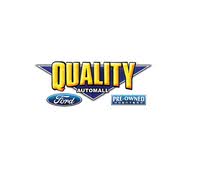 55 State Rt 17
Rutherford
,
NJ
07070
Mapa e indicaciones
Ventas: (201) 972-6967 Servicio: (888) 488-0553
Hoy
9:00 A M - 9:00 P M
(Abierto ahora)
Mostrar horas de atención
Ocultar horas de atención
Buscar usados
Buscar nuevos
Por auto
Por carrocería
Por precio
Filtrar resultados
Otros concesionarios cercanos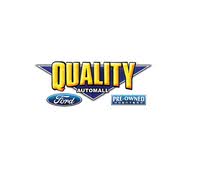 Hoy
9:00 A M - 9:00 P M
(Abierto ahora)
55 State Rt 17
Rutherford
,
NJ
07070
Evaluaciones del concesionario
Todas las evaluaciones son de visitas verificadas al concesionario. –
Más información
Chris and Rob were extremely helpful. Came in knowing what I wanted and 2 days later was driving away in it. Some used auto dealerships get a bad rap, but these guys are the best. I'd recommend Quality to anyone. Very painless experience and they weren't pushy in any way.
They followed up promptly. Not flexible on pricing
Fantastic experience car buying experience. Everyone there was very pleasant and did not try to push anything on you. This dealership was recommended to me by a friend, and I would definitely do the same.
Mostrar evaluaciones anteriores del concesionario
13
Their response was within an hour from contacting this dealership.
Horrible dealership... the epitome of why people hate car dealerships. I called ahead about the vehicle I was coming to see and asked if the vehicle had any issues. The salesman of course said it was fine. When I get there the salesman is tied up with other customers and asks me to give him a minute. Finally he gets the keys, gives them to me and tells me where the truck is. I walk out and begin inspecting when lo and behold over the front left wheel well is about a 3" long area of paint bubbling. Rust underneath? Don't know... I walked back and told the salesman and his manager. They didn't appear concerned or surprised. THEY ARE HORRIBLE......
The dealer was OK but I decided to keep my car and not trade it in when it didn't have the value I thought it would have
Dan S. Was great and made the whole experience so easy!
Chris made the experience extremely pleasant. No hassle, laid everything out about the beautiful mustang I bought and overall took great care of us. Highly recommend the dealer especially Chris the salesman!
Friendly but we couldn't come to an agreement on price. Car needed repairs and it was not ready to be for sale. Leaking antifreeze, missing tailpipe and not very clean.
Don't ever buy a car from them, they sale cars as is in horrible condition...you can buy a better car from Craigslist honestly !
Tim the salesman was great a smooth transaction.