New Nissan Altima For Sale Near Tyler, TX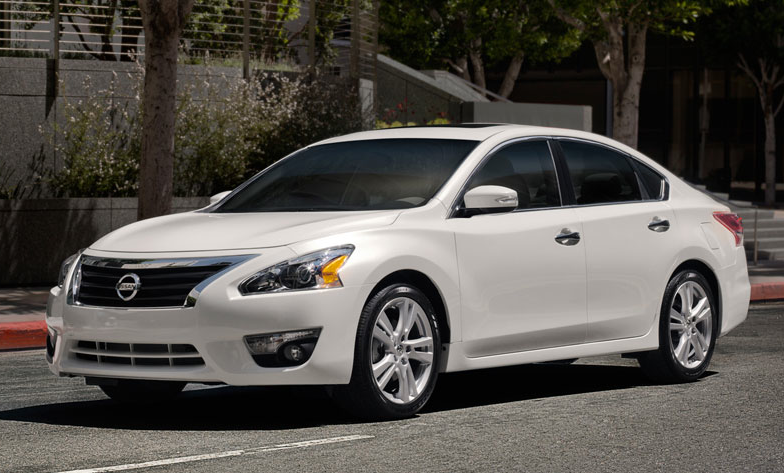 New Search Nissan Altima
Within 75 miles of Tyler, TX
2013 Nissan Altima 3.5 SV Review
"I've only got a little over 1,600 miles on it, but it is the most comfortable car I've owned."
Just about everything. It has great looks reminiscent of German sedans. The heavy chrome grille and the chrome bar between the tail lights are great accents on a black car. The front seats are obscenely comfortable on long drives. The power is seductive and the car is appointed with just about every accessory (except leather and the blind spot ...
No results found. Try a new search with a larger radius, or search for a different model.
Checking your number
We will call you first if it is unverified.
Close
Similar Cars
New Car Listings By City
New Nissan Altima in Shreveport LA

4 dealers

New Nissan Altima in Dallas TX

19 dealers, 1,145 listings starting at $16,991

New Nissan Altima in Waco TX

4 dealers, 127 listings starting at $17,995

New Nissan Altima in College Station TX

10 dealers, 588 listings starting at $19,058

New Nissan Altima in Monroe LA

2 dealers, 14 listings starting at $22,680

New Nissan Altima in Houston TX

15 dealers, 903 listings starting at $18,796

New Nissan Altima in Lake Charles LA

10 dealers, 62 listings starting at $23,650

New Nissan Altima in Austin TX

10 dealers, 222 listings starting at $18,999

New Nissan Altima in Wichita Falls TX

2 dealers, 46 listings starting at $22,680

New Nissan Altima in Fort Smith AR

5 dealers, 92 listings starting at $19,890

New Nissan Altima in Little Rock AR

8 dealers, 624 listings starting at $18,541

New Nissan Altima in Abilene TX

1 dealers, 65 listings starting at $23,580

New Nissan Altima in Oklahoma City OK

9 dealers, 275 listings starting at $18,588

New Nissan Altima in Baton Rouge LA

16 dealers, 397 listings starting at $19,995

New Nissan Altima in San Antonio TX

7 dealers, 128 listings starting at $18,999

New Nissan Altima in Tulsa OK

4 dealers, 121 listings starting at $19,890

New Nissan Altima in Jackson MS

6 dealers, 143 listings starting at $22,088

New Nissan Altima in San Angelo TX

3 dealers, 65 listings starting at $23,580

New Nissan Altima in New Orleans LA

15 dealers, 536 listings starting at $19,995

New Nissan Altima in Hattiesburg MS

5 dealers, 174 listings starting at $20,588

New Nissan Altima in Corpus Christi TX

2 dealers, 160 listings starting at $22,500

New Nissan Altima in Memphis TN

10 dealers, 364 listings starting at $19,999

New Nissan Altima in Springfield MO

3 dealers, 46 listings starting at $22,273

New Nissan Altima in Lubbock TX

1 dealers, 161 listings starting at $22,680