Preferred Motors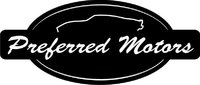 Buscar usados
Buscar nuevos
Por auto
Por carrocería
Por precio
Filtrar resultados
Otros concesionarios cercanos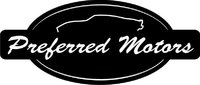 14513 N Nebraska Ave Suite 109
Tampa
,
FL
33613
Evaluaciones del concesionario
Todas las evaluaciones son de visitas verificadas al concesionario. –
Más información
Took alittle while for a response just to find out car was sold and still listed. Bummer
While this particular negotiation on a consignment car did not work out, it's not because Matt didn't do his level best to make it happen. He's a true gentleman and was a pleasure to deal with. When it seemed we were close to a deal he began a search for a reputable car transport company versus the standard chain operations. I wish all on-line sellers were this courteous, amicable, and honest. Straight shooter.
Made an online inquiry about a particular vehicle model in which I'm interested, and got a prompt reply. Due to distance constraints however, I'd like to find something closer to home. Barring that, I feel positive about making inroads with those whom I may do business with at a later date.
Mostrar evaluaciones anteriores del concesionario
21
Very friendly, Seemed serious. Very professional. Only reason I leave four stars is because the car was sold as I was on my way to check it out. Not the dealer's fault but still I was hoping to buy the car, hence my exp. was not the best outcome for me.
Nice truck. Upgraded wheels added $1K to price. Preferred the Steelies for less cost.
19 jun. 2017
Respuesta del concesionario actual:
Hi Tony. I appreciate you coming out to see the truck. I believe I actually did offer to put the steel wheels back on the truck for you, but you declined. It seems everybody else was a real fan of the upgraded factory wheels, including the person who bought it. I hope your vehicle search went well.
Always returned calls and emails promptly. Was very helpful with finance suggestions and making time to meet with me being I live 70 miles away. Matt went above and beyond to make it nice and keep it clean and had everything ready for me when I showed up. I think I made the selling process as easy for them as the buying process was for me. A month later and still have an ear to ear grin every time I drive it so I would say I'm very happy with my purchase.
19 jun. 2017
Respuesta del concesionario actual:
Thank you Tim! I'm very happy to hear that you are still enjoying the Trailblazer SS! It is a very beautiful truck! Thank you for your business and please let us know if we can help you out with anything in the future!
Fast response and answered all questions.
The dealer contacted me the very next morning. He was very pleasant and accommodating as far as being willing to schedule an appointment that was convenient for me. He was extremely professional and friendly and answered all questions that I had at that point in time. I have just not decided whether or not to move forward with reviewing the vehicle itself, however, the dealer could not have been more responsive or helpful!
So far just talked to him on the phone but was very professional.
very good service , bought the car and i am very happy and would recommend them
Desñer responded quickly.
Dealer only emailed me back and I never had the chance to speak with them over the phpne.
19 oct. 2016
Respuesta del concesionario actual:
Please understand that we are not provided your phone number unless you include it in a message with your inquiry. Because we did not receive your phone number, our email response included our number, for you to call us on the phone if you wish (We encourage phone calls).

Unfortunately, we can't call you if we do not have your phone number.
I got into a car accident and needed something fast. Matt was so nice and understanding of my situation, gave me a great deal on an adorable Honda Civic, and made the car buying process easy with as little stress as such a large purchase could possibly have. His wife, Heather, made the paperwork process extremely easy to understand and walked me through everything with the utmost amount of patience. The shop itself is kept very clean, they even keep some of their cars inside! I've been through the car buying experience multiple times, and this was by far the most simple. I felt like Matt and Heather both genuinely cared about putting me in a car that would be safe and gave me a great deal at the same time. Great business!
Dealer responded quickly. Car was just as described. Very nice folks!
Dealer failed to show for scheduled appointment, called while standing in lobby with no answer left message and haven't not received a response. I question whether or not this dealer is legitimate.
12 feb. 2016
Respuesta del concesionario actual:
First, If the door was unlocked and you were standing in my lobby, I would of had to have been there. I don't know of any business that leaves the doors unlocked when they are not there; certainly not mine.

Second, I have no record of an appointment with you and I certainly have no voicemail from somebody saying they are standing in my office claiming I am not there. Pretty sure I'd remember something like that.

I question whether or not this review is legitimate.
I live in Sarasota and was contacted shortly after my information request.
Heather and Matt were amazing throughout my whole experience, and I bought the exact car I had been searching for! Stress free experience, such a nice change from the big dealerships all over Tampa that I had already been to. I definitely recommend them. Thanks again guys!!
The car was exactly as advertised and the agent was patient and thoughtful as we went over the maintenance records of the car. I'd recommend them anytime.
Talked with Matt and he took a $100 deposit to hold the car for me until Saturday. He told me that the carfax report said that it was a two owner vehicle. I was unable to make it down that Saturday but called Matt at 8:30 that Saturday morning so as to not disrupt his day as his in-laws were coming in from out of town. Told him we would be down Monday (said he wouldn't be in the office Sunday anyway and would only be in the office Monday from 11-2). I asked him to figure the total cost for the vehicle and he said he would call me back that day with the total price on the car, tax, title, etc. He didn't call; but, since we were going to see him early early Monday I let that go. When we arrived Matt was busy with another customer so his wife went with us on a test drive. The carfax report was in the car and it stated that one of the owners had been a government agency which to me is about the same as a rental car. I mentioned the car having been titled to a government agency which his wife didn't refute. After test driving the vehicle, we asked Matt about the maintenance records (particularly of interest was the timing belt), he said he tried to contact someone about that and that he would continue to try and would let us know when the person got back with him. We left stating that we would come back by 2pm - but when we never got a response from Matt about the maintenance and since we had found out that one owner had been a government agency, we did not see why we should return to Preferred Motors. We did not want a car that had been titled to a government agency. I called Matt back on Tuesday morning about a refund on the $100 deposit since I felt that I had been mislead about the title. I was even ready to settle for half of it back since things had not gone as planned. Matt told me that I had ruined his Saturday that he was at Preferred Motors waiting on me to come in at noon . How ridiculous!!! I called him early which gave him more time to be with his in-laws. He then told me that the government ownership had been in error that it was corrected two days later. Well, how was I to know that that had been an error? It was a big misunderstanding and I am not the vindictive type; but, I feel that Matt should have handled the situation differently. This is the first bad review I have ever written. I am a reasonable person and have always been able to reach a reasonable agreement with people I have dealt with - not so with Matt!! Would not recommend this company!
17 abr. 2016
Respuesta del concesionario actual:
I feel I need to provide some clarification to this review.

I took a deposit to hold the vehicle two days, until Saturday. Before I took the deposit, as with all deposits, I make it clear that it is non-refundable because I can not sell the car to somebody else if they walk in to the dealership.

After coming in early Saturday, three hours early (We normally open at 11am on Saturday), I get a call after the scheduled time, that they are not going to come in that day. Keep in mind I'm up at 6am to be ready and there by 8am. At that point the deposit, per agreement, was forfeited.

The
Más ...
Matt was extremely professional!