Pegasus CDJR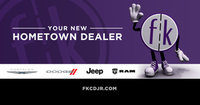 We make buying and selling your vehicle easy. The price
you see is the price
you pay. Every 1Price Pre-Owned Vehicle we sell is one,
no-haggle price and
it comes with a 5-day return policy*. Plus, we'll buy your
car and you don't
have to buy one from us. Now that's easy.

*Money-Back Guarantee is valid for 5 days or 250 miles,
whichever comes
first. See store for complete guarantee, warranty and
service contract details.
305 South Interstate Highway 45
Ennis, TX 75119
Ventas: (972) 437-8154 Servicio: (972) 590-8436
Inventario

Evaluaciones de ventas (30)
Lo sentimos, no hay avisos disponibles.
Intenta una búsqueda distinta para ver avisos.
No dejes escapar el auto perfecto para ti.
Guardar esta búsqueda para recibir alertas cuando se agreguen autos.
Otros concesionarios cercanos