Suzuki Equator
Model Overview
New Suzuki Equator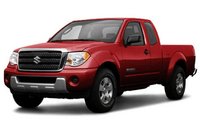 The 2013 Suzuki Equator has been announced, but it is not yet available for purchase.
CarGuru's preview of the 2013 Suzuki Equator
Suzuki Equator Questions
How Do I Unbuckle The Safety Straps On The Bed Extender?
Page 4-15 of the owner's manual shows how to buckle the safety straps on the bed extender, but then says nothing about how to unbuckle them. I can't move the extender back into position or even shu...
18 views
with
1 answer
(last answer 4 months ago)
Older Suzuki Equator