Looking for a New Scion FR-S in your area?
CarGurus has 870 nationwide Scion FR-S dealers with 2,268 new car listings.
Have you driven a 2015 Scion FR-S?
2015 Scion FR-S
Overview
A car like the FR-S comes along so rarely. Combining "affordable" with "sports car" usually means you'll spend your Sunday browsing the used car listings, but here you can get all the desirables—manual transmission, rear-wheel drive (RWD), a limited-slip differential, precise steering and a balanced chassis—without having to sacrifice any unnecessary luxuries like home ownership or your kid's college fund. So when changes are announced, it's easy to get the FR-S faithful all frothy.

Thankfully, that's not the case this year. A mid-cycle refresh can be a cause for concern, but here it means the FR-S just gets a bit better. Not a lot better, but a bit better. Much like higher-priced examples of its sports-car competition, this refresh is more massage than makeover. Stiffer suspension? You got it. Sleeker antennae? Check. And a couple of small aesthetic adjustments just to keep things slightly fresh.

It's the suspension that's gotten most of the attention for the FR-S since the beginning, so let's start there. The rumors were flying early that the setup of Toyota's version—known as the GT86 on the other side of the world—would make its way into the FR-S, with more rigid mounts front and rear. The official word from Scion turned out to be "more rigid front suspension and re-tuning of the rear shock absorbers" all with the intent of providing "less body roll and a more communicative driving experience." It sounds like they're looking for less tail-happy madness while providing a more composed ride on less-than-perfect surfaces. And while less body roll is great, I can't help but wonder how a stiffer suspension is going to affect the rumors of rattles we've heard from owners.

Speaking of cheap materials, it's never a source of celebration to hear the manufacturer has added a "carbon fiber look" to interior panels. Nothing like getting the appearance of a space-age material with none of the benefits! However, you will get some new, larger exhaust pipes that now fit flush with the rear bodywork. If only they'd give us some additional wheel options to match, as the outside of the FR-S is still one of the most attractive profiles in the business.

If you were hoping for more power—and the immortal rumors of an impending turbocharged version would suggest you were—you'll be disappointed. There are still no official plans for a power increase for the FR-S, even with Subaru releasing teaser images of an STi-branded BRZ. My money is on a hybrid version for the FR-S to achieve the same power bump as the theoretical turbo on the BRZ STi. For now, you'll have to suffer with just 100hp/liter and satiate yourself by drooling over the wealth of concepts Toyota debuted at Tokyo Auto Salon 2014.

The aftermarket has been rushing to fix the "problem" of too little power with header and chip solutions, so if you're one of those who finds the mid-range torque dip unlivable and the boxer tones unpleasurable—and you don't mind losing your warranty—there are options, as long as you're willing to wait in line for one of those headers.

Otherwise it's more of the same for the FR-S, and that's not exactly a bad thing. Affordable RWD fun doesn't come along very often, and even more rarely when 3 pedals and a responsive chassis are on the checklist. One thing we can be sure of, while it has its shortcomings, this first generation of the FR-S is good, and what's to come is sure to be even better.
Updated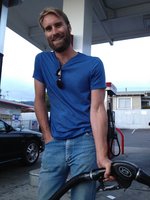 A CarGurus contributor since 2008, Michael started his career writing about cars with the SCCA - winning awards during his time as editor of Top End magazine. Since then, his journalistic travels have taken him from NY to Boston to CA, completing a cross-country tour on a restored vintage Suzuki. While his preference is for fine German automobiles - and the extra leg room they so often afford - his first automobile memories center around impromptu Mustang vs. Corvette races down the local highway, in the backseat of his father's latest acquisition.
What's your take on the 2015 Scion FR-S?
Looking for a Used
FR-S
in your area?
CarGurus has

2,991

nationwide FR-S listings starting at

$15,995

.
Scion FR-S Questions
There aren't any questions yet. Ask the first question!