2014 Mazda MAZDA3
User Reviews
2014 Mazda MAZDA3 Review Rankings
Have you driven a
2014 Mazda MAZDA3
?
User Reviews
Displaying all 4 2014 Mazda MAZDA3 reviews.
CarGurus
http://www.cargurus.com
2014 Mazda MAZDA3 i Sport Hatchback
Review
Pros
The 3 is a great practical economy car with sporty styling, great quality, and fun driving experience. I bought a manual which is a bit more fun to drive. Fuel average overall has been over 36. We did get well over 40 on a couple of highway trips.
Cons
It's an economy car so it's tough to fit luggage, the kids, and the dogs.
As fun as a manual transmission is it is also a pain if you don't use the Bluetooth.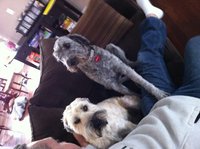 Great Car, Fun To Drive, Excellent Fuel Economy — I wish I had gotten the next model up with rear view camera and fog lights. The light colored seat fabric shows stains easily. Wishing for leather too. All wheel drive would be nice but it would be more expensive and cost mileage to suffer.
Primary Use: Commuting to work
Looking for a Used
MAZDA3
in your area?
CarGurus has
30,844
nationwide MAZDA3 listings starting at
$1,000
.
CarGurus
http://www.cargurus.com
2014 Mazda MAZDA3 i Sport
Review
Pros
Fun to drive. The engine loves to rev and is fun to thrash around town or on twisty roads.
Cool sexy gorgeous looks
the front bucket seats are probably the best in the segment. Great comfort and do not mind spending hours driving continuously with that support.
Great observed fuel economy.
Cons
Noisy on the highway.
Engine lacks low end torque, but is rewarding once you learn how to keep it in the sweet spot with a manual transmission.

Cool, Fun And Utilitiarian But Pricy — The car simply looks fantastic from every angle. It also drives very smooth. Great suspension and chassis that provides a lot of road-hugging confidence at high speeds. It gives you the confidence that many family sedans fail to give. The car lacks a tack in the base model which is a shame as I can't think of any other car makers that don't put in a tach as standard equipment. but it's not a big issue at least IMHO. The car is peppy as long as you're willing to rev it over 3500 rpm but very little low end torque. It takes getting used to but once you do it is very rewarding. It provides very good - though not best in class - interior space for passengers and for luggage. Overall I love my car despite having a couple forgiveable flaws: no tach, a little noisy, and pricey for a compact.
CarGurus
http://www.cargurus.com
2014 Mazda MAZDA3 i Touring Hatchback
Review
Pros
This car is fun to drive!
Stylish exterior, nice interior
Cons
The built-in communications/gps system is cumbersome and non-intuitive to use. You can't do anything directly--every function requires a few steps. Very irritating. Should be so much better. I just noticed that there are white streaks on the screen. I thought they were just smudges and wiped my finger over them, but it did nothing. the streaks are not on the surface. Trying to find out why they're there.

I was surprised that the car didn't come with the top of the windshield tinted. I had to pay $100 for it.

No lumbar support on front seats; no headrest adjustment
Quite a bit of noise on highways.
If there's any humidity in the air, the brakes get excessively tight, even when it's been in the garage.


Great Car To Drive, But Terrible Communication/gps System — This car is so much fun to drive! It's peppy, takes curves great and is very responsive. It feels like a heavy car (in a good way). The front cloth interior seats are handsome and pretty comfortable (not luxurious). People who have ridden in the back say it's pretty comfortable, as well. There's very little storage. There's a cupholder on each of the doors. It's big enough for a cup or a small umbrella, not much else. Even where there's room for a tad more storage, it isn't there. For example, there's a pocket on the back of the passenger seat, but not on the driver's. Come on, Mazda!
Displaying all 4 2014 Mazda MAZDA3 reviews.
Have you driven a
2014 Mazda MAZDA3
?