2013 Chevrolet Cruze
User Reviews
2013 Chevrolet Cruze Review Ratings
Average Ratings
from 5 reviews
Review Highlights
Click to filter reviews below
Displaying all 5 reviews
Cruzing

writes:
2013 Chevrolet Cruze Eco Review
Pros
Gas mileage, appearance, handling, quietness, front seat comfort, smooth manual transmission, trunk space.
Cons
Had to return to dealership twice in first six months to fix cruise control (computer glitch) and replace right rear brake (squeaking). Both covered by warranty, but still frustrating. There are no rear cup holders. Back seat space is tight.

Excellent Mpg But A Couple Of Mechanical Issues — The gas mileage has been excellent with my Eco manual. Most of my driving is around town (population 10,000), and I've averaged 46 mpg the last three months. On a recent 150-mile road trip averaging 60 mph, I got 54 mpg. (On the exact same trip the week before in a 2008 Prius, I got 52 mpg. The Eco beat the Prius!) On an 1100-mile interstate trip averaging 70 mph, it got 48 mpg. All of these MPGs are based on fill-ups, which almost always match the car's computer, by the way. I love how the car rides. The front seats are great on long trips - very comfortable. It handles corners well. The stick is really fun to drive! It's quiet. Trunk space is great. I get lots of compliments on the car's looks (black granite). Interior has a classy look, in my opinion. I've had to return it to the dealer two times in the first six months to fix the cruise control (had stopped working) and squeaky right rear brake (which has apparently been an issue on other Cruzes). Both were covered by warranty. In spite of those things, I love this car. It's our second Cruze, so we obviously like this car. Our first Cruze (2011) had no issues.
Primary Use: Family transportation
Find a new Chevrolet Cruze near you
MSRP:
$18,455
Invoice:
$17,809
Search Chevrolet dealers to find exactly the car you want.
MGETZ

writes:
2013 Chevrolet Cruze Eco Review
Pros
Great looks, Great mileage. Very techie.
Cons
1.4L, even with a turbo is down on power, but hey ~ 40mpg. It works for us.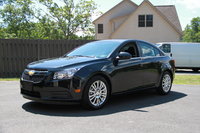 Love It!!!! — This car does everything well, and a lot of things great. Our family travels quite a bit on the highways in WV. Big hills to climb, but shift from 6th to 5th, even loaded with luggage and the family, and ascends with little difficulty. Can't say enough about cargo room, and handling is very good. Great safety rating, evidenced by its close to 2 ton GVWR. Even with all this weight and only ~ 140 horses, it will get out of its own way! I haven't owned it long, but I can't say enough good things about it already.
Primary Use: Family transportation
coalminer

writes:
2013 Chevrolet Cruze LTZ Review
Pros
30 Mpg city, 38.9 Mpg highway (actual not computer). Corners like it is on rails.
Cons
Not nearly as much room as my 06 Impala SS.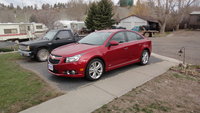 Love It So Far. — Gets from point A to point B cheaply with some added fun. Brings back the weekend drive. It is quiet and solidly built. The turboed engine is ok at highway speeds and good at low speed. Traffic circles are fun now. If you have the oil pan heater the cord is located on the right side beside the air filter.
Primary Use: Family transportation
Serlium

writes:
2013 Chevrolet Cruze 1LT Review
Pros
This car is a great ride, and fuel efficient.
Cons
The backseat is kind of small.

Andres

writes:
2013 Chevrolet Cruze LTZ Review
Would Be Perfect — Nice, Nice, Nice, reaching maximum speed of 0-220 km / h in 19.1sec, design inside and out is very cute and futuristic,There are approximately 20,000 dollars in total taxes, is very fun to drive, nice entertainment room, a DVD player with USB, auxiliary, great sound, rear camera and a GPS system
Primary Use: Sport/fun (spirited driving, track racing, off-roading, etc.)
Displaying all 5 reviews
Reviews From Other Years
Take The Cruze For A Cruise.
I got the car about a year ago and I have never regretted it. I certainly miss my 850 GLT Volvo. The seats and sound system are awesome. It heats and cools nicely (especially since it came with... Read More
Great Little Commuter.
Great commuter car, has all the tech you could want in a car, bluetooth phone, onstar, USB/Ipod intergration. The fuel economy is great, it averages around 5.8L/100km in a 50/50 commute of city/... Read More
Read all

11

2012 Chevrolet Cruze reviews
I Love This Car To Death!!
there is nothing to hate about this car, it looks stunning drives nice and is just beautiful! repairs can be costly but so far i have had no major problems that need fixing. The front pillars can caus... Read More
Fuel Economy And How "big" It Is On The Inside
This car has been awesome! The fuel economy is above what I expected. It is also "road quiet"! Little things like the extra outlet in the back to the nice looking interior has made the car much mo... Read More
Read all

17

2011 Chevrolet Cruze reviews
Ask CarGurus about the 2013 Chevrolet Cruze
Average response time:
8.5 hours
,
# of Chevrolet Cruze owners:
230