2012 FIAT 500
User Reviews
2012 FIAT 500
Review Ratings
Average Ratings from

16

reviews
Performance:
Appearance:
Build Quality:
Overall:
Review Highlights
Click to filter reviews below
Displaying 1 - 10 of 16 2012 FIAT 500 reviews.
Patriz

writes:
2012 FIAT 500 Sport
Review
Pros
Just about everything...Beauty, Power, Comfort, Accessories, Handling, Safety Ratings, Car and Driver/Consumer Reports Great Test Ratings, Feels Larger Inside, Fuel Economy, Price, Parking, Power Sunroof, Bose Stereo, Bluetooth Technology Package, Spare Tire Under Car, Easy Alarm, Can Go Into Sport Mode with Sport Button and/or Tiptronic Gearstick...best of stick shifting in an auto transmission with the feel of a performance vehicle. Love it!
Cons
Small trunk space, however, the back seats fold down so it's not an issue.
Acceleration is average but, also, not an issue once the car gets into second gear.
Small visibility space on driver's rear but you have to just change the way you look when backing up. There is a blindspot mirror on the driver's side mirror, so that's a plus.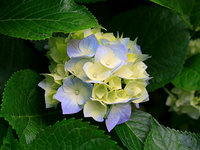 Exceptional Small Car For City/suburban Driving — I never thought I could like a car so much until I drove the Fiat 500 Sport. The manual transmission is great, however, I purchased an automatic because it's easier on my back, and it's still a great small car. There is lots of room up front, quick response in driving, beautiful interior trim, Bose stereo system, large power sunroof, very comfortable bucket seat in the sport model, peppy ride, easily parked, and unique like no other car on the road. It feels like an Italian little sports car with flair. You can drive in auto and manual transmission, and you can put the car in sport mode with the push of the sport button, which tightens up the transmission and gives the car a sporty grip feel on the road. Nice. I wanted a small car which was great on gas mileage, easy parking, quick maneuverability, back seat for occasional passengers, sporty look, and affordability. I got this and so much more with the Fiat 500. I am so happy with this little dream car, especially with the Bose stereo system and the Bluetooth technology package.
Looking for a Used
500
in your area?
CarGurus has

12,429

nationwide 500 listings starting at

$6,950

.
fodita

writes:
Pros
attractive, great design, fun to drive, excellent handling, peppy w/ just enough power to be exciting
Cons
small back seat. However, you don't buy this car to pile people in it.

Perfect Urban Commuter — this car is the perfect urban commuter. It will get you from point A to point B with some style and class that no other car in the american market offers to date. It is fun to drive. It's 101 horses are just enough to carry this light weight commuter with a little pep and zing. At the base price point you cannot find another make or model that offers all the options that Fiat delivers (bluetooth, leather interior, AC, power windows/locks, mp3 player, excellent sound system, etc.).
Primary Use: Commuting to work
Martin

writes:
2012 FIAT 500 Sport
Review
Pros
So much fun to drive, great on gas, turns heads, interior is such a nice place to be.
Cons
Some might find it too small but I certainly don't, it's perfect.
Highly Recommended If You Want Something Different And Fun And Plenty Of Soul! — I was really surprised by the performance. It only has about 100bhp but weighs nothing. It really is a little rocket and I can only imagine what the forthcoming abarth version would be like. Build quality is fantastic and very solid. The interior is such a nice place to be and oozes style. the exterior is super good looking and finished impeccably. I'm still below 5000KM but I manage about 600KM on a full tank of 40 litres and I don't exactly drive like a granny. As for fun, well it handles like it;'s on rails and has a super short wheelbase so fun is what this car is made of.
Primary Use: Commuting to work
Baladina

writes:
2012 FIAT 500 Sport
Review
Cons
What do I hate? Absolutely nothing! I save money, enjoy the drive, and get to have fun while commuting to a (ugh) j-o-b... what's wrong with any of that?
Take One For A Spin - You Too Might Fall In Love With It. — Surprisingly roomy inside. Passenger seat sits slightly higher due to components underneath. Back seat folds down for ample cargo area (I can do a combined Costco & Ikea trip without going home to unload! AWESOME fuel economy and good handling. over 12,000 km and humming along - LOVING IT - lots of fun to drive (love that Sport mode) and a great conversation starter.
Primary Use: Commuting to work
Bill

writes:
2012 Fiat 500 Pop — The car rides great and looks great as well! It is a Chrysler afterall. It is very surprising how this car rides and handles. The interior is fisrt rate and made of very hight quality materials. A very quiet ride as well.
Primary Use: Sport/fun (spirited driving, track racing, off-roading, etc.)
mthmoses

writes:
2012 FIAT 500 Sport
Review
Pros
So cute and so fun to drive. I'm still smiling even after 8 months. The gas mileage is awesome. The seats are super comfortable and the standard options are great.
Cons
Not much room although pretty good for such a small car. It does suffer from a bit of road noise. Some of the interior parts are fragile, like the arm rest and seat adjusters (plastic).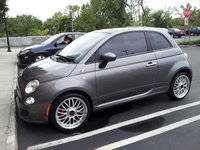 My Awesome Fiat 500 — We like it so much we bought a second for our daughter. It's the next best thing to being in Italy. You won't mistake it for a sports car as it's not the fastest thing on the planet but it is fun to drive and good looking.
Primary Use: Family transportation
darbys

writes:
2012 FIAT 500 Sport
Review
Pros
Great little car, for running to stores, Doctor appointment etc.
Cons
I can't think of any.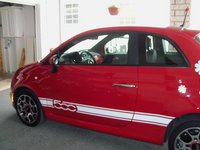 Sharp Little Car! — Fiat is a car that is good for doing errons & is great on gas. Especially with the price of gas. I read review & decided to take it for a test drive. I was very surprised that for a little car there was a lot of room. Even my husband who is tall felt very comfortable. One feature I liked is the Bluetooth. It is great for hands free talking. The neatest thing is when someone stops you & asks what kind of car is that. Then you know you have a good looking car. Not only is it ctue & snappy I love to have fun decorating it with magnet flowers, stars & hearts for holidays. Just to show you how popular it is, in our community there are 6 Fiats, 3 red, 1 blue & 1 white & 1 green. Unfortunately we now only have room for 1 car & my husbands SUV won. We travel & need room for luggage & the Fiat doesn't fit the bill. I'm very sad but had lots fun with it.
Primary Use: Family transportation
Terry

writes:
2012 FIAT 500 Lounge Convertible
Review
Pros
great styling...gets a lot of comments.
Cons
hmm a few things have gone wrong..minor but..check engine light on and read defroster stopped working
Fun And Sexy Car — overall love the car. would buy again,might get turbo and stick next time..like the color combo, not sure of how long red top will stay red. The car drives great overall and highway mileage is good. I would consider the electric version.
Primary Use: Commuting to work
zoomastr

writes:
2012 FIAT 500 Sport
Review
Pros
Great gas mileage I'm averaging abt 35 mpg, Good for in town shopping
Cons
Not too good for long trips if carrying too much luggage. Back seats not good for passengers except small children.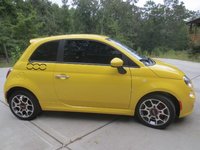 Cute! — At 30-38 mpg a great little car for getting back and forth to work or running around a big city. Seats are adjustable so you don't feel like your riding on the road. Rear seats fold down for extra cargo space. Too small for a family of 4.
Primary Use: Commuting to work
Laurbee

writes:
Pros
A fun little car to drive. Very responsive.
Cons
Not so excellent MPG, not a lot of cargo space, hard suspension.
Weekender Car! — I loved the handling and the look of this little car. I'm a good sized person, weight and height, and this car was very accomodating to me. Not a long distance driver but short hjaunts would be fine. If your kids are chihuahuas you got it made but not a family car.
Displaying 1 - 10 of 16 2012 FIAT 500 reviews.
Looking for a Used
500
in your area?
CarGurus has

12,429

nationwide 500 listings starting at

$6,950

.