2012 BMW M3 Review Ratings
Average Ratings
from 2 reviews
Review Highlights
Click to filter reviews below
Displaying all 2 reviews
tmc930

writes:
2012 BMW M3 Coupe Review
Pros
Fast, nice handling, beautiful looking, awesome sounding, M mode is fun, excellent sound system and technology
Cons
Bumpy, Bad in snow/ice/rain, High maintenance parts, Very low bumper, Gas guzzler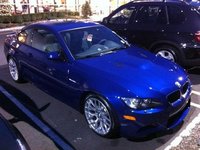 Expensive, High-maintenance Fun — Fast, nice handling, beautiful looking, awesome sounding, M mode is fun, excellent sound system and technology... BUT Bumpy, Bad in snow/ice/rain, High maintenance parts, Very low bumper, Gas guzzler. Overall, it's expensive, high-maintenance fun. Especially if you like to go fast. Draws a ton of attention though, so get a good radar detector.
Primary Use: Sport/fun (spirited driving, track racing, off-roading, etc.)
Find a new BMW M3 near you
MSRP:
$60,100
Invoice:
$55,290
Search BMW dealers to find exactly the car you want.
tvieso

writes:
2012 BMW M3 Coupe Review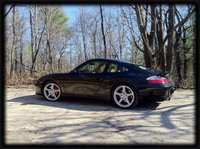 Humbling — From the moment I first sat in an M3, I knew I would own one. Since I first sat in my own M3, it's been nothing short of an amazing experience. I'll touch on each one of the above rankings and then add a final piece to summarize. // Power - The naturally aspirated V8 is more than sufficient in delivering however much power you want, whenever you need it. I have never experienced any lag in communication between my foot and the engine. In addition to receiving the International Engine of the Year award since 2008 and running, it's probably one of the sexiest sounding engines I've ever heard. Never a bad thing. // Looks/Style - Refer to pics. I think they speak for themselves. The lines of this car are timeless. The only negative here would be the ride height (i.e. the gap between the fenders & tires). That's just my personal opinion though, and that's why I chose to go aftermarket for a height-adjustable suspension. // Maintenance Cost - Well, being under warranty for 4 years/50K miles, this category really isn't applicable to me yet. I have owned BMW's previously and yes, out of warranty, maintenance costs can be a bit high. Staggering, no. High, yes. For me, it's never been anything out of reason. When you own a quality vehicle that isn't built to break down after 50K miles, parts are more expensive. BMW builds to last forever and when you take care of your vehicle the way you're supposed to, it damn near will. // Back Seats - I have sat in my back seats. They are actually quite comfortable for a coupé. I'm 6', 175lbs and there is ample room. These seats are far superior to any of coupé backseats that I've sat in. // Brakes - Awesome. Just awesome. Had I been in most other cars in this class, I'm most certain that my car would not have a clean title right now. The 14.2" and 13.8" brakes are paired perfectly with the amount of power that is under the hood. Responsiveness of the brake pedals is sensitive, which I like. // Handling - Benchmark. That is all. Nobody does it better. // Front Seats - Gazillion-way adjustable, power seats are incredibly comfortable and suitable for daily driving or spirited driving. I especially enjoy the lumbar, thigh and side bolster adjustments. Perfectly comfortable for long drives as well. I've driven 10 hours straight before and it was great. // Reliability - My iDrive reset itself once. That's it. Other than that, I've owned two BMW's and both have been extremely reliable. Nothing else outside of normal wear and tear. // Family Car - It's a coupé. // Warranty - This car is under it right now and I haven't had to take it in for anything other than the 1200-mile service. BMW has always honored the warranty and extended warranty period on my last BMW and their professionalism in this department has always impressed me. // Fuel Economy - It's actually not that bad for a V8. But then it also depends on how aggressively you drive. I'm averaging around 17 or 18. If MPG is high on your list, move on. // Price - Priced quite reasonably for a car of this stature and of this performance category. Others in this same realm can go beyond $90K. // Cargo Capacity - I have successfully fit a full set of 19" wheels, a suspension (boxed), BMW grills & exhaust tips (boxed), a medium sized suitcase, laptop bag, camera bag and a coffee in this car for a road trip. I still had a bit more room too. I was seriously impressed for a coupé. Nice job, BMW. // Safety - I haven't crashed any BMW's but from the safety reports and amount of safety/security features included, you have absolutely nothing to be worried about. // Overall - For a car well under $100K, nobody combines sports, luxury and performance better than BMW. It's all tied together in this model. Others may have more power or more features, but the refinement, craftsmanship and sophistication that BMW has integrated into the M3 is beyond unbelievable. Truly the "Ultimate Driving Machine."
Primary Use: Sport/fun (spirited driving, track racing, off-roading, etc.)
Displaying all 2 reviews
Ask CarGurus about the 2012 BMW M3
Average response time:
8.5 hours
,
# of BMW M3 owners:
8,870