2011 Volkswagen Jetta
User Reviews
Average Ratings from

14

reviews
Review Highlights
Click to filter reviews below
Displaying 1 - 10 of 14 2011 Volkswagen Jetta reviews.
Hauk

writes:
2011 Volkswagen Jetta SEL
Review
Pros
Redesigned sedan for 2011, design (especially in black), supportive front seats, Solid, planted feel in corners, Roomy backseat, Big trunk, nice driving feel
Cons
Minimal steering feedback, Lowered quality feel of the dash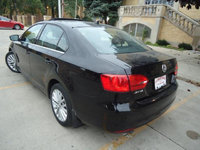 2011 Vw Jetta Review — This model - the SEL - is loaded with navigation and all the other amenities including bluetooth, heated seats, the only thing it's missing is a back up camera Great car for the value. It has that solid German feel, I hope it continues to be reliable. Like it a lot!
Primary Use: Commuting to work
Looking for a Used
Jetta
in your area?
CarGurus has
34,272
nationwide Jetta listings starting at
$995
.
nac2015

writes:
2011 Volkswagen Jetta TDI
Review
Pros
Love this car-mileage is awesome great fuel economy
Cons
Not fun to ride in on long trip with entire family! Does not do well in deep snow--no brainer but I need something I can get to work in regardless of weather

2011 Vw Tdi — Loved this car, sold it to our 19 yo daughter--she wanted a 350Z but was unable to get a loan and feel this is a blessing in disguise-this car is much safer in my opinion. This car has a surprising amount of Leg room in the back my son 6'3" does not have a problem as long as the front seat is not pushed all the way back and the trunk is huge. The only drawback was that I did not like riding in it on a cross country vacation--felt to closed in and got it stuck in our driveway last winter.
Primary Use: Commuting to work
Andy

writes:
2011 Volkswagen Jetta SE w/ Conv and Sunroof
Review
Pros
I love this car and I am SO glad I went with it instead of the Chevy I was looking at.
Cons
That I cant drive it all the time.
Its A Fantastic Car With A Lot To Offer, And In My Opinion Is The Best Of Its Class. — Performance- The VW Jetta is great in this department, on the automatic version it has drive, as well as a Sport setting which allows you to accelerate much faster by reeving up to the red line. It can accelerate from 0-60 pretty rapidly. The Volkswagen also keeps with the European sport tradition of having EXCELLENT handling. The car goes exactly where you want it to go and parallel parking it is extremely easy. Build Quality- Ever since ive had the VW (close to 7 months) it has needed absolutely no repairs what so ever. It drives like a dream. Before this car I had a 2001 Jetta, and to this day its only needed standard maintenance. Im expecting that the new Jetta will hold up the same. Appearance- The outside of the new Jetta looks amazing. The older Jettas, up untill this one, all looked friendly and playful. The new Jetta looks mean and ready for action. The interior is simply fantastic. It has a BMW/Merc quality interior. Something youd expect from a 1 series or an E class. Its very stilish, very simple, and very functional. All of the buttons click into place nicely and there are no loose ends. The heated seats work in a matter or 2 min and the air conditioner/ heater works amazingly well, warming or cooling the car completely in about 5 min or less. The touch screen radio/sat nav works very well, and has no glitches what so ever. The sunroof is a VERY nice touch ;) Cost of Ownership- like I said before, the only things you really have to do is replace the windshield wiper fluid and gas. The car just needs standard maintnence. It is VERY cheep to own and the gas milage is somewhere around 36mpg I believe. Fun Factor- The car is an absolute joy to drive. Compaired to my friends cars this thing is the fastest, and most well handling car out of them. Its a pure joy to drive a car in sports mode, knowing you can turn where you want and nothing is going to go wrong. When it accelerates from 0 you get a sort of butterfly effect in your stomach as the tires spin on the pavement and cause smoke. Best car Ive ever had.
Primary Use: Sport/fun (spirited driving, track racing, off-roading, etc.)
Hotes

writes:
2011 Volkswagen Jetta SE w/ Conv and Sunroof
Review
Pros
New style and is about 2 inches wider.Thumb controls and blue tooth.
Cons
Changed many conveniences and made it cheaper. A letter I wrote to VW about this is below.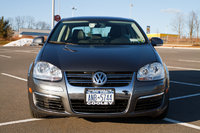 Vw Of America — As a VW owner for nearly 2 decades now I had no reservations about buying a new 2011 VW Jetta SE 2.5 from a local reputable dealer without a test drive. After driving this car for approximately 3 weeks now I am forced by my overwhelming feeling of dismay to write this letter to you. Please allow me to explain. My most recent or previous VW was a 2009 Jetta SE 2.5. I was not only impressed with this car, but also liked its style and features which I was surprised to find in a car of this category. I also found it to be a very solid automobile. I found this out in a more personal manner after being slammed into by another car as I was backing out of my driveway during the worst winter the northeast experienced in close to 30 years. Needless to say my visibility was pretty poor due to all of the snow that had accumulated and I was hit so hard that the damages amounted to $7700 and a lower back injury. A couple of months after the accident I decided to upgrade to a new car. One, due to the accident, and two, because the mileage was quickly growing to where the warrantee would be exhausted. I did not hesitate for 1 minute to go and look at the new model Jetta, nor did I even think to consider another brand of vehicle. After sitting in the car I immediately informed the dealer I wanted one. I took delivery of my new 2011 Jetta SE 2.5 on June 30, 2011. I immediately noticed the ride was a bit more comfortable than my 2009 model, but I also began to notice things were missing as well. Even though other upgrades such as the Bluetooth and thumb controls, a radio unit that will probably take me a year to figure out how to work (because it's not user-friendly) there are also many downgrades. First and foremost I would like to point out potentially dangerous change that was made concerning the automatic traction control. There is no way to shut it off. I don't know about where the designers of this model live but where I live is called the "great northeast" for a reason. We get a lot of snow. I was stuck in the snow several times last winter and the only way to get out of being stuck and stranded was having the ability to turn off the traction control. The onboard computer does not know if the car is stuck in snow or skidding on a street. So it tries to adjust for the skidding, thus preventing a driver from getting unstuck from a snow bank. Other things I miss on my 2011 model from my 2009 model are as follows: 1) The center console lid used to crank up and pull forward providing a comfortable armrest. Now it's just a lid with no arm rest. This is an important feature to someone who drives a lot like I do. 2) The power seat for the driver side is totally manual now and to adjust the back of the seat there is a plastic handle that is very difficult to operate. 3) The button that used to unlock the gas door is now gone. The new gasoline doors are designed to open and close by pushing directly on them which in my opinion is cheap. 4) The buttons that operate the heated seats are new, but they only allow you three temperatures to choose from. The old design was more adjustable allowing you more than three settings. 5) My new car came with very cheap windshield wipers. More like the wipers I had in my 1997 Volkswagen golf. My 2009 car had very heavy-duty rubber wipers. I also noticed that all the other vehicles in the car lot had those heavy-duty rubber wipers and mine did not. 6) The engine and transmission timing seems to be off. The transmission up shifts too soon and also has to downshift hard when climbing a small hill. This is especially noticeable when the cruise control is set. 7) The leather seats in my 2009 Jetta used to be nice and slippery, allowing one to slide oneself left or right to get out of the vehicle nice and easy. Now you stick to the new leather seats as if they were cloth seats. Why should somebody spend the extra money for leather seats when they act more like cloth seats? 8) The trunk lid went from a nice solid carpeted piece of equipment with hydraulic pressure rods on each side to a bare lid with nothing but plastic covering it. Also, it takes more than one try at closing the lid to get it to lock. It may take a few attempts to finally get it closed and locked and it's still not a nice solid closing sound like my old car (the 2009 model). It sounds very cheap and it jiggles from side to side and goes back up when you first try to shut it unless your shutting it is right on the money. 9) I see that you installed an iPod attachment in the glove box. In the glove box? Why? Also, the cord for it is very short and the vehicles computer software for this item is not updated for the new iPod or iPhone's operating system so, it does not work. 10) You took away the fuel gauge needle and put in a digital fuel gauge system that does not allow one to actually estimate exactly when you're going to run out of fuel. The little bars disappear and when it gets down to two little bars left the gasoline light comes on. Also, this vehicle seems to use more gas than my old car (the 2009 model). I am filling up the gas tank more now than before. 11) A fabric type of air dam was installed to pop up when the sunroof is open. Why? All it does is catch bugs which makes it look nasty. It will probably have to be replaced soon due to its flimsy construction, costing the customer. I realize that some of these issues may be due to the car still breaking in as it only had 14 miles on it when I took delivery of it from the dealer. However, I also believe that many of these changes are due to the manufacturer trying to save money and be cost-effective but what you don't realize (or maybe you do) is that the customer is getting ripped off because, Volkswagen seems to be taking out things to save money and then increasing the price of the vehicle due to it being a new model and making money on both ends. Now this does not seem fair to me at all.
Primary Use: Commuting to work
tdub_birytx

writes:
2011 Volkswagen Jetta SE
Review
Pros
Great car and plenty of pick. Inline 5 cyc engine is great. Fuel economy is good not as great as others in the same price but they sacrifice power.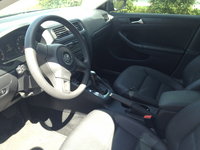 Great Car For Most People — 2011 Jetta does lots of things well. Good on fuel economy, looks great, handles better and has a surprisingly spacious interior. I am 6'2 and am comfortable driving the car. The trunk is also a lot bigger than I thought it would be.
Primary Use: Commuting to work
Leonizmo

writes:
2011 Volkswagen Jetta SE
Review
Cons
Cost too much for maintenance

Piero

writes:
2011 Volkswagen Jetta SE w/ Conv and Sunroof
Review
Pros
Nice modern look, with large interior. rear seats are very comfortable.
HUGE trunk, furl economy is around 30MpG, which isn't bad at all for a 2.5 liters.
All in all a great family car, good for long distance, too.
Cons
Cheaply made. My 2007 rabit is WAY better quality.
No temperature gauge? Seriously, VW?
Nice Sedan. Powerful And Roomy, Saddened By Cheap Construction. — First of all: I love my Jetta. Nice 2.5 liters engine, with MANUAL (YAY!) transmission is an absolute joy to drive. The overall quality of the car is, however, lower than the other car I drive (2007 VW Rabbit 2.5), which has many features that the Jetta doesn't have anymore. Rear vents, for example, or a temperature gauge (this was a cheap move, VW). The iPod connection is not in the center armrest with a docking station, anymore. Now it's only a cable dangling in the glove compartment, and the iPod rocks left and right with the turns. Result? I don't use it anymore. So, if you can get over the flaws due to a cheaper construction (VW had to kep costs down) and are willing to make some compromises, the Jetta is a great car. Though, with a few more bucks, it could have been a FANTASTIC car, just like the old one was.
Primary Use: Family transportation
satchal

writes:
2011 Volkswagen Jetta Base
Review
Pros
Great handling, fun drive, interior and exterior live up to the Volkswagen name, fantastic trunk space.
Cons
Fuel economy could be better

Fun And Practical At Once. — The signature Volkswagen vehicle, the Jetta is a lot of fun to drive. It handles spectacularly for a sedan, and the CVT engine makes for a unique driving experience. The interior room is decent, the sound system is engaging, and overall this is a good choice as a primary or secondary vehicle.
Primary Use: Commuting to work
mccabp94

writes:
2011 Volkswagen Jetta SE
Review
Pros
Excellent fuel consumption, almost no costs except for the car's cost, comfortable for long drives, handles well on the highway, small enough to easily fit into any parking spaces.
Cons
The backseat is not very big so it is hard for long road trips seated in the backseat.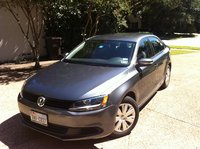 A Reliable Car Prepared For Any Obstacle. — Overall the car has the best bang for your buck than any car on the market because of the long list of pros. Additionally, the vehicle is able to perform with the utility of a much larger car because it has a spacious trunk that is able to hold any size object.
Primary Use: Commuting to work
Treilae06

writes:
2011 Volkswagen Jetta S
Review
Pros
I chose this vehicle because of the aggressive look. The reliability of VW in my experience of my wife owning three since we started dating is fantastic! The fuel economy is outstanding! 37.89 miles per gallon on a recent trip from Mass. to Manhattan back to Boston on 1 $41 fill up. Tons of leg room in the back. Tons of trunk space. Great in the snow!
Cons
A bit uncomfortable on long trips as the driver only.

Excellent! I Would Purchase This Vehicle Again. — Fuel economy is awesome! Up front comfort is lacking. Lots of leg room for all passengers, especially in the rear. The car looks great, aggressive styling gives it a sporty look. DIY's will appreciate the ease of maintenance. I feel very safe traveling with my family aboard.
Displaying 1 - 10 of 14 2011 Volkswagen Jetta reviews.
Looking for a Used
Jetta
in your area?
CarGurus has
34,272
nationwide Jetta listings starting at
$995
.