2010 Nissan Altima
User Reviews
Average Ratings from

13

reviews
Performance:
Appearance:
Build Quality:
Overall:
Review Highlights
Click to filter reviews below
Displaying 1 - 10 of 14 2010 Nissan Altima reviews.
Anonymous bought one because:
Nissan is awsome! The look,style and performance!
Looking for a Used
Altima
in your area?
CarGurus has
83,679
nationwide Altima listings starting at
$1,495
.
daniimcd

writes:
2010 Nissan Altima 2.5 S
Review
Pros
Good Acceleration, Very Roomy, Reliable, "sturdy", Good Feautures
Cons
Tire Problems, Noisy

Great Car — This is my second car, but the first car I have ever bought. I feel a though i made a great decision in purchasing this car as my first. The car has GREAT fuel economy which I was amazed with considering it is a bigger car. I came from a 1999 Lexus es300 so I was spoiled with luxury car qualities, and this car was the closest I came to matching it in a college students budget. It is very roomy and has fantastic acceleration. I also love a lot of the included features that come with the car. I bought the car used at 28,000 miles and it is now at 50,000 10 months later (I commute a lot to work). The only issues I have has so far with this car is I keep getting flat tires ( seven already) and my sunroof was not closing all the way which I had to get fixed. It is also a tad noisy with the sunroof feature and sounds like a wind tunnel inside. Other than that I think it is a great car and would recommend it to anyone.
Tco0813

writes:
2010 Nissan Altima 2.5 SL
Review
Cons
Steering seems a little tight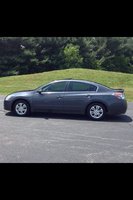 rjhill2

writes:
2010 Nissan Altima 3.5 SR
Review
Pros
Power, CVT, Stereo Sound, IPod Integration
Cons
Key Fob (Alarm Trips Easy)

Best Affordable Performance Family Sedan — I bought this car without a test drive (due to my location) simply by comparing to every other mid-size. So happy with my choice. It has 60K on it and has been everything I asked for. The only issue is the key fob. It has four buttons, all the same height, so the alarm will trip by just bumping it. What a pain! Regardless, I wholeheartedly recommend this car.
Primary Use: Family transportation
jfbarnes

writes:
2010 Nissan Altima 2.5 S
Review
Pros
Great car, not a problem since day one. Roomy inside, comfortable on long trips,owner reviews rate the 2010 with 4 to 5 stars. overall gas milage is 32.4 mpg.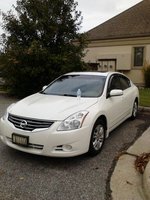 Awesome, Affordable, Reliable Family Car — The Altima has been around a long time and has improved in technology, ride, styling and safety every year. Just look around as you drive and you will now notice just how many are on the road. We are buying a new Altima based on the past performance our 2010 and Consumer Reports reliability ratings. The Accord and Camry are also nice cars, at a much high price.
Primary Use: Commuting to work
Mohamed

writes:
2010 Nissan Altima 2.5 S
Review
Pros
Styling, Performance, Space, Safety, Interior build quality, Value for money.
Cons
Drive not engaging due to soft steering, Not sporty enough.
By Far The Most Well Rounded Midsizer From The Japanese. Definately One Of The Best. — This is the facelifted 4th generation Nissan Altima for 2010. At first glance you know you are looking at something that is intriguingly different from its more dull and conservative Japanese offerings from Toyota, Honda and Mitsubishi in the heavily competitive mid-size market. It really does look good with modern lines and curves and a swooping roofline all the way down to the rear to give it that coupe look ending with rocketship looking tailights and twin exhausts that will definitely make it go unnoticed. This is the 2.5l 4-cylinder S model and it comes with an excellent 180 hp 4-cylinder engine. 0 - 60 mph takes just over 8 seconds and on to a limited top speed of 124 mph. Fuel consumption is an adequate 31 mpg. This particular car is equipped with a 6 speed manual transmission although a silly CVT auto is also offered. Inside you get loads of space with plenty of legroom and comfortable seats and a stylish but well made dash with a nice, warm and welcoming orange glow when the controls are lit up at night. The car offers great value for money compared to its rivals in terms of kit with cruise control, ABS, stability control and four airbags being offered as standard. Also included are a trip computer, tire pressure moniter, remote keyless entry and starter button. Options inlcude: Fog lamps, reverse sensors, folding electric mirrors, mud guards, rear spoiler and alloy wheels and many more. Luggage space is large with rear seats that fold down for even more space. On the road the car is great to drive with the perfect balance of being both a cruiser and a drivers car. Ride quality is excellent although a little harsh in some cases due to the firm suspension setup but road grip is superb with little understeer at the limit. The steering is responsive but unfortunately too soft and numb which does not make it a proper drivers car like the Mazda 6 but does not affect the fun factor in the overall driving experience. To conclude, the Nissan Altima is an excellent car for those wanting a car that is comfortable, stylish, well made and great fun to drive that is also loaded with kit and offers great value for money. Hats off to Nissan for a job well done.
Primary Use: Commuting to work
Keith

writes:
2010 Nissan Altima 2.5 SL
Review
Pros
Looks, acceleration, interior,sunroof is good
Cons
CVT Transmission, Fake wood interior,orange lighting
Nissan Needs To Improve On Fit And Finish For There Cars. — I hate the CVT Transmission, Hate the fake wood in the interior. Dont like the orange lighting, materials inside feel a bit cheap for a $32,000 car, flimsy plastic, leather is too firm, steering is too soft,dont really like the driving position, doors lock automatically when u start to drive, engine compartment is all plastic!!! Although....... 0-60 is a whole second faster than my accord, (8.4 vs. 9.3) the engine in the altima is also larger than the accords engine,but it's less powerful. When you launch the car to 60mph or so, the engine has a noticable amount of torque on take off. the engine holds the car at about 6500rpm or so until top speed which is limited to 110mph(sadly) or until you take your foot off the gas. Transmission is also responsive at 60mph as well. The car is actually pretty fast for its size,and engine displacement. Car also comes with manual mode, which lets you drive the car as you would with a manual, except there is no clutch. Manual mode is quite confusing though, because the computer in the car will not let it redline when u shift, so what happens is the car will let 1st "gear" take you up to 60mph, so if you dont know what you are doing it may get boring and confusing very quickly.Also I used to own a $22,000 camry, and that had better quality on the interior than this $32,000 altima!!! Car comes with chromed dual exhaust as well.Some nice features on the car besides that such as, leather wrapped steering well,power sunroof, audio controls on steering wheel, leather wrapped shifter, and traction control,as well as VDC.
Primary Use: Family transportation
Julienne

writes:
2010 Nissan Altima 3.5 SR
Review
Cons
No reason not to want one of these babies
It's Fun Modding It Out So Far. — This car is sleek and fast. CVT shifting is smooth, good gas mileage. Of course I am redoing alot right now. New custom system, NISMO catback exhaust, Eibach lowering springs, MKT hYper Black 18" rims, 20 percent Sunblock Tint, Rear Light Tint, HID Lights low at 6000 and fog at 3000. More to come. Great first car for my venture into the faster sedan world. Interior a tad boring, but I will fix that with some custom upholstery work adn carbon fiber accents. Lovin it so far!
Primary Use: Commuting to work
Gmarch83

writes:
2010 Nissan Altima 2.5
Review
Pros
Very practical car, low maintanance costs, runs well and handles well in all weather.
Cons
Wish the engine was a little more powerful.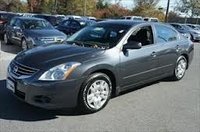 Great All Around Value. — This car has been a great car for me. I drive a lot of highway miles in all weather conditions and this car has handled it all. I have been very happy with its fuel mileage as well as it's comfort while driving.
Primary Use: Commuting to work
Albion

writes:
2010 Nissan Altima 2.5 S
Review
Pros
because im attached to it and you can upgrade it too, plus its got good gas consumption
Cons
for some its not a nice style, if you want good pachages and accesories this is not a good car for that, ulnless you have the money
I Like It! — i think its the best car ive driven (because its about the only one, lol) performance- 4 cyl. engine so good fuel economy with about 175 hp. its ok build quality - plastics mean its not too hard but the plastics are nice and firm appearance - nice curving lines, but headlights could be improved with more sharp edges cost stuff - idk really... fun factor - oh yeah, aluminum chasis is so good and the suspension is good too
Primary Use: Commuting to work
Displaying 1 - 10 of 14 2010 Nissan Altima reviews.
Looking for a Used
Altima
in your area?
CarGurus has
83,679
nationwide Altima listings starting at
$1,495
.