2009 Subaru Forester
User Reviews
2009 Subaru Forester
Review Ratings
Average Ratings from

36

reviews
Performance:
Appearance:
Build Quality:
Overall:
Review Highlights
Click to filter reviews below
Displaying 1 - 10 of 36 2009 Subaru Forester reviews.
alicetheace

writes:
2009 Subaru Forester 2.5 X L.L. Bean Edition
Review
Pros
Good gas mileage, really hugs the road with the all wheel drive.
Cons
Makes "pinging" noise after you turn it off. It is rather loud and lasts a few minutes

Attractive, Comfortable, Safe, Good In All Kinds Of Weather — Great car to drive, lots of room for a stationwagon/SUV. Love the comfortable leather seats and large moon roof. Great resale value! Gas mileage in the 20s which is decent. Very attractive interior and exterior styling. Not happy with the "pinging" after turning the car off. Was told by the service department that it is just cooling down. It does it even if I travel only a mile or so. I have never had any vehicle sound like that.
Primary Use: Commuting to work
Looking for a Used
Forester
in your area?
CarGurus has

29,925

nationwide Forester listings starting at

$2,250

.
James_Private_Sale

writes:
2009 Subaru Forester 2.5 XT Limited
Review
Pros
Good looking small SUV that has good power and tight handling that is well behaved in bad weather. The XT Limited has comfortable seating for multi-hour trips. Unlike some other SUVs where the sunroof lowers headroom, there was plenty of clearance for someone up to 6'-2". Also the interior is roomier than appearance and the leather seats add a touch of sophistication to the interiors look...
Cons
#1 Con (for me) Interior lighting: glaring blue at night even when dimmed. Why do car manufacturers insists on making interior lighting that looks like its fit for a night club?
--Gas mileage: with modest driving habits in combo city-highway commutes, it was lucky to get 23 mpg on premium fuel
--Noise: at highway speeds there was more road noise than necessary and wore on me when I was talking/listening with a passenger or are on a long road trip
--Interior: Map lights are to far forward making it impossible to see certain dashboard controls. Also this forward position causes the light to be in your face rather than your lap
--Interior: Glove box strut/damper completely made of plastic including attachment points on glovebox and needed to be replaced after modest weight broke it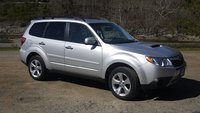 So Close To Being A Great Ride — In the daytime on short trips its a perfect ride, good visibility, good looks, good power, good handling and a value at it's price. At night, when driving home from a weekend out of town or just a long day at work, the road noise and rediculous blue "look at me" dash lighting was too much and that's too bad for a SUV with so much potential. If you are someone who drives in the daytime, on short trips and often in bad weather, this Forester may be the perfect vehicle for you. If on the other hand you use this at night on dark highways or on long trips, the combo of noise and retinal burning blue lights may have you look elsewhere.
Primary Use: Commuting to work
Lago108

writes:
2009 Subaru Forester 2.5 X L.L. Bean Edition
Review
Pros
A reliable, practical, well built car and I had no idea how comfortable it would be to drive. There were so many times I missed my exit because I was just enjoying the ride.
Cons
Stop and go city driving will give you low gas mileage - like 17 - 20.

It's A Wonderful Ride. — This car can go fast and I feel incredibly safe at 80 mph with no shimmy or shake. Getting out of tight spots is a snap the way it jumps on a dime and the handling is tight - so much fun to drive and comfy as a driver or a passenger. The puddle lights are a great addition when you're going someplace fancy. A great get away car with the dog or family - good camping vehicle,
Primary Use: Family transportation
debbiepy

writes:
2009 Subaru Forester 2.5 XT Limited
Review
Pros
great handling in snow and rain! Decent mileage, large sunroof, turbo is really helpful living at 7200 feet
Cons
all tires have to be replace if only one is damaged.

Good — i liked the size, the space in the back, the turbo perfomance. i did not like the noise inside the car, louder than normal, the tire replacement issues adn the warranty is short except of course the powertrain is long enough
Primary Use: Family transportation
Jon

writes:
2009 Subaru Forester 2.5 X Premium
Review
Pros
Looks, Mods, Symmetrical All-Wheel-Drive, Large Roomy Interior, Exceptional Driving Visibility, Bang-For-Your-Buck
Cons
Poor 4 speaker sound system, Outdated 4 speed automatic transmission,
2009 Subie Fozz X Premium — To be honest, I have never once looked at a Subaru Forester until about 3 months ago. What once used to be what I considered a station wagon is now more SUV-looking than ever. Performance as always from Subaru is solid, with the Symmetrical All Wheel Drive System. Braking is superb, and the car handles like a charm. I've never had any issues with the build quality of the car, although when the music is played at full blast, the doors will do some rattling.... May need some dynamats. The styling of this car is great... The Subaru Accessory guide is great, with front/rear bumper guards, side skirts, spoilers, etc. The sound system that comes standard is not that great, but it can easily be modified and the standard head unit already has an output for an aftermarket sub. You can easily add on Subaru Tweeters and a Sub, or go for an aftermarket sub. Gas Mileage on a small-size SUV like this is pretty good... Considering the way I drive, i get about 22MPG, compared to my old ML320 that got 13MPG. Overall, this is a fun car to drive around town
Primary Use: Sport/fun (spirited driving, track racing, off-roading, etc.)
Bruce646

writes:
2009 Subaru Forester 2.5 X
Review

2009 Subaru Forester — Vehicle seems to be very solidly built. Feels a bit stiff when new but comes out of it around 500 miles and is quite quick in the turns. Vehicle seems to be very sure footed. Our Montana winter should prove that statement or not. Everything performs well but the stereo system could be a bit better even in the base model. The performance acceleration, braking and handling seem to adequate to excellent depending on the circumstances. Interior and exterior styling aren't bad but could have been a bit more SUV looking. It is a great improvement in rear seat room over previous models. Gas mileage is good but could have been better for the size of the vehicle. This vehicle is enjoyable to drive and the seats are quite comfortable.
jcashland

writes:
2009 Subaru Forester 2.5 XT Limited
Review
Pros
It is roomy and comfortable. Decent power for getting on the freeway or passing. The large sunroof is nice. Great viability. Heated seats
Cons
It rides more cushy that the previous Forester, which has a sporty feeling to the steering and a firmer ride. Needs at least 91 octane fuel because of the turbo charger.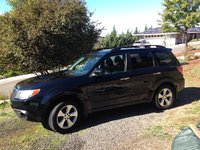 Comfortable Ride And Room To Carry Bikes, Dogs Or Camping Gear (or Groceries) — I liked being able to hold passengers comfortably, or carry cargo. Two bikes and some gear will fit in the back, and so will two dogs for trips to the dog park. The roof rails are great for holding different racks.
Primary Use: Commuting to work
crr528

writes:
2009 Subaru Forester 2.5 X Premium
Review
Pros
Extremely safe, very solid, great cargo capacity, handles very well and is reliable.
Cons
Fuel economy (as compared to smaller, non-4-wheel drive cars), driver's seat lacks lumbar support for long drives, engine can get noisy on the highway, stereo is okay, but not great.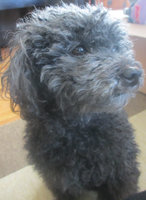 Very Safe, Reliable Family Car — I can't think of a more perfect car for a family, particularly if you enjoy outdoor activities (camping, kayaking, skiing) and/or travel with pets - the cargo space is fantastic and the four-wheel drive gets you safely to your destination in any weather. The cons are primarily associated with any heavy, all-wheel drive vehicle: fuel economy isn't the best and maintenance costs tend to be higher than the standard sedan. But it can't be beat for function and safety and is a pleasure to drive.
Primary Use: Family transportation
Fordtudor37

writes:
2009 Subaru Forester 2.5 X Premium
Review
Pros
Everything about it.
Cons
When you need tires you HAVE TO replace all 4 at the same time due to the electronically controlled AWD system. Services at 30K = $300, 60K = $600, $90K = $300, 120K = $600.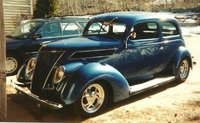 Safe And Reliable Lite Class Family Suv — See Pro's and Con's. I will buy another one as this is our 7th Subaru since 1994 (all had over 100K before we moved on to another one) and recommend this car to everyone who cares about their family. This car amazingly got 32 MPG when we took a round trip to Florida in 2010 on the Blue Ridge Parkway. Next time your near a hospital late at night, check out what cars the doctors and nurses (my wife) are driving. I know here in the North East you'll be surprised if it doesn't look like a Subaru dealership.
Primary Use: Family transportation
GGordon

writes:
2009 Subaru Forester 2.5 X Premium
Review
Pros
Fuel economy. Cargo capacity. Reliability. AWD.

Economical Awd And Cargo Capacity. — I bought this car brand new in July 2009. I have not had any trouble at all. It gets 25 plus MPG all around driving. It has fulfilled all the requirements I bought it for. It's more car than SUV, but makes that up at the gas pump.
Primary Use: Commuting to work
Displaying 1 - 10 of 36 2009 Subaru Forester reviews.
Looking for a Used
Forester
in your area?
CarGurus has

29,925

nationwide Forester listings starting at

$2,250

.