2009 Honda Accord
User Reviews
2009 Honda Accord Review Ratings
Average Ratings
from 25 reviews
Performance:
Appearance:
Build Quality:
Overall:
Review Highlights
Click to filter reviews below
Displaying 1 - 10 of 25 reviews
1
2
3
Next
Douglas

writes:
2009 Honda Accord EX-L Review
Pros
Well designed, Honda reliability and a great commuter car
Cons
Interior road noise, bluetooth issues and brakes
Very Satisfied And Would Definitely Buy Again — My old company gave me a company car. They went bankrupt. New company took away the company car. Had to buy something quick and I had purchased 2 Accords previously and had very good experiences with both of them. Researched and compared it to a Toyota Camry (the company car I had - loads of power but fit and finish were poor and the accelerator got stuck on me once (think it was my floor mats though)), Hyundai Azera and a BMW 3 series. The sticker price was close to $30,000 for the EX-L with leather in the 4 cylinder version. I bought it in Jan of 2009 and car sales were sluggish. I drove it off the lot with taxes, title and tags for $26,000. I really didn't like the car at first. Road more like a sports car than I cared. However, it grew on me. Handles surprisingly well for a 4 door sedan and the little 2.4L 4 cylinder engine reminds me a lot of my 86 Porsche 944 (not as good with torque and the spread is much smaller). It is actually a fun car to drive on a daily basis. I get about 25-26 mpg on a combined city/highway commute of about 54 miles round trip each day. My commute takes about 40 minutes each way so I spend a fair amount of time in the car. The brakes wore out of me around 25,000 which seemed really odd to me but the car does stop on a dime. Other than that, it has been trouble free. Best gas mileage I ever got was 31 mpg on a business trip of about 210 miles. Clients actually like the car as it has great leg room in the rear seat. I've put men over 6'4" in the back seat and they claimed they had no leg room issues. I've even put 3 children's car seats on the back seat when our minivan was out of service for a couple of days. That was SHOCKING as they are pre-school age seats. Trunk is good size and can hold a fair amount. Tires have lasted over 45,000 miles which is shocking to me. They came with Michelin Pilots. Don't ride all that well and make a fair amount of noise. The cabin noise is a bit annoying as I use a lot of hands free talking in the car. The bluetooth was either installed incorrectly or is a poor system. It drops my phone about once a commute and takes several minutes to find it again. That and the brakes are the only real complaints. I will definitely hang on to this for a very long time.
Primary Use: Commuting to work
Looking for a Used

Accord

in your area?

CarGurus has

51,100

nationwide Accord listings starting at

$1,200

.
Kenneth

writes:
2009 Honda Accord EX Review
Very Good — low milage, but very luxury. A very good car compared to competion and price. Especially good on the long drives with a strong and very silent engine. Good quality all over and very though through solutions. I will definitely recommend this car to others
Primary Use: Commuting to work
Paul

writes:
2009 Honda Accord LX Review
Pros
Save fuel, handle good
Cons
Little bit of noise but acceptable
Great Car — Great performance in term of accel, breaking, handleing (alot better than camry) Greatly Build Great appearance turning heads even though it's stock Low cost of ownership - cheap A great car to drive, very fun. I would recommend to buy it.
Primary Use: Commuting to work
Anthony2791

writes:
2009 Honda Accord LX-P Review
Pros
Smooth Ride, Comfortable, Roomy
Cons
No grip, too much road noise, needs a better sound system
If You Have A Decent-sized Family And Are Looking For A Comfortable Daily Driver, Buy It. — I love that its comfy. Build quality is amazing, no maintenence necessary. Performs good on gas, and thats about it. Costs nothing to own, just change the oil and watch for any notification lights. Smooth ride, too much road noise though. For what its worth, amazing car.
Primary Use: Family transportation
maximus1719

writes:
2009 Honda Accord EX-L V6 Review
Pros
Power would be number one. You can pass anyone with little effort.
Cons
Truly hard to find. Would love for it to be less expensive and better gas mileage; however, it would not be as nice and as fast.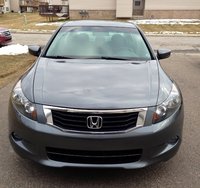 Fun And Stylish — I am a multiple Honda owner. You only understand when you have owned one and notice the difference that are not often thought about. Great view, adjust mirrors and you have zero blind spots. VTEC offers acceleration above cars with similar horsepower. Quality can be seen throughout. The controls and buttons are all fluid and tight. The doors still shut soft and solid, even after years of driving. No other car holds their value. It doesn't matter what you pay when you buy a Honda. It is what your final cost of ownership is after you sell it and buy another one.
Primary Use: Commuting to work
Sergei

writes:
2009 Honda Accord EX-L V6 Review
Pros
Great MPG's for a 270hp v6
Great Daily Driver — Performance: Good power..No problem pulling around a full car 270hp!!!! Build Quality: Great quality car " its a honda" Appearance: Looks great "has a sporty look for a daily sedan" Cost of ownership: Great MPG's for a 270hp V6 Gotta Love that "ECO" mode Maintence: WOW its like owning a compact car
Primary Use: Commuting to work
Shiva

writes:
2009 Honda Accord LX-P Review
Cons
Too big to self-wash quickly.
Good Review — Performance: Great acceleration, excellent Honda brakes, handles better at higher speed. Build Quality: No repairs as of yet. Appearance: A face-lift that puts it apart from all other generations. Cost of Ownership: With the increase in overall size, the gas mileage suffered a little but easy to overlook. Furthermore it's as easy to take care of as any other Accord. Fun Factor: It is neither fun to drive nor boring. However, it holds up well in acceleration dept. against its competitors-- Toyota Camry, Nissan Altima, Hyundai Sonata.
Primary Use: Commuting to work
Speed_Zone

writes:
2009 Honda Accord LX-P Review
Pros
Overall best car for the money, especially when you consider the cost of ownership over the long run. Price per mile is hard to beat with any other vehicle. Also Honda's have a certain ergonomic feel that you just don't get with domestic vehicles. This car is a 10!
Cons
None - maybe a little wind noise but what car doesn't have that?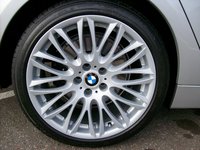 Extremely Reliable And Dependable All Round Car! — This is the Best Family Sedan On The Market For The Money! Over All A 10! —Great car for the money and extremely reliable and dependable. Low cost of ownership makes this one of the most desirable vehicles to own. When you add in the Honda dependablity and reliability this car is hands down the best deal on the market for the money! I would strongly recommend this vehicle to a family member or a new buyer. You can't go wrong with this car. Just Buy It!
Primary Use: Commuting to work
MP9ers

writes:
2009 Honda Accord E-XL w/ Nav Review
Pros
Great car. Fit and finish are great and the ride is excellent. All the bells and whistles are really nice to have. Very quiet ride.
Cons
Doesn't have the greatest power but I guess when you want 30-35 MPG there's not much you can do about it.
Excellent Car That Will Last A Lifetime. — We bought this car for it's excellent gas mileage and for the features it offered. We are very happy with the vehicle and have really been impressed by all of the creature comforts it offers. It seems to have everything we need and it is a joy to drive. We are expecting our first child and are looking to buy a mid-size SUV. We are sad to see it go since it has been such a joy to own.
Primary Use: Family transportation
petrovitus

writes:
2009 Honda Accord LX-P Review
Pros
Drive, looks, mileage, price, space, steering
Cons
Noise on a highway, especially on far from perfect Mass. roads.
It takes time to get used to the brakes, they seem somewhat weak.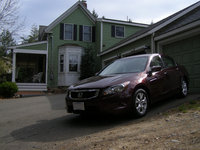 Love My Accord! — Love driving it, the looks, clean and crisp design - stars say it all. Enough power for all reasonable purposes, lots of room. Great informative steering. I get up to 400 miles city+highway (50/50) with a full tank of gas.
Primary Use: Commuting to work
Displaying 1 - 10 of 25 reviews
1
2
3
Next
Ask CarGurus about the 2009 Honda Accord
Average response time:
8.5 hours
,
# of Honda Accord owners:
14,529
Looking for a Used

Accord

in your area?

CarGurus has

51,100

nationwide Accord listings starting at

$1,200

.