2009 Honda Accord
User Reviews
2009 Honda Accord
Review Ratings
Average Ratings from

33

reviews
Performance:
Appearance:
Build Quality:
Overall:
Review Highlights
Click to filter reviews below
Displaying 1 - 10 of 33 2009 Honda Accord reviews.
Keith

writes:
2009 Honda Accord EX-L
Review
Pros
Engine sound,looks,interior quality,exterior quality,and performance are absoulutely astounding
Cons
bad/worse mileage, THATS ALL FOLKS!!!!
Amazing Car For The Price Definitely Recommended To Any Car Enthusiast — This review is for my 2009 Honda Accord EX-L. Much better than my Altima. Impressive sounding exhaust note, Textbook example acceleration on takeoffs. Great amount of torque and hp for the price.Interior, and exterior looks and quality, make the altima look horrible for an almost $5,000.00 price difference. Very high reving engine, great transmission. Car automatically downshifts itself right when u want it to. Amazing bang for the buck with this car. This car is sooooo much better than the altima in almost every category you can think of. The weight of the car slightly affects the performance numbers but this car is very fast to 60 from a takeoff and feels quite a bit faster then what the performance number rate it at.Honda actually uses the engine from the LX accord and tunes it from 177hp to 190hp for this car. You can definitely hear and feel the difference from the exhaust note, and slightly in acceleration as well. Engine revs suprisingly high getting up to almost 7200rpm before hitting the rev limiter!!!! Much better than the altima transmission in many ways. Engine sounds great even at idle and the exhaust even has slight burble to it even at idle. Just to let you guys know this car has the exhaust finisher/tip that comes on this car straight from the factory.Although this car has nearly 200 Japanese ponies, all this fun affects the cars mileage and it averaged about 19- 21mpg on a test i did. Car is beautifully styled as well, the dashboard resembles that of a bmw 6 series and quality is amazing. Nothing feels cheap or inexpensive. The steering also feels great on this car as well. IF YOU ARE CHOOSING BETWEEN AN ALTIMA OR ACCORD, GET THE ACCORD!!!!!!!!
Primary Use: Family transportation
Looking for a Used
Accord
in your area?
CarGurus has

61,756

nationwide Accord listings starting at

$999

.
Douglas

writes:
2009 Honda Accord EX-L
Review
Pros
Well designed, Honda reliability and a great commuter car
Cons
Interior road noise, bluetooth issues and brakes
Very Satisfied And Would Definitely Buy Again — My old company gave me a company car. They went bankrupt. New company took away the company car. Had to buy something quick and I had purchased 2 Accords previously and had very good experiences with both of them. Researched and compared it to a Toyota Camry (the company car I had - loads of power but fit and finish were poor and the accelerator got stuck on me once (think it was my floor mats though)), Hyundai Azera and a BMW 3 series. The sticker price was close to $30,000 for the EX-L with leather in the 4 cylinder version. I bought it in Jan of 2009 and car sales were sluggish. I drove it off the lot with taxes, title and tags for $26,000. I really didn't like the car at first. Road more like a sports car than I cared. However, it grew on me. Handles surprisingly well for a 4 door sedan and the little 2.4L 4 cylinder engine reminds me a lot of my 86 Porsche 944 (not as good with torque and the spread is much smaller). It is actually a fun car to drive on a daily basis. I get about 25-26 mpg on a combined city/highway commute of about 54 miles round trip each day. My commute takes about 40 minutes each way so I spend a fair amount of time in the car. The brakes wore out of me around 25,000 which seemed really odd to me but the car does stop on a dime. Other than that, it has been trouble free. Best gas mileage I ever got was 31 mpg on a business trip of about 210 miles. Clients actually like the car as it has great leg room in the rear seat. I've put men over 6'4" in the back seat and they claimed they had no leg room issues. I've even put 3 children's car seats on the back seat when our minivan was out of service for a couple of days. That was SHOCKING as they are pre-school age seats. Trunk is good size and can hold a fair amount. Tires have lasted over 45,000 miles which is shocking to me. They came with Michelin Pilots. Don't ride all that well and make a fair amount of noise. The cabin noise is a bit annoying as I use a lot of hands free talking in the car. The bluetooth was either installed incorrectly or is a poor system. It drops my phone about once a commute and takes several minutes to find it again. That and the brakes are the only real complaints. I will definitely hang on to this for a very long time.
Primary Use: Commuting to work
Kenneth

writes:
2009 Honda Accord EX
Review
Very Good — low milage, but very luxury. A very good car compared to competion and price. Especially good on the long drives with a strong and very silent engine. Good quality all over and very though through solutions. I will definitely recommend this car to others
Primary Use: Commuting to work
Paul

writes:
2009 Honda Accord LX
Review
Pros
Save fuel, handle good
Cons
Little bit of noise but acceptable
Great Car — Great performance in term of accel, breaking, handleing (alot better than camry) Greatly Build Great appearance turning heads even though it's stock Low cost of ownership - cheap A great car to drive, very fun. I would recommend to buy it.
Primary Use: Commuting to work
Anthony2791

writes:
2009 Honda Accord LX-P
Review
Pros
Smooth Ride, Comfortable, Roomy
Cons
No grip, too much road noise, needs a better sound system
If You Have A Decent-sized Family And Are Looking For A Comfortable Daily Driver, Buy It. — I love that its comfy. Build quality is amazing, no maintenence necessary. Performs good on gas, and thats about it. Costs nothing to own, just change the oil and watch for any notification lights. Smooth ride, too much road noise though. For what its worth, amazing car.
Primary Use: Family transportation
sldl2004

writes:
2009 Honda Accord EX
Review
Pros
It's a Honda---reliability and build-quality factor is superb. Audio system sounds very good. Love the 5-speed transmission--a rarity in cars anymore! Very roomy inside--the back seat is huge. Very good power for a 4 cylinder---as long as you leave the air conditioning off.
Cons
Glove compartment door hangs down slightly on the right side--it's a small thing, but annoying because the overall build quality is typical Honda. If you run the air conditioning, the car loses power. Rear brakes and calipers had to be replaced at 50,000 miles.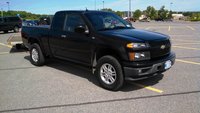 My Wife Loves Her Accord — Our 2009 Honda Accord EX sedan has been a great car since we purchased it used with 35,000 miles. The only thing we've done other than oil changes is we had to have the rear brakes replaced at 50,000 miles. That was somewhat disappointing since the calipers were shot as well, so it was an expensive fix. I could understand the pads needing replacing, but the calipers were a disappointment. Other than that, the car has been fantastic. It's very good in snow with the traction control and the 5 speed manual transmission. I recommend snow tires for it if you drive in winter conditions, however. It's a fun car to drive, with sports car-like handling and decent acceleration--especially for a 4 cylinder. The a/c sucks up some of the power, though and hurts your gas mileage. We've got 34 mpg on a trip before so mileage is very good. I know the motor will go well over 200,000 miles so if we can keep the body from rusting out, we plan on driving it for years to come. We'll be back for another Accord when it's time to trade.
Primary Use: Commuting to work
maximus1719

writes:
2009 Honda Accord EX-L V6
Review
Pros
Power would be number one. You can pass anyone with little effort.
Cons
Truly hard to find. Would love for it to be less expensive and better gas mileage; however, it would not be as nice and as fast.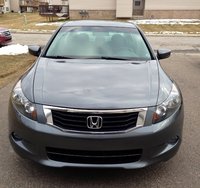 Fun And Stylish — I am a multiple Honda owner. You only understand when you have owned one and notice the difference that are not often thought about. Great view, adjust mirrors and you have zero blind spots. VTEC offers acceleration above cars with similar horsepower. Quality can be seen throughout. The controls and buttons are all fluid and tight. The doors still shut soft and solid, even after years of driving. No other car holds their value. It doesn't matter what you pay when you buy a Honda. It is what your final cost of ownership is after you sell it and buy another one.
Primary Use: Commuting to work
Sergei

writes:
2009 Honda Accord EX-L V6
Review
Pros
Great MPG's for a 270hp v6
Great Daily Driver — Performance: Good power..No problem pulling around a full car 270hp!!!! Build Quality: Great quality car " its a honda" Appearance: Looks great "has a sporty look for a daily sedan" Cost of ownership: Great MPG's for a 270hp V6 Gotta Love that "ECO" mode Maintence: WOW its like owning a compact car
Primary Use: Commuting to work
joes37

writes:
2009 Honda Accord EX-L V6
Review
Pros
Great gas mileage yet very quick and responsive
Cons
wish it had a bit more leg room in the back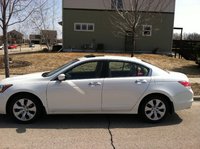 colettijd

writes:
2009 Honda Accord E-XL w/ Nav
Review
Pros
Good space in the front and rear seats. Good space in the trunk.
Cons
Oil burner which causes many many problems, naviagatoin and radio controls are low tech and no blue tooth. Brakes also wear very quickly.

Stay Away, Do Your Research — Fortunately this car was under warranty when the engine components had to be replaced. In total there has been about $6K in repairs before 100K miles. Stay away from the 2008 to 2010 Accords. Very disappointed after owning 2 Accords prior to this.
Displaying 1 - 10 of 33 2009 Honda Accord reviews.
Looking for a Used
Accord
in your area?
CarGurus has

61,756

nationwide Accord listings starting at

$999

.