2008 Volkswagen Rabbit
User Reviews
2008 Volkswagen Rabbit
Review Ratings
Average Ratings from

33

reviews
Performance:
Appearance:
Build Quality:
Overall:
Review Highlights
Click to filter reviews below
Displaying 1 - 10 of 33 2008 Volkswagen Rabbit reviews.
Patrick

writes:
2008 Volkswagen Rabbit 2-Door
Review
Pros
Quick, Sporty for the Price
Looking for a Used
Rabbit
in your area?
CarGurus has

439

nationwide Rabbit listings starting at

$3,999

.
Sasha90

writes:
2008 Volkswagen Rabbit 2-Door
Review
Pros
Made in Deutschland. Not a thing wrong. Electronic stability option thing is fantastic. Great car in snow-can't hardly spinout, fine in crosswinds. Those north-central Europeans are so smart. Can put at least 4 bicycles in back by just taking off front wheel. Looks fast. Roars when floored.
Cons
Windshield wipers need improved to keep water out of my field of vision, body design to allow you to crack windows without rain pouring inside. Crappy fuel milage.
Zippy, Sporty, Agile, Minimalistic, Not As Common As The Ugly Civic. — For sure will get speeding tickets cause its way fun, surprised haven't been stopped. Yet. Should be the best selling car in America. Canoes and kayaks fit fine on roof rack. Lots of stuff in back. Back seat is better than previous years VWs. Did I say this is fun?
Daytona955i

writes:
2008 Volkswagen Rabbit 2-Door
Review
Pros
fun to drive, nice stock stereo, leg room for tall people,,comfortable, the car does very good in the snow..set of snow tires and it is an animal!!! Fantastic cars and a step above the rest in build quality!!!
Cons
a little small inside, needs more HP and better fuel econmy.My only complaint is the door bent from ice and snow not draining from the door jam!!!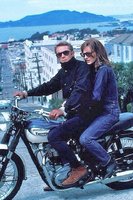 Farfennugen — Over all very impressed with my rabbit, it is a great car for students,a good ,first car, or a daily driver. The rabbit is fun to drive ,handles great in all weather and so far has only cost me gas ,oil and routine maintence!!!!!
Primary Use: Commuting to work
AutoMattic

writes:
2008 Volkswagen Rabbit 2-Door
Review
Pros
Quick, easy to park, good handling
Cons
Leg room, no center console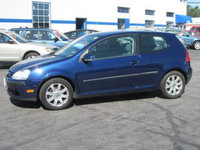 Quick Like A Rabbit — Great car overall. Reliable and consistent. Handles the turns very well and has a great acceleration with an I-5 engine. Great for parking in the city. Hatchback allows for better cargo space in order to transport anything you desire!
Primary Use: Commuting to work
Christopher

writes:
2008 Volkswagen Rabbit 2-Door
Review
Great Looking And Great To Drive. — Great little two-door. Spacious, practical, good looking. Fun to drive, with good on-demand power and a great 5-speed stick. It's no GTI, but it'll put a bigger smile on your face than anything else in the category, while still managing to be refined and comfortable.
Primary Use: Commuting to work
Pavlo

writes:
2008 Volkswagen Rabbit 4-Door
Review
Pros
its fun and its pretty cheap.
I Love It, First Vw In The Us, Sucks That It Isnt Stick But Tiptronic Does The Trick. — Well its the first VW i've ever driven, and im not going to lie its pretty quick. It has a 2.5 straight 5 engine. Its louuuddd! Mornings are probably the best time to drive it because you can hear the engine alot. I would mod it, but then its not really mine, or yet that is.. Build quality is amazing. We havent had anything break leak or even squeek on it. Appearance wise, i guess id like it to be lower but back to the fact that it isnt mine and its a daily for my father. Cost of ownership? Sure it gets about 280 miles to a tank of gas depending on how you drive it, and sure it could be better but you gotta pay to play. the car is absolutely amazing to drive. It does need a few minor upgrades tho. Thicker sway bars and id say thats it fror minor. Anything else would be major, something that either makes the FFFPSHHH sound or something that whines. turbo or supercharger.
Primary Use: Commuting to work
Eric

writes:
2008 Volkswagen Rabbit 4-Door
Review
Pros
FWD, interior room, cargo room, roof rack
Cons
Road Noise on highway
Excellent Value — my only complaint is road noise. Otherwise, tremendous value and solid construction. Would recommend. seats 4 adults comfortable; can squeeze in 5 no problem - plus gear. iPod inteface is good, interior quality is very good for price. easy & inexpensive to own.
Primary Use: Commuting to work
Christopher

writes:
2008 Volkswagen Rabbit 2-Door
Review
Pros
Good balance between great MPG and drivability.
Cons
Although there is plenty of room in the back, it's not easy getting out of the 2 door.
Affordable, Fun To Drive, And Reliable. — Pretty peppy little car that if driven like a grandma can get up to 32mpg. The 2008 Rabbit has 20 more HP than the previous years and it helps for when you're getting onto the freeway. Not a fast car by any means but still fun to drive. A pretty stiff chassis and good brakes provide for a fun drive when you want and solid looks and functional interior make this VW a great daily driver of you can't afford the GTI/R32.
Primary Use: Commuting to work
Randy

writes:
2008 Volkswagen Rabbit 2-Door
Review
Pros
Great performance, handling, and interior space
Cons
mediocre fuel economy, expensive oil changes.
From A Slightly Biased Vw Fan — I have wanted to buy a brand new Volkswagen Rabbit (Golf) since I learned how to drive. The very first car that I called "mine" was a '92 4-door Golf that I inherited when I was a senior in high school (2003). I knew when I had that car that as soon as I could afford it I would be buying a brand new one. I bought this Rabbit in August of '08 and have no serious complaints. The car handles well, has plenty of power, especially torque (177 ft/lbs) and is a blast to drive. It has plenty of driver legroom, I myself am 6'4" and feel really comfortable driving. Road noise is not a problem even going down the interstate at 70mph. Some of the minor complaints I have had include mediocre fuel economy (for a "compact" car) and expensive oil changes. The fuel economy is rated at 29/21 (highway/city). I believe this is attributed to having a five-cylinder motor with gear ratios more appropriate for a four-cylinder motor. At 70mph the motor runs at approximately 2900rpm. I personally feel that the motor has plenty of torque and that either a 6th gear or taller gear ratios would help to improve at least the highway fuel economy. VW's warranty requires you to run full synthetic oil, making the cost of an oil change around $65 (the cheapest price I found at a VW dealer). The car has roughly 32,000 miles and with the exception of a light-bulb mounting bracket recall, has only been in the shop for routine maintenance (oil changes and tire rotation). I would easily recommend this car to a friend, especially a friend that is looking for more than just a plain car to get around in. Also, VW's have recently had great resale value. For just over $15k, it's hard to beat.
Cooper

writes:
2008 Volkswagen Rabbit 2-Door
Review
Pros
Engine, transmission, fit and finish, materials, easy to maintain, fun to drive
Cons
Stereo system, no range estimation or dimming side mirrors
Extremely Good Car — The car is very well put together, and drives better than cars more than twice its price. It accelerates fairly quickly, especially for entrance ramps onto highways. The turning is precise, and its turn radius is small enough that I can turn around in some streets without doing a Y turn. Braking is good. The build quality and materials are second to none. Nothing feels cheap, unlike in its competition. For weeks after I got it, I kept finding little details. For example, there are slots for coins for tolls, a shelf for the owner's manual in the glove compartment, the seat belts are stitched in such a way that if you let go after unbuckling it doesn't thwack against the B pillar, it automatically locks at 8 mph (and while in park it only locks from the outside so if you press lock you can still get out from the inside), and many more. It's thoroughly engineered. Appearance is decent. I just have the basic 2-door with black trim and steel wheels. The design looks like it's a few years old, and, well, it is. However, if you add the body kit bumpers, tint the windows, upgrade the rims, and add Veleo LED tail lights, the Rabbit can look really awesome. It depends on what you're willing to spend. Gas mileage is decent. I get 27-31 mpg usually, and with gas at $1.40 now the fillups are under $20 and give me a range of around 380 miles. Maintenance is fairly simple, and I got a standard 4-year warranty (now 3-year for 2009 models) so maintenance at the dealer is free. Washing the car is very simple, and one thing that's great about the car is that the doors are sealed so that dirt doesn't spray onto the metal between the outside and the inside seal. The rims are kind of a hassle to clean since there are so many holes, but if you get different ones it's easier. The one reason that held me back from just buying the VW without cross-shopping was reliability. My one problem with the car is that the iPod adapter dock broke at 2500 miles, and the dealer's response was to order a new stereo system for the dash. It's not a big problem, but I drive through areas with no good radio reception so it's annoying to not have an iPod to play. What convinced me to buy it was an article that claimed the Rabbit/Golf is the 2nd most reliable car in Europe, and Consumer Reports' high rating. Everything else has been great; no squeaks or rattles. Complaints about the car include no range estimation, no dimming side mirrors, and a subpar stereo system (reliability and sound-quality wise). One more thing: In a couple years, Audi is going to be putting the same engine in its S3, only turbocharged. That means that there will be a plethora of upgrades for the Rabbit's 2.5 5-cylinder engine in the near future. It may be more expensive than the competition, but you get so many more amenities of more expensive cars. It's almost unfair to put this in the econobox comparison; it just has a small size (which is perfect; I've moved all my belongings to college in it, and it's really easy to park). All in all, I would HIGHLY recommend the car.
Displaying 1 - 10 of 33 2008 Volkswagen Rabbit reviews.
Looking for a Used
Rabbit
in your area?
CarGurus has

439

nationwide Rabbit listings starting at

$3,999

.