2008 Toyota Corolla
User Reviews
Average Ratings from

41

reviews
Performance:
Appearance:
Build Quality:
Overall:
Review Highlights
Click to filter reviews below
Displaying 1 - 10 of 41 2008 Toyota Corolla reviews.
JSDStudent

writes:
2008 Toyota Corolla LE
Review
Pros
The car is extremely reliable and cost effective transportation.
Cons
The Corolla is a bit cramped for very tall people.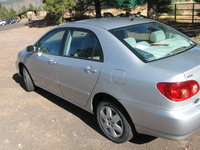 Excellent! — I like the ability to go anywhere for very little money in gas or maintainance bills. Cost to own is very low, especially for how comfortable and quiet this car is. The car is legendary Toyota quality and backs it up every day!
Primary Use: Commuting to work
Looking for a Used
Corolla
in your area?
CarGurus has
52,303
nationwide Corolla listings starting at
$1,988
.
Andrew

writes:
2008 Toyota Corolla S
Review
Pros
Positives include acceleration, braking, comfort, gas milage, cabin space, cargo space, looks of the S body type
Cons
Isn't the fastest of cars, when trying to pass on the highway it feels like you're flinstoning the car with the pedal to the metal.
Great Car With Awesome Dependability And Gas Sipping Engine — This car is great in almost every aspect, besides the issues with some places of the car that should be easily looked at (interior fuse box) being in extremely difficult locations. Very tight fit for changing a headlight bulb, license plate light bulb, other small otherwise simple maintenance issues.
Primary Use: Commuting to work
Ryan3171

writes:
2008 Toyota Corolla LE
Review
Pros
Standard transmission is smooth and easy to use. It also gives you more power over the automatic. Roomy trunk and back seats fold down.
Cons
Overpriced, no standard side/curtain airbags, no traction/stability control, noisy, unstable on corners and highway driving, AC isn't as cold as needed
Disappointing — The first thing I noticed was how little you get for your money when you buy a Corolla. On the test drive, the car was very noisy especially on the highway and the steering/handling was terrible. It's very unstable and in my opinion its unsafe. In addition to that the engine rattled somewhat like a diesel.
connorrhans13

writes:
2008 Toyota Corolla S
Review
Pros
It's very reliable. It has some zip to it. Looks great, but could look better. Great MPG.
Cons
It doesn't really have any cons to it. It's a great car.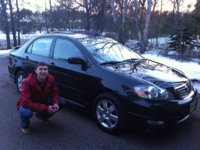 Awesome Sport Looking Car That's Reliable, Great Mpg, Great First Car — I need to spice it up. I need to put some sweet rims on it. Possibly a full body kit. Possibly a spoiler wing. Wish it was faster. Can't complain about the gas mileage though. It would be cool to spice the car up, but Asian people have put such a stereotype on tricking out your car, that I'm kind of scared to do it. I feel like I will get a lot of crap from people. But it will look cool. It won't surprise me if people expect me to be an Asian driving the car.
snicklefritz

writes:
2008 Toyota Corolla S
Review
Pros
Economy, roomy trunk, good ride for a small car, very comfortable on trips, interior layout very functional, fun to drive.
Cons
Shouldn't have sold it.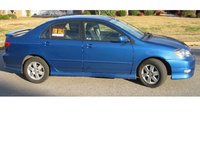 Fun, Reliable And Functional Toyota — I bought the car new in 08 and only had to replace front brakes and one set of tires in the 5+ years I owned. For a small, 4 cylinder car it had plenty of power and had big car comfort in my opinion. I sold it to the sister of my son's girlfriend, so it's kinda still in the family. Corollas are great, reliable little cars!
BigShow3182

writes:
2008 Toyota Corolla S
Review
Pros
Great Gas Mileage 26 city/37 hwy
Very stylish for an economy car
Great handling, low maintenence
Cons
Im a big guy so its a little cramped,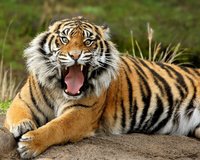 Great Little Car With Plenty Of Power!! — I love this little car, its fast, great gas mileage, and very smooth handeling. It has alot of room also for a little sport/economy car. This is the perfect car for driving around and especially for traveling. Dont let the brand of car fool you, it has some power, it has that get up and go.
Primary Use: Commuting to work
Mohamed

writes:
2008 Toyota Corolla
Review
Pros
+ Its smooth, very smooth and quiet, in fact most of the time I cant tell whether the engine is running or not, luckily the LED on the start button gives indication :D

+ The keyless entry option is very nice, its there on other cars, but as part of the package of the corolla, it gives a nice addition.

+ It feels well refined overall.

+ The 2 tone interior (sand beige and black) looks very good, the in dash 6 mp3 changer is very good, also the controls of the MF steering wheel are well placed and intuitive, more intuitive than Porsche actually.

+ The one I drove had the manual tranny, it's very good and smooth.

+The suspension soaks up the bumps, potholes and all the irregularities on the road well, without sacrificing high speed stability, I think its a good compromise between stiffness and softness.

+ Dunno whether standard on all models or an option, but the auto dimming interior mirror is very useful.

+ The auto climate control is good, with its controls well laid out.

+ Has a trip computer.

+ The dash is well laid out too.


+ Good brakes, the ABS threshold is good too.

Cons
- Doesnt give good steering or shifting feedback, you really need to keep an eye on the RPM or you'll miss your shifts.

- The steering seems like its more comfort oriented than sporty, its not as sharp as the C4's steering nor handles as good, also as stated in the previous point, lacks good feedback.

- Only the driver's window has a one-touch operation, all other 3 dont, really annoying.

- Cant shut the windows from outside, also annoying.

- The side mirrors do not dim with the interior one, and they are large and badly designed IMHO.

- Not as much fun as the C4.

- Not very roomy inside, our 2005 Hyundai Elantra is much roomier.
Good City Commuter, Not Very Sporty — After having driven the Corolla all the way to the north coast about 250 KM from my place, I can say it's good enough, not my cup of tea though; VERY good city cruiser, especially in our lovely Egyptian roads, if you're looking for more comfort its a good choice. If you're sports cars oriented (like me :D) you wont be able to live with it for long, you'd better look somewhere else.
arrow2fast

writes:
2008 Toyota Corolla CE
Review
Pros
Reliable, cheap on gas

Economy Version Of Economy Car — Like; cheap on gas, never broke down once in the 140,000 km we drove it. Faithful vehicle, forgives occasional lapses of care (forgot oil change? no problem). Handles surprisingly well given the rickety feeling and small engine. The small weight of vehicle compensates for the weak engine, and yes, it can accelerate! Hate: the cheaply made interior and manual window handles, and no power locks. We bought it almost new for our teenage daughter, so it was meant to be basic, but we would not do it again. Feels rickety.
Kevin

writes:
2008 Toyota Corolla S
Review
Pros
TOYOTA!, Gas Mileage, appearance
Cons
less HP than competors, XRS is gone
Great Looking Sedan Would Rate This Car A 9 Out Of 10 — The 2008 Toyota Corolla S is a very nice looking car it drives really good and accelerates well and the engine noise is okay and it's really quiet inside the car while it's idling, gets pretty noisy when accelerating on the highway and when it going at high speeds (50+mph) the only thing that bothers me is the noise it makes inside the cabin when driving on bumpy roads (maybe it's because the S model's interior is made with plastic and that's why it's so bad. my friend's '03 LE does not make any noises)
St-larry

writes:
2008 Toyota Corolla
Review
Excellent Performances — cost of maintenace is so affordable and has a very fashionable interior. fun to drive. very good building quality that makes it last at services. travel very far with economical fuelling. has a very low ability to carry cargo. i love this car.
Primary Use: Sport/fun (spirited driving, track racing, off-roading, etc.)
Displaying 1 - 10 of 41 2008 Toyota Corolla reviews.
Looking for a Used
Corolla
in your area?
CarGurus has
52,303
nationwide Corolla listings starting at
$1,988
.