2008 Saab 9-3
User Reviews
Average Ratings from

15

reviews
Performance:
Appearance:
Build Quality:
Overall:
Review Highlights
Click to filter reviews below
Displaying 1 - 10 of 15 2008 Saab 9-3 reviews.
Jan

writes:
2008 Saab 9-3 Aero
Review
Pros
BUY ONE , you pitty fool!
Bmw Sucks ! Drive A Saab — One of the best cars you can get. It can outrun a bmw, audi and merc. And still it runs cheaper on fuel. Service bills are cheaper also. I have the 180 bhp Twin turbo diesel now. It holds 400NM of torque. Its give a good kick , and its VERY economical in use
Primary Use: Family transportation
Looking for a Used
9-3
in your area?
CarGurus has
1,286
nationwide 9-3 listings starting at
$994
.
WookieOnRitalin

writes:
2008 Saab 9-3 2.0T
Review
Pros
Appearance/Styling. Steering. Turbo. Ride. Quality, Comfortable Interior.
Cons
None Really. Rear seats may be tough on full size adults.

The 9-3 Is Beautiful Car That's Efficient, Fun To Drive, High Quality. — The 9-3 is an excellent vehicle. I just bought a used 9-3 and it is a very satisfying vehicle that seems without much compromise. Great ride. Great drive. It's a blast to pour through turns and push down the throttle. Very little turbo lag. This car is really built from the driver's seat out. The interior is excellent, sharp, and very comfortable. I would recommend this vehicle to anyone. It's probably one of the best balanced cars on the road. Oh, and it's just pure eye candy.
Primary Use: Commuting to work
rogier

writes:
2008 Saab 9-3 2.0T Convertible
Review
Pros
Fun to drive, as droptops are; turns heads.
Cons
Stupid cupholders. Small trunk space. Poor-sounding factory stereo.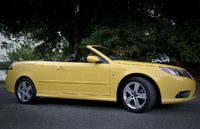 Some Quirks And Minuses, But A Strong Performer And A Lovely Vehicle Inside And Out. — Lovely car, very comfortable, and loaded with great features, from parking assist (car beeps when in reverse and approaching a solid object) to OnStar to a chilled, lockable glove-box. The convertible roof opens/closes in 20 seconds and no longer needs to be latched manually as with older models. Pretty cool that you can open the roof with the remote while standing outside the car. Peculiar that you can't CLOSE the top again the same way; you have to be sitting inside the Saab for that, and use a switch on the dashboard. Acceleration and braking are strong, though I find the car a bit "polite" for my taste. My 1997 Saab ragtop had 25 fewer horses but it seemed to have a little bit more "get-up-and-go," perhaps due in part to the more aggressively tuned engine and an exhaust sound that was unmistakable from a hundred feet away. The older car was a bulldog mix; the new one a purebred setter. I can see the attraction in either. I love the exterior styling -- elegant while still retaining a good chunk of fairly rakish sports-car persona. Inside, Saab has pulled back from the mid-nineties cheapness born from being forced to use the GM general-parts bin, though remnants of it remain. Both visually and in a tactile sense, the plastic handbrake is a disappointment in a $43,000 car, as are the perennially flimsy cupholders. Swedes don't "get" cupholders, for some reason. My feeling is that if you're going to be selling on the American market, your designers ought to damn well include sturdy Big-Gulp-loving cupholders, and not treat the job with apparent disdain, as an afterthought. Thumbs down on that one. That said, fit and finish are very good overall, the leather is nice and pretty and soft, and at night the dash and lighted controls are just this side of understated. The cheap Christmas-tree look of earlier (nineties) model years has thankfully been tamed. (But what happened to the reading lights for the backseat? Axed and gone, but not forgotten. A strange way to save a few bucks.) The Saab 9-3 convertible is lower to the ground than its predecessor and as a result has a center of gravity that pushes it against the road, though the car is ready to rumble at a moment's notice -- as in "just a moment," because a touch of turbo lag has never been quite expunged from Saab engine design. No matter, though; flooring the gas pedal makes for fun, even exhilarating driving, especially with the top down. I had my previous Saab droptop for ten years before I sold it, and I plan on having the current one for at least as long. No doubt it will serve me faithfully and provide a safe and joyful ride, especially on days when the desire for wind-in-your-hair excess meets up with sunshine and the feeling-free fun that's embodied by a quality convertible.
Primary Use: Sport/fun (spirited driving, track racing, off-roading, etc.)
Tyler

writes:
2008 Saab 9-3 2.0T
Review
I Thought I Was Buying An Inifinity G37, But Then I Looked Across The Lot And Saw My Saab — Dislike the moonroof issues and lack of aftermarket possibilities currently. Like everything else. A solid built and stable car. The warranty coverage is great with minimal cost of ownership. The car is very fun to drive especially with the power down low being there ready willing and able.
Primary Use: Sport/fun (spirited driving, track racing, off-roading, etc.)
Urs

writes:
2008 Saab 9-3 2.0T Convertible
Review
Saab Survived - Thank You Koenigsegg — great car in every way. best way to wake up in the morning to drive with the roof open to work - enough power with hirsch tuning - not as common as a bmw, audi or volvo convertible - not at least extremely comfortable seats - and one of the very few 4-seater convertibles with a real roof (textile) - metal twin top? noooo way !!
Primary Use: Commuting to work
skiandsea

writes:
Pros
Can be found for a great price, giving you an awesome value!
Cons
Minor technological lag in electronics

Love At First Sight — Overall, I have found my vehicle to meet or exceed my expectations. With just a four banger, you can move fast, while still achieving great gas mileage. It is a thinkers care, giving you, the driver lots of information/warnings as needed. FUN TO DRIVE, OWN, AND ENJOY!
Primary Use: Commuting to work
Liam

writes:
2008 Saab 9-3 2.0T
Review
Pros
Great looking, sounds amazing and is pretty nippy.
Max

writes:
2008 Saab 9-3 Aero
Review
Pros
Low-end torque, styling, interior looks.
Cons
Slightly numb steering, four doors, long throws.
Saab 9-3 Aero Mt — Performance - It accelerates very well but loses traction in first gear. The braking is very responsive but not too sensitive. The handling it sporty, but a little numb. It tends to understeer a little under extreme maneuvers. I have no complaints about the build quality, however it only has 4000 miles on it. I guess the flip out cup holder on the dash could be sturdier.The interior styling is excellent, however I'm not a huge fan of the two-tone seats. I love the look of the steering wheel. The exterior is also very nice. I don't necessarily like the side profile, but I am a coupe guy. The front is very eye-catching and the white taillights look excellent. The gas mileage is a big negative. For the horsepower, it should get much better mileage. I average about 16 in the city. I know of other cars with 300+ horsepower that get the same city mpgs. I have never taken it to the shop, but Saab of Troy offers free service (oil change, check up, etc.) so that's a plus. The car is very fun to drive, especially with the stick shift; however, the shifter and clutch have very long throws. The shifter also does not operate very smoothly. I love the low-end torque and the almost non-existent turbo lag. Overall, it is a fun car with some great styling cues.
Melissa

writes:
2008 Saab 9-3 2.0T
Review
Pros
Exterior design, Simplicity, Great on gas
Cons
Saab does not have Bluetooth technology :-(
In A Hurry? — Excellant handling. If you need to get somewhere quick, this car will get you there! Great on gas, Cockpit is well designed and user freindly. Easy to maintain. The car is still new so no reports on maintenance just yet. Hard to believe it is under 250HP! If you really want to have some fun, switch it to manual mode :-)
Stephen

writes:
2008 Saab 9-3 Aero
Review
Displaying 1 - 10 of 15 2008 Saab 9-3 reviews.
Looking for a Used
9-3
in your area?
CarGurus has
1,286
nationwide 9-3 listings starting at
$994
.