2008 Mazda MAZDASPEED3
User Reviews
2008 Mazda MAZDASPEED3
Review Ratings
Average Ratings from

50

reviews
Performance:
Appearance:
Build Quality:
Overall:
Review Highlights
Click to filter reviews below
Displaying 1 - 10 of 50 2008 Mazda MAZDASPEED3 reviews.
Josh

writes:
2008 Mazda MAZDASPEED3 Grand Touring
Review
Pros
Power, Overtaking, Handling, Extras Package affordable, MPG is good
Cons
Summer only tires, tricky gearbox and clutch take getting used to
Mazdaspeed 3 — This car is a rare beast! Not common to find another one driving on the roads with you. I find the handling with a sticky set of tires wonderful and the car handles great with winter tires in Wisconsin winters. Limited slip diff helps that a'lot! Normal turbo rules apply which means 93 gas religiously + mind the cool down period. Plenty of space inside. Never thought I'd buy a 4 door car but this one isn't your daddy's station wagon at all! So far, nothing but praises. Oh did I mention just a tick under 300 horses!?
Looking for a Used
MAZDASPEED3
in your area?
CarGurus has

458

nationwide MAZDASPEED3 listings starting at

$5,800

.
Kevin

writes:
2008 Mazda MAZDASPEED3 Sport
Review
Pros
Amazing value, Wonderous acceleration, Super Handling, Sleeper looks, Excellent Reliability
Cons
Uses premium fuel, OEM performance tyres are pricy to replace, loses 0 - 60 and 1/4 mile to an ugly 2008 Colbalt SS
Mazdaspeed 3, Ms3, Speedy... Whatever You Call It... You Should Get It!!! — My Mazdaspeed 3 (MS3, Speedy) makes me smile every time I drive it! <--- But that statement doesn't meet the 50 word minimum ;) The Mazdaspeed 3 is simply the best bang for your buck in the current series of turbocharged FWD sport compact cars under $25,000! "Speedy's" main competition comes from the Chevy Cobalt SS, the Chevy HHR SS, the Dodge Caliber SRT and the Volkswagen GTI. It can also hold its own with the Subaru Impreza WRX and the new Lancer Ralliart, but they exist in the AWD category. When compared to the FWD competition listed above it beats the HHR SS, the Caliber SRT and the GTI in practically every performance measurement, from 0-60 acceleration times to 60-0 braking times. That leaves the Cobalt SS with its new no-lift shifting and beefed up suspension bits. The Cobalt SS out-performs Speedy in a number of performance measurements, but not by much. What gives the Mazdaspeed 3 its edge IMO is it's a complete package. More than ample performance; a myriad of standard features; enough room to fit 5 adults comfortably; and the practicality of a five door hatchback. Hmm and lets not forget Mazda's world renowned handling characteristics. Check out Edmunds and Car and Driver for their comparo reports. Performance: Enough Torque Steer to annoy people who don't know how to drive. Enough Torque Steer to make people who know how to drive powerful FWD cars smile. 0-60 mph: ~ 6 secs. 1/4 mile: ~ 14 secs. @ 100 mph Top Speed: 155 mph One of the best braking vehicles at any price. Handles like if its on rails, ultra sharp responsive steering, better handling than a 2008 Subaru Impreza WRX (Edmunds.com) Personal 0-60MPH - 6.2 sec. Build Quality: Solid feel, excellent safety features, dashboard does tend to rattle when the temperature is below 70oF. Appearance: Slightly bulgier than a regular Mazda 3, nice rear wing and stylish 18" rims. But it still remains a nice unassuming sleeper, i.e. no big, boy racer hood scoop so It blends in well with the regular population of hatchbacks. Cost of Ownership: Unfortunately with the current gas prices, having a car that requires Premium Fuel is a real pain in the wallet. However, the MS3 is capable of getting MPG greater than EPA estimates. Observe the posted speed limits, avoid speeding off at every stoplight and drive in the most fuel efficient gear. Save the speeding for those special occasions, when the "boy racers" in their souped up Civics want to test what they think is a regular Mazda 3 with a CAI and Cat-back exhaust system. You'll have much more fun enjoying Speedy's handling abilities rather that breaking the speed limits. Fun Factor: As mentioned above, this car is fun to drive. Really really fun to drive. The gear of choice for the majority of the fun is third gear, the intake and exhaust note in third is wonderful. While Speedy is capable of 155mph, I wouldn't advise you to find your fun above 100mph... Jail or the Morgue are probably not fun places. The best places to enjoy Speedy's handling is on Highway on and off ramps. I am not condoning driving above the posted ramp speed limits, but the MS3 is more than capable of doing so with great ease. In conclusion the Mazdaspeed 3 is just FUN FUN FUN to drive... the fact that you can get it for way less than $25,000 just makes it sweeter!!!
Ryan3171

writes:
2008 Mazda MAZDASPEED3 Grand Touring
Review
Pros
Powerful engine, Versatile interior, Comfortable bucket seats, Many safety features standard
Bye Bye Gti, Make Room For The Zoom Zoom! — Well, hard to imagine, but I chose the Speed3 over the Mk5 GTI. Yes, it was a close call... Call it silly, but one of the tipping points for me is that the Speed3 is a good looking, but subtly styled car. The GTI blasts you with its Speed Boy front end styling. No thanks. The Speed3 is, as you must know, fast. Almost too fast, if there is such a thing. The shifter is a tad notchy, so you will need practice, but once you master it, you'll appreciate the well bolstered seats because you will be pushed back into them on take off. Zoom Zoom! It really is amazing how Mazda minimized the torque steer. Its so minimal in first and second, I wish they did not tame it so much (aftermarket calling...). Lets not be OCD about this. This is a fun, little car that you can still drive daily. You can get almost four Speed3s for the cost of a nicely equipped Audi RS4. So, high end leather, radio, and sound dampening, you don't get. Then again, you may still be able to afford to drive the Speed3 and keep your house. The interior of the Speed is nice, not great but good for the range. A bit too much plastic on the dash, but I can live with it. Its that much fun. Sure, watch out for tire spin, its true. But really, unless you are sticking the throttle through the floor at every stop light, you will be fine. What Mazda needs to do is offer more factory options (GTI anyone?). You are right if you think 18" rims on a car this size is overkill. I seriously doubt you will lose any performance on 17" with higher profile tires. You might want to look into this if you live in snow belts or with many potholes. Yes the exhaust drones, but its not overwhelming . My advice is to spring for the Grand Touring version. The leather seats, climate control, and better audio are worth it and will help resale value, if you care. The WRX just got tamed this year, the EVO X is frankly overpriced and thirsty, the GTI? Nice, but is dressed like a teenager. Plan ahead though... the Speed3 is a limited build car so you may have to wait a few months to get your hands on this pocket rocket of a hot hatch. Did I mention it was fun
TurboDan

writes:
2008 Mazda MAZDASPEED3 Grand Touring
Review
Pros
Great power, great price, great handling, and even good MPG when you are out of the throttle (I averaged 30 mpg highway).
Cons
If you are into modding, be aware of the PCV/vacuum issue - a downpipe install could cause a smoking turbo. The only issues I had was the fuel pump wasn't up to par around 65,000 miles (for my boost levels), and the shocks/struts went around 50,000 (but I sometimes had a hitch with 3 bikes on it which probably didn't help).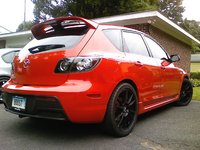 Wish I Never Got Rid Of This Car.... — I loved this car for the 77,000 miles that I owned it. I installed a Cobb Accessport and Cobb Downpipe, along with their intake and a front mount intercooler and the car made around 290 wheel horsepower and 330 torque on a conservative dyno. I also averaged about 28 mpg per tank on my commute, I could get 30+ if it was all highway. It was lots of fun, decent space inside, and I would buy another.... Currently waiting to see what "Mazdaspeed" comes out next for 2015+, along with the Subaru STi, & Mitsubishi EVO.
Primary Use: Commuting to work
Hannah

writes:
2008 Mazda MAZDASPEED3 Sport
Review
Pros
Performance. 0 to 60 in 5.7, STOCK. And thats with boost limited in 1st and 2nd gears
Cons
Mazdas direct injection spark ignition is real touchy to modding. This car needs to be tuned if high power is your goal.
Super Sleeper That Is Unstoppable On A Roll. — Had turbo replaced due to the K04 seals allowing oil to leak from the hot side to the downpipe, causing smoke to develop on extended idle. Turbo was replaced with a 3rd revised K04. No smoke now. Love the interior. Looks are settle. Very fun to drive!
Primary Use: Sport/fun (spirited driving, track racing, off-roading, etc.)
Scott

writes:
2008 Mazda MAZDASPEED3 Grand Touring
Review
Pros
Fun without being inconvience for daily driver.
Cons
Road noise is a bit loud.
9.9 Out Of 10 Stars! — Great car, and isn't too common on the roads. Front wheel drive isn't as desirable as all wheel drive, but the 264 Horse power with little torque steer is great and makes up for it. Stopping power is top rated and the car keeps up or beats cars with sticker prices 8 to 12 thousand more. Best bang for the buck.
Primary Use: Commuting to work
Michael

writes:
2008 Mazda MAZDASPEED3 Grand Touring
Review
Pros
Very loud and powerful stock exhaust, comfortable and stylish interior. Quick, small car.
Cons
Torque steer in lower gear, front wheel drive.
Ms3: Love It! — Absolutely love this car. Car and Driver Magazine named it number one best performance for the price in a comparison test. Looks great, really quick thanks to the turbo. Clutch is a little rough, but it not too soft. Since it's a front wheel drive car that has a lot of horse power (263 hp), there is torque steer in the lower gears. A real fun car to drive everyday, and can be made into a fun little pocket rocket.
Chris

writes:
2008 Mazda MAZDASPEED3 Sport
Review
Pros
Fast, comfotable, good price
Cons
could use a little more flair as far a styleing
Very Good Bang For The Buck! — This car has great handling and power. The turbo has almost no noticeable lag and gives solid power throw the power curve. It also has a nice interior. Lots of room for 4 adults. The bucket seats are very comfortable and hold you in under hard cornering. also the close ratio 6 speed transmission is very quick and solid go for fast pulls or spirited canyon driving.
Seani

writes:
2008 Mazda MAZDASPEED3 Grand Touring
Review
Pros
Fast, great handling and braking
Ryan

writes:
2008 Mazda MAZDASPEED3 Grand Touring
Review
Pros
Cheap to insure, very quick, comfy, great car damnit.
Cons
FWD (not really a negative, jsut in comparison to competition, Subaru), not free, not mine. :-)
Yus — Real fun car. Good in the mountains ("Touge"), though we haven't pushed it. Gets to 100mph+ in short order. Excellent response. nice and stable (or isolated?). Real nice. Practical, too. Pretty much a sleeper here in the USA, as hatchbacks aren't so common. Fun to drive. i'd say more, but my friend just purchased it this July, so no track time or anything yet.
Displaying 1 - 10 of 50 2008 Mazda MAZDASPEED3 reviews.
Looking for a Used
MAZDASPEED3
in your area?
CarGurus has

458

nationwide MAZDASPEED3 listings starting at

$5,800

.