2008 MINI Cooper
User Reviews
2008 MINI Cooper
Review Ratings
Average Ratings from

46

reviews
Performance:
Appearance:
Build Quality:
Overall:
Review Highlights
Click to filter reviews below
Displaying 1 - 10 of 46 2008 MINI Cooper reviews.
Chris

writes:
2008 MINI Cooper S
Review
Cons
Can't think of any. Just too great of a car.
It Is Plain Awesome!! — So fun to drive!! You can go for a peaceful drive in normal mode or switch it to sports mode and cruise around at high speeds. The appearance is very sleek and sporty. The gas mileage is very high. We haven't had to any major maintenance on it except for changing the oil and putting new washer fluid in it but that's it for maintenance. Inside are sporty seats and a sporty stearing wheel. On the outside it has a hood scoop and a spoiler. Sun and moon roof. Really nice for sunny drives or rainy nights.
Primary Use: Sport/fun (spirited driving, track racing, off-roading, etc.)
Looking for a Used
Cooper
in your area?
CarGurus has

6,619

nationwide Cooper listings starting at

$3,250

.
Ymmot

writes:
Pros
Great warranty and service -- if you ever need it.
Cons
guys in big trucks have problems with small things

A Comfortable, Low-mileage, Super Driving Car With Great Tradition. — Great small car with big fun! It's a go cart that you can drive on the street while getting great mileage from the mid 30's to the mid 40's. Its BMW technology and Austin-Cooper tradition makes it great for a "car guy" like me. It also has great looks and to be so small it has space for the large driver and passenger with a back seat for the smaller people. If you need to carry a lot--buy a truck.
Grace

writes:
2008 MINI Cooper S
Review
Pros
What is there not to like?
Cons
Are we talking about a MINI?
Bottoms Up Is My Bottom Line On This Car. — I love MINIS. Lets face it! This is the best-looking economy car on the market. Nothing comes close to performance and drve-ability. My only complaint is that you are more likely to get a speeding ticket driving a Mini. The manufacturer ought to do something about that.
Asif

writes:
2008 MINI Cooper Base
Review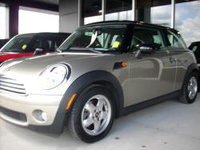 2008 Mini Cooper — This is good looking car. In the past I drove Hondas and Toyotas. Compare to them Mini cooper feels solid and has great performance. It is fuel efficient, easy to park, has nice engine sound, and quality interior. Sports front seats are comfortable. .
Kelli

writes:
Pros
Fits in small spaces.
Cons
Don't know of any...
Back To A Mini — CooperS. It's the best car ever. Our old one was supercharged, my new one is turbocharged. Went with an automatic this time due to Phoenix traffic. Sport package though, so I do have the paddle shifters. Drives like a rocket. I'll say it again, it's the best car ever. EVER!!
treikya

writes:
2008 MINI Cooper S
Review
Pros
Lots of fun little features, great power and handling, overall, great fun to drive.
Cons
This is not a family car. There is barely any trunk, no backseat to speak of. You MUST keep up on the maintenance or shell out some serious cash for repairs.

Overlooking Its Shortcomings, It's A Very Fun Car. — I smile every time I get into this car. Fabulous power and handling, as many people have said - this car is a rocket on wheels with go-kart handling - a real live RC car for adults. I own the turbo charged model, and that's the way to go. Even though I need to put premium gasoline in it, I average 34 miles to the gallon. I love, love, love driving it, however these cars are... fussy. This is not a car you can just get in and drive it while neglecting regular maintenance. If you do regular oil/belt/fluid changes, you're good, but if not, repairs are very expensive. If you have time and energy to baby the car, it's absolutely fabulous!
Eveline

writes:
2008 MINI Cooper Base
Review
Pros
Brilliant car to drive with! Wouldn't want any other
Cons
When the passenger seat isn't in the right position, it can take away some of your visibility.
On the highway you don't feel how fast you're driving... It doesn't really suck at the time, unless you get a fine :D
Mighty Tyrese — *Performance - Strong brakes, a fast gettaway car and you'll have no problems dodging people and/or other cars. When on the highway you don't feel you're driving fast! *Build Quality - In the 4 years I've been driving it, it has only needed the usual check-ups and one light bulb replaced... *Appearance - Cool car, but a true girly car... Both exterior as interior is made for a woman. *Cost of Ownership - For a small car is has a huge tank. Makes it more expensive than your average small car, but you do longer with one tank... *Fun Factor - I love to drive this car! It's small, so excellent for the city, and fast, so you don't feel like a snail on the highway.
Primary Use: Commuting to work
johnniec30

writes:
2008 MINI Cooper S
Review
Pros
Amazing Mini Handling. Fun to drive. Front seats comfortable for any size rider. Amazing performance and power for size. Great look and customization feature.
Cons
Lack of information from dealers about turbo maintenance and oil check requirements. This model requires a person be informed on how to maintain the vehicle checking oil every 2 weeks for the turbo. No spare tire area on the S model. Run flat tires loud and annoying. Removed them to replace with regular tires but then no spare for use in case of flat or road hazard.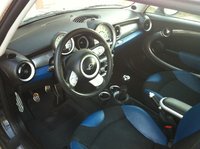 Great Car For Educated Buyer. — Great all around car.. great fuel economy. great customization options great handling and safety feature. Contains Convenience package, Cold weather package, and premium package. customer blue interior and back exterior with white roof and mirrors with white customer sports stripes. recommend education before purchase. know to change and check oil at regular intervals and know how to read dipstick properly. after 60 to 70k miles replace thermostat house gasket. can cost 500 dollars from dealer but if you are willing to fix it yourself and waste 3 hours can be replaced for 15 dollars and can replace housing for 130 dollars with part from dealer stock.
Primary Use: Commuting to work
Garry

writes:
Pros
Love the car and will replace him with another
Mini (willy) — Have owned our MINI Cooper (Willy) for 3 years and he has been an excellent, not really practical, but we knew that when we bought him as a second car. Would definitely buy another. Fuel consumption not that good as are the rear seats and boot.
Primary Use: Family transportation
1MiniCoopS

writes:
2008 MINI Cooper S
Review
Cons
Backseat - but I'm never in it!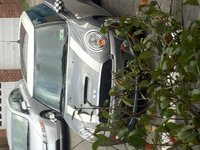 Love This Car So Much - Getting Another One! — I love this car, and MINI owners are awesome! The only reason I am selling it is because I am getting a new one! It is in great shape and I am the first and only owner for this car.
Primary Use: Commuting to work
Displaying 1 - 10 of 46 2008 MINI Cooper reviews.
Looking for a Used
Cooper
in your area?
CarGurus has

6,619

nationwide Cooper listings starting at

$3,250

.