2008 MINI Cooper
User Reviews
Displaying 1 - 10 of 50 2008 MINI Cooper reviews.
asitchandra

writes:
2008 MINI Cooper S
Review
Pros
Accelerates and Handles great on Straight Line and turns. Excellent Power to Weight Ratio.
Cons
Back Seat not roomy enough for adults. Trunk space limited.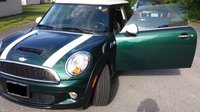 Looking for a Used
Cooper
in your area?
CarGurus has

14,376

nationwide Cooper listings starting at

$2,995

.
David

writes:
2008 MINI Cooper S Convertible
Review
Pros
Zippy Little Car 208HP Supercharged 1.8L 4Cylinder
6 Speed Manual
Cons
Small back seat
Won't want to get out !
merthurmeydan

writes:
2008 MINI Cooper Base Convertible
Review
Pros
Great for summer cruising, even though it is a light car it handles great in snow/ice or wet road. Lets not even mention Gas consumption and parking. it is an absolutely excellent car.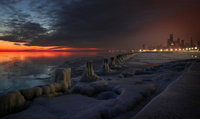 Aleksandr

writes:
2008 MINI Cooper S Convertible
Review
Pros
Gosh where do I begin, This car is amazing and I would never get rid of it if I didnt have to. It drives like a large go-kart with steering like a boss. The supercharged engine is always providing you with the best power from 0-120mph. Top down and your cruising with a smile from ear to ear. This car is sure to provide you with comfort, power, and style as well as so much fun every time you get in. You can feel the car at the wheel on every turn, and pull. A lot of control under your petals and 6 speeds for maximum pleasure.
Cons
I would say the trunk is a little small but I have never needed more. I can fit 2 weeks worth of groceries in the car no problem. The seats go down for more room too. The gas is premium but thats because its a premium car.
Changing the oil can be a pain because the filter is tilted but its no biggie.
This Is By Far The Car That Ive Had The Most Fun On Ever. Its Powerful, Fun And Addicting! — I really dont know where to start with this car. Its amazing in every way. If your a fan of back road driving and twisty turns this is it! It might not be a family car because of the lack of space but for a personal car this one should be on the top along with the other minis in its class. The performance on this MINI is top notch with handling like a professional race car. A modified suspension from MINI factory to give it tight turns and feeling in the wheel. There is total control with this car. The supercharger and cold air intake with the reduction pulley give this car top performance in the racing field. Always power under the hood no matter what speed you are at. If you are looking for a fun over all car to get you from home to work or school or anywhere while looking sporty this is it. The style of the MINI has a fun cheerful attitude with loads of goodness inside. I have never had a dull moment with this car! SO MUCH FUN!! The gas milage is sweet when you drive it normally or even hard every now and then. There is a larger blind spot in the back because of the smaller window but its no big deal when you have side mirrors with the extra wide viewing mirrors too. I can say for sure I feel really safe in this car as well. The body is reenforced to support the convertible as well as airbags everywhere needed. I love this car thats the most I can say. :) I know you will love it too. If you are a MINI person then any mini will do really but this one is extra special with almost everything you can have in the mini! :)
Primary Use: Commuting to work
cgwatkins1

writes:
2008 MINI Cooper Base
Review
Pros
The Mini drives and handles like no other, It is a fun car to drive! The gas mileage is excellent. 35-40MPG.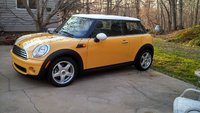 The Best Ride Ever! — It has been an awesome car. It has a powerful engine and in sport mode the handling is twice as much fun to drive! It has a spacious cargo area in back with the back seats down which is great for traveling with pets, luggage or whatever!!!
Primary Use: Commuting to work
johnniec30

writes:
2008 MINI Cooper S
Review
Pros
Amazing Mini Handling. Fun to drive. Front seats comfortable for any size rider. Amazing performance and power for size. Great look and customization feature.
Cons
Lack of information from dealers about turbo maintenance and oil check requirements. This model requires a person be informed on how to maintain the vehicle checking oil every 2 weeks for the turbo. No spare tire area on the S model. Run flat tires loud and annoying. Removed them to replace with regular tires but then no spare for use in case of flat or road hazard.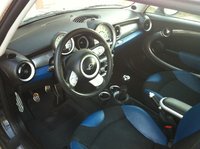 Great Car For Educated Buyer. — Great all around car.. great fuel economy. great customization options great handling and safety feature. Contains Convenience package, Cold weather package, and premium package. customer blue interior and back exterior with white roof and mirrors with white customer sports stripes. recommend education before purchase. know to change and check oil at regular intervals and know how to read dipstick properly. after 60 to 70k miles replace thermostat house gasket. can cost 500 dollars from dealer but if you are willing to fix it yourself and waste 3 hours can be replaced for 15 dollars and can replace housing for 130 dollars with part from dealer stock.
Primary Use: Commuting to work
Eveline

writes:
2008 MINI Cooper Base
Review
Pros
Brilliant car to drive with! Wouldn't want any other
Cons
When the passenger seat isn't in the right position, it can take away some of your visibility.
On the highway you don't feel how fast you're driving... It doesn't really suck at the time, unless you get a fine :D
Mighty Tyrese — *Performance - Strong brakes, a fast gettaway car and you'll have no problems dodging people and/or other cars. When on the highway you don't feel you're driving fast! *Build Quality - In the 4 years I've been driving it, it has only needed the usual check-ups and one light bulb replaced... *Appearance - Cool car, but a true girly car... Both exterior as interior is made for a woman. *Cost of Ownership - For a small car is has a huge tank. Makes it more expensive than your average small car, but you do longer with one tank... *Fun Factor - I love to drive this car! It's small, so excellent for the city, and fast, so you don't feel like a snail on the highway.
Primary Use: Commuting to work
Kelli

writes:
Pros
Fits in small spaces.
Cons
Don't know of any...
Back To A Mini — CooperS. It's the best car ever. Our old one was supercharged, my new one is turbocharged. Went with an automatic this time due to Phoenix traffic. Sport package though, so I do have the paddle shifters. Drives like a rocket. I'll say it again, it's the best car ever. EVER!!
Chris

writes:
2008 MINI Cooper S
Review
Cons
Can't think of any. Just too great of a car.
It Is Plain Awesome!! — So fun to drive!! You can go for a peaceful drive in normal mode or switch it to sports mode and cruise around at high speeds. The appearance is very sleek and sporty. The gas mileage is very high. We haven't had to any major maintenance on it except for changing the oil and putting new washer fluid in it but that's it for maintenance. Inside are sporty seats and a sporty stearing wheel. On the outside it has a hood scoop and a spoiler. Sun and moon roof. Really nice for sunny drives or rainy nights.
Primary Use: Sport/fun (spirited driving, track racing, off-roading, etc.)
Grace

writes:
2008 MINI Cooper S
Review
Pros
What is there not to like?
Cons
Are we talking about a MINI?
Bottoms Up Is My Bottom Line On This Car. — I love MINIS. Lets face it! This is the best-looking economy car on the market. Nothing comes close to performance and drve-ability. My only complaint is that you are more likely to get a speeding ticket driving a Mini. The manufacturer ought to do something about that.
Displaying 1 - 10 of 50 2008 MINI Cooper reviews.
Looking for a Used
Cooper
in your area?
CarGurus has

14,376

nationwide Cooper listings starting at

$2,995

.