2008 Jeep Grand Cherokee
User Reviews
2008 Jeep Grand Cherokee Review Ratings
Average Ratings
from 21 reviews
Performance:
Appearance:
Build Quality:
Overall:
Review Highlights
Click to filter reviews below
Displaying 1 - 10 of 21 reviews
1
2
3
Next
Ilya

writes:
2008 Jeep Grand Cherokee Overland Review
Pros
Interior, exterior, navigation, 30GB HHD, HIDs, steering wheel, audio system
Cons
HEMI is underpowered for a 6,100-lb SUV, engine is load especially while in MDS, some cheap-looking chrome accents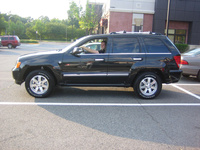 2008 Grand Cherokee Overland Review — I love the new interior, it's almost perfect. However, the center console is cheap-feeling, and the plastic chrome accents are not solid and look really fake. The HEMI has more power over the 4.7L, however it's MDS feature is worthless, adding an advertised 15% better gas mileage, but in reality it's much worse than that. The car weights over 6,000 lbs so gas mileage is pretty crappy, but that's no surprise for a 5.7L V8. I get about 12 MPG average in city and highway driving. The seats are not 8-way power like my old 1999 Grand Cherokee Limited, with manual lumbar adjustment, the passenger seat only 4-way power (can't move up/down), driver is 6-way power -- but the front of the seat doesn't go up as high as I would like it to. The wood and leather steering wheel is a very nice touch, but where the wood meats the leather, big gaps are visible which make it look cheap. I hate how the door locks are in the exact same spot as where I like to put my arm while driving, and the window sill is too high. The 1999 GC Limited didn't have these issues. Sirius satellite, while free for the first year, sounds TERRIBLE, even when compared to standard FM. This is a known issue (google it), with XM offering slightly better quality. The Sirius real-time traffic is neat, but not very practical, as it only shows major roadways and sometimes nothing at all. Once my subscription runs out I will not be renewing. The navigation/radio system sometimes gets "stuck" and won't let you press a button unless you "refresh" it by going to another screen and then back again. I'm sure there will be a software update to address this problem. The last negative thing I can think of is that the seat doesn't offer adequate side support, and I feel that I need to hold on to the center console when making sharp turns. You can't hold onto the shifter like with the < 2005 models because you will shift the gear down/up -- pretty annoying, but not a big deal. OK, now for the things I like. There are waaaaay too many to list, but I will try to touch on the best ones. The 30GB HDD is absolutely great! It has about 16 GB of space for your own music/pictures, which is more than plenty. I recommend buying a 16 GB flash drive (~ $50 on Amazon), and use it to hold your music collection including playlists. The navigation is solid, and very useful. The LED-illuminated instrument panel looks very good and is very functional. Love the HID headlights with the SmartBeam and auto-leveling features. The exterior styling is superb, looks great at any angle. Gas mileage aside, I absolutely love this car.
Looking for a Used

Grand Cherokee

in your area?

CarGurus has

49,700

nationwide Grand Cherokee listings starting at

$1,584

.
crushdvorak

writes:
2008 Jeep Grand Cherokee Rocky Mountain Edition 4WD Review
Cons
I wish it had a little more interior room

This Car Performs Well And Is A Fun Car To Drive. — I really like this SUV and the trim package on this vehicle. The stereo system is very good and it's a sharp looking vehicle. This is a well handling SUV and it's fun to drive. Mine has not needed repairs but it does have a couple of small rattles. The interior is also appealing. This vehicle gets okay gas mileage but could be better.
Primary Use: Commuting to work
Adam

writes:
2008 Jeep Grand Cherokee Limited Review
Pros
-great styling
-great performance
-fun to drive
Cons
-slightly too small
-the back seats are too close to the front seats = not comfy for a 6 foot tall person
Very Nice — Interior is flawless with black/tan leather seats, which by the way are quite comfortable. The faux wood finishing adds to the elegance of the interior. I love the fact that the GPS is now touch screen. Exterior is sharp, beautiful, and really stands out from the crowd. Handling is quite good. The performance is really good with the 5.7L 340HP hemi under the hood. It'll get you where you need to go, safely and quickly.
Waleed

writes:
2008 Jeep Grand Cherokee SRT8 Review
Pros
daily driver with a decent performance
I Like It — looks & sounds awesome, goes & stops very well, liked the handling, ride quality still fine, loves petrol stations partially due to a smallish tank, didnt like build quality, started squeeking already, feels its weight, very low chin spoiler annoys when parking..
Jan

writes:
2008 Jeep Grand Cherokee Limited 4WD Review
Pros
Great SUV. Lot's of room.
Grand Cherokee Limtied — needs better gas mileage. should have gotten a hybrid. i bought it right befor the speculators started screwing us with oil prices. fun to drive although I don't use the Hemi much with 3.60 gasoline. Much better interior than previous model in 2005. it's cool you can play your Ipod through it.
Buddy

writes:
2008 Jeep Grand Cherokee SRT8 Review
Pros
Performance, looks, comfort, luxury
Srt8 Cherokee. Best Vehicle Chrysler Has Built Since The Hemi 'cuda — Beautiful, amazing, but be prepared to got 300km per 70 liter tank. Not good for long commutes or highway trips cause od is not geared very high. Gas milage is no different on the highway than in the city. You obviously don't buy this car for mileage but it could have been better
Brian

writes:
2008 Jeep Grand Cherokee Laredo 4WD Review
Pros
Looks nice and comfortable. Everything except the cons.
Cons
Drinks gas so much. My CD/MP3 player plays the first track every time I restart the car.
It's My First Suv!!! Still Enjoying My Jeep!!! — I wish i got the V8 since mpg is similar as with V6. The ride is comfortable but lacks power. I haven't tested on off-road or heavy snow yet. It's the gas drinker just like any other SUV, but wish the gas price is a bit cheaper. For now, I like the car.
lightGear

writes:
2008 Jeep Grand Cherokee Rocky Mountain Edition 4WD Review
Pros
Very good in snow/ice/offroad
Cons
Almost everything else. Abysmal fuel economy, build quality is awful (after 45,000 miles had to replace multiple engine components), interior is very loud, very heavy, roof leaked, sunroof rattled.....i could go on for hours.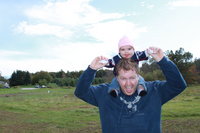 How Bad Could It Be? Very Bad. — Definitely a car I regret buying. There were multiple things going wrong with this car with only 45,000 miles on it, so much so that I decided I had to get rid of it before even more expensive repairs came up. With only 45,000 miles on it the ignition coil broke, the air bag sensors continuously went off (warning sensors), water was leaking through the handle on the a-pillar, the moonroof constantly rattled, the glovebox didn't close properly, one of the alloy wheels had begun to flake, the paint on the hood was bubbling(!), I could go on and on and on about what broke on this car. Aside from the mechanical defects the interior was very loud, and the fuel economy was awful, averaging only 16.5 mpg. If there is a silver lining in this car it is that it was great in the snow/ice, and the Boston Acoustics speakers were very nice. That's about the only good things I can think of. I bought this car instead of a Highlander/Pilot/CX9 thinking "how bad could it be?". Don't make the same mistake I did.
Primary Use: Family transportation
GMAYER

writes:
2008 Jeep Grand Cherokee Laredo 4WD Review
Pros
4WD, Cargo Space, V6 Engine, Stylish Looks,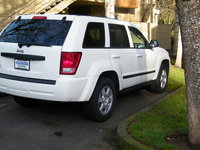 My Most Favorite Car Yet — This Jeep is geared low, so it has excellent acceleration. It handles very well and feels safe while driving. The cabin is quiet and has smooth ride. The seat is comfortable and adjustable, so the Jeep fits like a glove. Very dependable vehicle, just standard maintenance.
Primary Use: Commuting to work
tgrhino

writes:
2008 Jeep Grand Cherokee SRT8 Review
Pros
This car roars at any speed. It turns heads. It screams off the line and will dust just about anything, Looks like a million dollars.
Cons
Gas mileage is the only issue but you go in knowing that.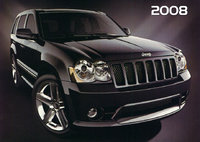 The Jeep You Take To The Track — The first time I saw this vehicle I fell in love with it. Pure power and fun. I have owned a BMW, Range Rover, Mercedes and four Porsches. More people walked up to me to talk about this vehicle than all of the others combined.
Primary Use: Commuting to work
Displaying 1 - 10 of 21 reviews
1
2
3
Next
Ask CarGurus about the 2008 Jeep Grand Cherokee
Average response time:
8.5 hours
,
# of Jeep Grand Cherokee owners:
6,798
Looking for a Used

Grand Cherokee

in your area?

CarGurus has

49,700

nationwide Grand Cherokee listings starting at

$1,584

.