2008 Hyundai Elantra
User Reviews
Average Ratings from

25

reviews
Performance:
Appearance:
Build Quality:
Overall:
Review Highlights
Click to filter reviews below
Displaying 1 - 10 of 25 2008 Hyundai Elantra reviews.
acauto

writes:
2008 Hyundai Elantra GLS
Review
Pros
Very economical to own, great gas milage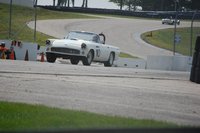 Looking for a Used
Elantra
in your area?
CarGurus has
42,134
nationwide Elantra listings starting at
$800
.
Steve

writes:
2008 Hyundai Elantra SE
Review
Pros
Build quality, interior, performance is enough.
Cons
Hyundai badge is still avoided by many
A Surprise From The Company That Came Out Of Nowhere — Hyundai came to america as a cheap car manufacturer and most of the general population knew they weren't the best cars ever mostly because of mediocre at best styling and a very cheap materials feel on the inside. However, we see now that Hyundai is a very serious competitor in the market these days ever since they started putting out some very good cars. The new elantra is no exception to their new image. It is a very well made car with a lot going for it. The styling is pretty, something that women will go for more than men i would think, but the interior is just something great for a car in the under $20k bracket. The hefty steering wheel is a good start for this car, and the rest of the interior follows suit along with it. Everything seems durable and built to last. Easy to use and ergonomic, it is a very user friendly car. It drives well too, the steering could be sharper (we're not looking at a sports car or European built sedan here) but its crisp and easy. Acceleration is adequate and the brakes feel balanced, there's no travel in the pedals before you get anything out of it. The ride is very comfortable, even in the back despite the fact that there is not a very advanced suspension here. It goes around corners quite well and the seats hold you in place while you whip around. This is a very good car for commuting, and has enough space for all your shopping as well.
drthwing

writes:
2008 Hyundai Elantra GLS
Review
Pros
A joy to drive. Amazing price. Good gas mileage
Cons
It got totaled in a recent car wreck

Best First Car Ever — I bought this when gas prices first started to jump, in anticipation of my daughter getting her learner's permit in a year. I loved the car, but the plan was to let her drive it once she turned 16. When she turned 18, I offered to either buy her a newer car or else just let her have the Elantra, and she didn't have to think twice. She was recently hit in a busy intersection, and the car was totaled. The front was badly smashed in, but the entire passenger compartment was 100% *fine*. She is uninjured except for the sore sternum from the seatbelt. She is still mourning the loss of her "Gracie". Thank you, Hyundai, for building such a fun, affordable, economical and safe car that saved my daughter's life!
Primary Use: Family transportation
gpcherry

writes:
2008 Hyundai Elantra GLS
Review
Pros
Roomier and has more features than most compact cars. Back seat room is adequate for three passengers of average size. 1.8L 4 cylinder engine provides very good acceleration and good fuel efficiency. Very good handling. Large trunk, with option to fold down 2/3 of back seat or entire back seat for extra room. Front ABS should provide substantially shorting stopping distances than conventional braking.
Cons
The 2008 Elantra has been recalled due to a misconfigured driver's front air bag which has been reported to deploy too forcefully in some cases, sometimes causing driver injury. Hyundai dealers will fix this free of charge, but this is a serious problem until it gets fixed.

The brake fault indicator light switch on the 2008 Elantra also must be replaced by a dealer, although the brake light switch on this car has already been replaced. This problem causes the brake light to be lit when there is no brake problem until it's fixed.

2008 Hyundai Elantra: Sporty Small Car With Lots Of Useful Features — This is a small car that has very good acceleration, handling, and feel. Some people say that the Elantra has a rather "numb" feel, but overall I think its handling is somewhat sporty. Its front-wheel drive provides extra traction when needed. The 4-speed auto transmission allows the driver to start the car in 2nd or 3rd gear, which provides extra traction should you find your car on unusually slippery terrain.
Primary Use: Commuting to work
MKEPanther

writes:
2008 Hyundai Elantra GLS
Review
Cons
Car died the first day of ownership; in the shop for the next 12+ days!

2008 Hyundai Elantra Poses Serious Danger — I had my brand-new Elantra for about 26 hours (I drove it 100 miles since I bought it), when it malfunctioned and died in the middle of an intersection. I tried to have it towed, but HRA was a total failure. They could not get a tow truck until the next day. I was able to re-start the car and have my husband drive it to the nearest dealer to repair it. We are now at DAY 10 of the brand-new car being in the shop. They don't foresee having it fixed until DAY 12, which is 7/21 (I bought my car on 7/8/08). In the course of these 12 days being in the shop, the car was hooked up to the computer ONLY ONE TIME that I know of. That process returned an "error code" which stated there was a misfire on cylinder 1. The dealer has then only driven my car to try replicating the problem, and checked wires & cables to make sure "they weren't loose". Meanwhile, they have put 300 miles on my car! They now say that the regional office told them to replace the fuel pump on the car. The dealer had already told me that there was nothing wrong with the fuel pump (I asked them if the fuel pump could be the problem). I don't understand why they are replacing the fuel pump now when they said it "tested" OK? This car poses a serious safety issue. My 26-hour old Elantra with about 125 miles on it lost all power and died in the middle of an intersection during a simple left-hand turn. This happened during the first 24 hours I owned the car. This car purchase was a complete mistake.
Tammy

writes:
2008 Hyundai Elantra GLS
Review
Hate It — car is great on gas but overall i hate it..its a korean made piece of crap..want a chevy eqinox..but not till my car is lil older then we will go get my suv. the value of the car drops bad not worth a dime
Primary Use: Family transportation
Donovan

writes:
2008 Hyundai Elantra SE
Review
Pros
Cheap, fuel efficiency, comfort.
Cons
Hyundai, cheap, braking, engine.
Hyundai Elantra — A comfortable and well featured for a car trip or other long drive. The I4 seemed lacking, but the controls were responsive and the car felt like it was solid. Braking seemed a bit soft until you really get into the pedal.
Primary Use: Family transportation
David

writes:
2008 Hyundai Elantra SE
Review
I Hate This Car — UUGGHH, I hate this car. I feel like im driving a clown car. I hit my head on the ceiling all the time, i bang my elbows all around since there's no elbow room. The horn sounds like a mouse being shocked (it may well be, since i think under the hood is a hamster wheel) and lastly its no fun what-so-ever to drive. one positive is i dont have to feed the mice all the time.
Jeff

writes:
2008 Hyundai Elantra SE
Review
Pros
Acceleration, Radio, Steering, Engine Bay
Cons
Weight, Alarm System,
2008 Hyundai Elantra Se — I was very weary about this purchase. We got the 2008 Elantra SE in Carbon Gray. After driving it and getting used to the features, I am surprised to say I love the car. It is very user friendly, the pickup is pretty good for a car that size, and although there were a few cheap plastics, the car is built well. The Elantra gets great gas mileage and engine maintenance is easy with a spread out engine bay. While I may not like the exterior apprearance that much, but it will do. Certainly consider the Elantra if you are purchasing a small car by the end of 2008.
Hans

writes:
2008 Hyundai Elantra GLS
Review
Pros
Ride, spaciousness, interior materials, amenities
Cons
noisy engine while accelerating, Engine could have more power.
A Solid Midsize Sedan For Budget Conscious Buyers. — It is a very spacious sedan, especially in its class. You feel like you are riding in a larger class of cars such as the Accord or Camry. The interior materials are generally good, and the cars driving performance is competent. There are only minor fit and finish issues. The ride is generally supple and handling is generally good.
Displaying 1 - 10 of 25 2008 Hyundai Elantra reviews.
Looking for a Used
Elantra
in your area?
CarGurus has
42,134
nationwide Elantra listings starting at
$800
.