2008 Ford Fusion
User Reviews
Average Ratings from

35

reviews
Performance:
Appearance:
Build Quality:
Overall:
Review Highlights
Click to filter reviews below
Displaying 1 - 10 of 35 2008 Ford Fusion reviews.
Alfred

writes:
2008 Ford Fusion SE
Review
Pros
Safe, reliable, efficient and not terrible looking. It will always get me from A to B and it won't break the bank doing so. I also don't look like a loser driving it.
Efficient And Practical — I like the looks, the fact that it is a four door and has some room inside is good. The ride is comfortable and smooth. Mine is a manual transmission. Gets great gas mileage and is very reliable. Overall I would recommend it to anyone.
Primary Use: Commuting to work
Looking for a Used
Fusion
in your area?
CarGurus has
62,367
nationwide Fusion listings starting at
$2,495
.
crdcna

writes:
2008 Ford Fusion SEL V6
Review
Pros
Had ample head/leg room, fuel economy, sporty look, extremely dependable and solid vehicle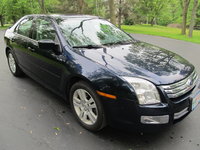 The Most Reliable Vehicle I Have Ever Owned — The vehicle excelled in acceleration and handling. Had many safety features. The Fusion has a premium sound system along with Sirus radio and a 6 cd changer. Driving the Fusion was such a pleasure with it's smooth ride, quiet and comfortable interior.
Primary Use: Commuting to work
joebell

writes:
2008 Ford Fusion SEL
Review
Pros
SYNC, comfort, style
Cons
a bit under powered....but not bad

Family Style — Very nice for the price....one day I would like to upgrade to a MKZ. SYNC is awesome. I would like a moon roof. This version of the fusion could be more of a rabbit. It corners very nicely but standing on the gas leaves me wanting a bit more power but for around town it is pretty perfect.
Primary Use: Family transportation
Brett

writes:
2008 Ford Fusion SEL V6 AWD
Review
Pros
AWD, leather seats, SYNC
Cons
Mileage isn't the best
2008 Ford Fusion V6 Sel Awd — Performance - The AWD on the Ford Fusion is great! It handles wonderfully in the snow. The 3.0L DOHC V6 has adequate power for the car. There could be a bit more power I believe. Braking is not a problem with 4 wheel disc brakes. There is a bit of body roll, which could be fixed with a strut tower bar, rear sway bar, and possibly a front subframe X-brace. (All available from Steeda) Build Quality Seems to be good. There are no squeaks or rattles while driving. I have had this car for 4 months (August 08 to December 08) and I have had no mechanical problems. Appearance - Decent. It has good body lines and looks "sporty" to some people. Interior seems to be lacking quality in the dash, but all other areas are great. The leather seats are comfortable and the heated seat option works wonders. Cost of Ownership - Gas mileage is not too bad. The sticker for the V6 SEL AWD is 18 city and 25 highway. The car stays close to these figures. I have gotten 26.7 on the highway on a long trip. Maintenance seems to be carefree for the most part. So far, I have only changed the oil. Nothing else has had any issues that need attention. Fun Factor - This car is a blast to drive. It grips to the road wonderfully, even in the snow. When you want to be a little "reckless" you can turn the TCS off and do as you please. The car does have its limits though. Overall - This car is a great sedan overall. There is plenty of leg room in the front as well in the back. The trunk has ample room for many items. I think its a great buy for the money.
Katherine

writes:
Pros
Hello...what haven't already metioned
I Would Deffiatly Recomend This Car To Anyone. Not Just My Friends. — I love the way it looks. It's a brand new make and I love it!!It's a sparling midnight blue. (My fave color.) It has silver trim,a moon roof, and it drives amazingly smooth. It has a sync feature. (Which my family just loves) It lets you talk on the phone through the car and you can plug you iPod right through the car. The sound is spetacular. When you're listening to the radio it tells you the name of the song, who sings it, and the station. I've wanted the sync factor in our cars for a while. It's well worth whatever extra money it takes to get it. This car is awesome to drive.
DMVawter

writes:
2008 Ford Fusion SE
Review
Cons
utterly devoid of personality

A Worthy Appliance — lacks power, handling is benign at best, noisy under acceleration. On the plus side, it is reliable, comfortable even on long drives, and has above-average amenities and sound system. overall, for the price I paid it has been one of the better values among the automobiles I have owned.
Primary Use: Commuting to work
Joe

writes:
2008 Ford Fusion SE
Review
Pros
Looks, cheap to buy, cheap to run, cheap to fix.
Cons
Way too little power. Take the 4cyl fusion sport and put the same turbocharged engine and 6spd manual from the mazdaspeed3 and you'd have a winner.
Great Econobox — Great little car, would certainly recommend for first car. Mine had the SAP package which included color coded fog surrounds, mirror caps, 18" wheels with sportier tires (same tires the mustang came with that year), sport leather/cloth interior. Had a decent sound system, the damn thing just ran, but being a bigger 4cyl and down on power (only made about 160hp) you really have to push it to get it up to speed which makes the fuel economy suffer. 60% hwy to 40% city I was averaging about 24mpg, which should be much better in a 2.3L 4cyl car. My car also had the 5spd auto where later models had 6spds, which would have helped. Had I got the stick shift, I might still have it today.
Primary Use: Commuting to work
slangston70

writes:
2008 Ford Fusion SEL
Review
Pros
Good looking car. Drives great when not having mechanical problems
Cons
Had to have transmission changed at 50,000 miles. Electrical and cruise control starting having trouble shortly after the transmission was changed. Severly underpowered.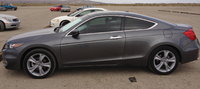 Was Great At First...but Don't Recommend — Was happy with the car until we started having issues with the vehicle. Randomly slammed itself into 1st gear while going highway speed. Took it to the dealer and was told there was a problem with a "seal" and it was replaced. Was ok for a little while, but then whenever going uphill, the vehicle would slam into the next hear. Took the vehicle back 3 more times before threatening lemon law to get the problem fixed. Complete transmission replacement(lucky we had the extended warranty as it happened just after 50,000 miles) Electrical started acting up, and cruise control stopped working completely after transmission replacement. Had to trade it in.
Primary Use: Commuting to work
winger

writes:
2008 Ford Fusion SEL V6
Review
Pros
Fun to drive; Accerlation; gas milage; handling; good price and good looks

Best Car I Ever Owned! — My previous vehical was an F-150, so right away I was enjoying the gas milage. Before this purchase I was in the market for an SUV type vehicle, but the gas consumption and the price of a new SUV was just a bit out of my price range. While still in the dealer lot I glance over at the Fusion,and took a serious look at the sticker. I was looking at one with the sport package. I asked the dealer about it and he let me take a test drive. WOW! The acceration, turning and handling far exceeded my expectations! This thing has the heart of a Mustang GT! It was awesome! I was impressed so much I asked to see a Black colored Fusion with the same sport package. When he showed it to me, I said right away "This is the one I want!" It was loaded with every thing; Heated leather seats & mirrors, TCS, satillite radio, spoiler, electronic climate controls, slick sporty 18" rims and sticky 225 45 18 tires. I was surprised to see tires this wide on a car like this. It even had the special red inserts on the seats and the steering wheel to give it a race car look. 8 speaker 6 CD autiofile sound system, moon roof, Trip computer, reverse sensor, compass, and so much more! Ford really did it's homework on this car! I'am very happy with it!
Owner for 0 years, 1 months
Brian_C

writes:
2008 Ford Fusion SEL V6 AWD
Review
Pros
Great handling, very comfortable with plenty of V6 power on tap. All the bells and whistles I need like puddle lights, moon roof, audiophile sound, heated seats, AWD for the snow and plenty of space.
Cons
Front end looks a little dated now. Really not many cons I can come up with.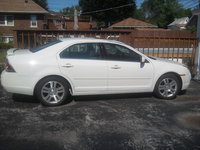 Great Car — I think it looks good for a family sedan and it is very practical. It is very reliable and I have only had two mandatory services because the milage is still low. AWD is great for traction in the snow or mud. Consumption is around 19 to 20 mpg accourding to the onboard computer. There is plenty of V6 power on tap so it is a pleasure to drive. The sound system is great for my needs and it is very comfortable to drive with great handling as well.
Primary Use: Commuting to work
Displaying 1 - 10 of 35 2008 Ford Fusion reviews.
Looking for a Used
Fusion
in your area?
CarGurus has
62,367
nationwide Fusion listings starting at
$2,495
.