2008 Ford Focus
User Reviews
Average Ratings from

83

reviews
Performance:
Appearance:
Build Quality:
Overall:
Review Highlights
Click to filter reviews below
Displaying 1 - 10 of 83 2008 Ford Focus reviews.
Christopher

writes:
2008 Ford Focus SES
Review
Cons
Terrible engine/tranny
Bad quality.
Ugh. — Sync. Sync. Sync. A geek's dream. Plug in your iPod, and say a song, and the car will start playing it. The car dictates your texts. Bluetooth and all for $300. The ambient lighting is a nice touch,but not worth it. But its all downhill from there. The car's 5 speed manual is a bit chunky( I test drove the manual), but I ended up getting the 4 speed manual. Bad idea. The tranny gave up on me while I was going down a hill, and Ford took the car back. The interior sucked. Everything was cheap plastic. The sound system was ok. Sync was its only saving grace, and even then its not much.
Looking for a Used
Focus
in your area?
CarGurus has
55,709
nationwide Focus listings starting at
$1,495
.
Taylor

writes:
2008 Ford Focus SES
Review
Pros
looks, comfort, mileage, ease of use, quality, reliability, handling, fun, etc.
Cons
lacks a compass and thermometer, a tiny bit underpowered
2008 Ford Focus Ses — My Focus is my fist car, so this review will be a little bit generous, but I do know what I'm talking about. As far as performance goes, it is a fairly quick car. At 140 HP, you would expect nothing, but it moves along nicely. Handling would be a strong point, it hugs corners nicely. I've noticed 2 problems with performance. 1, I wish it had just a bit more kick on acceleration, but it has plenty. 2, above 75 MPH, the front end is a little light, but most people will not experience this, for the law forbids it. As for build quality, the car itself is very sturdy. when you shut the door, you know it is made of metal. The seats are very comfortable, they are squishy enough to be comfy, but firm enough so that you don't sink in over long trips. The trunk is also deceivingly large, and you can still fold the 60/40 split seats down if you need more room. I do wish that the sun visors were made of a little better material, but they are still not bad. I also wish it had a compass and thermometer. As for appearance, it is a very attractive car. I've gotten mixed comments about it, ranging from "that's raw" to "kinda chickish" but honestly, I don't care, it's a great car. The back end is very well shaped, and the spoiler finishes it up nicely. I like the sides, with the character lines going across the doors, originating from the chrome Focus applicator. The grill, I think, looks pretty sharp. I've heard from people who really dislike the chrome bars, but then again, I don't really care, it is still a nice car. Inside it is pretty nice too, nothing feels too fake, everything is pretty high quality. I'm not an expert in interior styling, but I like it. The steering wheel is just the right size, but I guess that is personal preference. As for cost, it is pretty cheap to maintain. Gas mileage is great, I've seen as high as 38 on the highway, with regular unleaded. I have not had any real problems that required maintenance, but I would imagine it would not be too expensive. The Focus is a very fun car to drive, especially if you're carpooling. I don't really know how else to describe this part, so I will end it with a summary. Very good car, good mileage, good performance, nice car all around.
Primary Use: Commuting to work
dianesattler

writes:
2008 Ford Focus SES Coupe
Review
Pros
gas mileage, fun factor, sync system

Flex Focus — Customized by FunkMaster Flex, rockin' amp, video, custom Katskin interior, external fascia and custom paint job. Gives an honest 34 MPG on highway, around 27 in town. Great steering, slow pickup but sufficient. Loads of fun! Sync system is intuitive and awesome!
selectyourstoday

writes:
Pros
Reliable, cheap on gas, roomy for a compact, good visibility
Cons
It's a compact, so it's been sufficient when the kids were small. Now we might be looking for something larger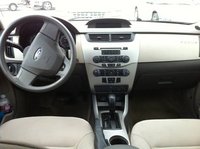 Gas Saver And Dependability — I absolutely love everything about this car. When we first bought it, we were a little afraid of buying a Ford product, but now I am not afraid. This car has been trouble free from day one. I would recommend this Focus to anyone looking for reliable and cheap transportation.
Primary Use: Commuting to work
Tommy

writes:
2008 Ford Focus SES
Review
This Car Saved My Life — needs more power, handles quite nicely, looks nice with the spoiler, drives nice in snow. gas mielage is awesome never broke down does well in accidents, the sync feature is really well designed, fun car to drive in any weather
Primary Use: Commuting to work
Focusseller

writes:
2008 Ford Focus SES
Review
Pros
Looks great, handles well, great gas mileage.

Cory

writes:
2008 Ford Focus SES Coupe
Review
Pros
Sync, Manual 5 sp, love the black and chrome look
Cons
tires are pricy (low profile 205/50/16), speedometer sensor went bad which causes issues.
08 Ford Focus Coupe — Great car for driving around town, commuting. Due to the two door model it's not going to be the family car! No major issues but easy to maintain. Stick Shift is fun to drive and handles well. Love Sync! Love the sporty looks but it has it's con's hard to fine all season tires in the size and at a good price, overall great car though.
Primary Use: Commuting to work
Aaron

writes:
2008 Ford Focus S Coupe
Review
Pros
good, moderately powered car, nice started car for a project or learning to drive, good mpg
2008 Ford Focus S Coupe — good gas mileage at ~35mpg, 140 hp, 136 ft./lbs, 5 speed manual, easy to modify with many possiblilties, will eventually turbo charge and add chassis and suspension upgrades, NO cosmetic upgrades because i want a sleeper, very fun to drive with just the right amount of power, i will refuse to make any "ricer" additions
Jillian

writes:
2008 Ford Focus SE
Review
Pros
Appearance is ten times nicer!
Cons
frozen ice on back window/trunk.. can't open trunk than have to break ice to open that damn thing
New Body Style — Best car on gas you could buy without buying a hybird. I get a little over 35 mpg. I love the new body style the are using on the 2008 now, it's so much nicer than the old focus. Interior is sweet at night, i have the lighting in my car so just a click of a button and the floor and cup holders lights up, i have a choice between 7 colors! One thing is nice about the color of mine, you don't see if very often. In case you wnna know what color mine is it's called vapor silver. All around so far it's been a good car, i couldn't ask for anything better.
Nick

writes:
2008 Ford Focus SES
Review
Pros
great performance, great styling, very reliable.....
Cons
the only thing i would like to have better is the top speed but for a 2.0 its very fast so i really dont have any complaints.
2008 Focus Ses. — Performance- Great handling, awesome acceleration cosidering its an automatic with a 2.0 duratec, it brakes extremely fast. Build Quality- What can i say its a ford so its obviously built to last..... Appearance- Huge changes were made to the 08 compared to the previous models and they are all good its a beatiful car for the price, the interior is amazing with microsoft sync built in full leather heated seats and ambient lighting, its also very comfortable. Cost of Ownership- 50 hwy miles/gallon, only needs oil changes every 8000km, very reliable. -This car is great its cheap to buy cheap to drive and extremely fun!best car ive ever had.
Displaying 1 - 10 of 83 2008 Ford Focus reviews.
Looking for a Used
Focus
in your area?
CarGurus has
55,709
nationwide Focus listings starting at
$1,495
.