2008 Dodge Charger
User Reviews
2008 Dodge Charger
Review Ratings
Average Ratings from

63

reviews
Performance:
Appearance:
Build Quality:
Overall:
Review Highlights
Click to filter reviews below
Displaying 1 - 10 of 63 2008 Dodge Charger reviews.
Hemi676

writes:
2008 Dodge Charger R/T
Review
Cons
Got a speeding ticket last week doing 107 in a 65...expensive.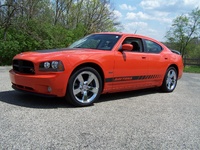 2008 Charger Daytona R/t — This car is beyond awesome!!! It handles like a dream and the 350 horsepower is more than enough to please. I spotted this car at the dealer, took a cell phone picture and sent it to my wife, her two word reply, "Buy It!", was all it took to solidify the deal, lol. I sat down with the Sales Manager and worked a deal out the door for $28,780.00. But before I signed anything I brought my wife in to drive it, 2 hours later we took delivery. It is the Daytona R/T in Hemi Orange Pearl with a build number of 676 out of 1,650 made. The interior seats our family of 5 comfortably and this car is rock solid, no noise, no rattles, nothing but awesome. I cannot drive this car without getting attention (including the police, lol) everywhere we go. We have a 2008 Lincoln MKZ with the 265 hp V-6 and the Charger does better on gas. I was getting 20 MPG in the Daytona and the Lincoln was doing 19 MPG when we took them both on vacation. I don't miss my Ram at all, except when needing to move something, lol. If you've got the money and want some modern muscle, you've got to get one of these bad boys...You only live once.
Looking for a Used
Charger
in your area?
CarGurus has

28,618

nationwide Charger listings starting at

$4,900

.
Adam

writes:
2008 Dodge Charger R/T
Review
Pros
great engine, great appearance, makes you smile constantly
Cons
rear view visibility is hard to find
Amazing American Muscle — Performance - let the 350 horsepower, 5.7 liter hemi speak for itself, along with the amazing handling that comes with a beefed up steering and suspension. The ride on huge 20" inch rims is amazingly smooth. Cost of ownership - with 16 mpg in the city and 20 on the highway, this is quite nice. =D Appearance - let your jaw hit the floor, because this is one of the most beautiful cars out there Fun factor - no matter what speed you're cruising at, this car is pure fun 100% of the time Build quality - you have to look kinda hard to find flaws.
pipergraphics

writes:
2008 Dodge Charger R/T
Review
Pros
Great color, fun factor, roomy trunk, fast, light for it's size.
Cons
cruise control stick is weirdly placed, foggy lights and windshield - Should be able to fit a 17" front wheel

Super Combination Of Fun And Practical, All Sports Car Even With The Rear Doors... — 2008 Hemi orange Daytona - 7k miles so far - 1 ticket. Love this car! I traded a porsche 911 in for this Daytona and figured that I'd have buyer's remorse at some point - but not yet! This car does it all with serious practicality - especially love the fold down rear seats - and yet still gets cheers, wide eyed kid stares and catcalls from everyone yu drive by. The strobe stripes are a bit much, but the classic orange looks great even when dirty, and the daytona interior is worth every penny spent for the extra comfortable seats. Only gripes so far are the tendency for the headlights and windshield fogging up all the time. It seems like no matter the weather, I am always fighting condensation on the front surfaces. This car has passed the 4 guy, 6' plus tall roadtrip test with flying colors, and not bad on gas. Cruise control works great, but stick is in an awkward place near the wheel rim. Guages are excellent at night. AC is nice, heated seats will roast you if you want them to, but heater seems weak. Needs 89 octane - really dislikes 87 or even 93. Underhood seems hot as hell, but radiator seems to handle it - guages read normal. Warranteed replacement of rear differential seals at 6000 miles. Tightened up metal seams at back of floorpans on underside with rtv and undercoat as they looked like probable future trouble spots. Nice suspension feel all around. I will report back on winter driveability if I can find some decent snowtires and rims to fit over these massive front brakes.
Primary Use: Commuting to work
Rebecka

writes:
2008 Dodge Charger SXT
Review
Pros
I love everything about it
I Love My Charger — Very comfortable, love the ipod hook up, comes standard with sirus radio, Standard speakers work nicely, 16 gallon tank takes about $30-35 to fill up and gets pretty good gas milage. Wonderful for new familys and traveling! Loads of space in the trunk and inside. Perfect for a husband/ Father that doesnt want to drive a SUV but still have the room and sport!
Primary Use: Family transportation
Martin

writes:
2008 Dodge Charger R/T
Review
Pros
I love the Autostick this model offers.
Cons
The only negative thing about this car is the limited sight out of the windshield. A few more blind spots than an average car.
I Would Recommend This Vehicle To Anybody Who Likes To Have Fun Driving While Looking Slick. — I bought this car with 300 miles on it due to a lot of people wanting to test drive it without intending on buying it. My wife fell in love with it because of it's power and quickness. Before the charger we bought an 03 Impala and it is a V6 so it doesn't have that HEMI power. The charger gets better gas mileage than I expected. I drove it across the country and from California to Wisconsin my total was about $300 for gas. I was expecting the total to be around $500 or greater. We are really happy with our purchase and would recommend this vehicle to anybody who could afford it.
Justin

writes:
2008 Dodge Charger R/T
Review
Pros
Been a great car overall.. Lots of fun to drive.. Power when you need and nice ride!
Cons
A gas pig for sure... but what do you expect in this big car with a big motor and big right foot!
Raw Power With Attitude And White Knuckles On The Steering Wheel Keeping Her In Line. — I have had the car for 92000 miles at this point.. Car has been good. No real issues to speak of just general maintenance items. Car gets about 17 miles to the gallon if your nice... 14 if you have fun... and 19 on the Highway... I don't like MDS so I have it disabled. I have gotten as much as 24 on the highway with it working but just can't handle the sound it produces a low growl of 4 cylinder it also causes the car to pulse as it turns on and off when needed... just not worth it to me. If you are going to drive this kind of car and change the exhaust MDS is not an option... This is a straight line machine the curves is just all under steer.. like crazy! It will just push it self into a corner you have to do alot of breaking while turning to change weight to the front tires and then give gas to get out of it... Fun to toss around once you get the hang of it... A trick for all Chargers 07-09 I think while car is moving above 5 miles an hour just turn the key fob and hold.. .your traction control light will turn on and it will disable all traction control.... ALL TRACTION CONTROL... then you can have some real fun!
Primary Use: Sport/fun (spirited driving, track racing, off-roading, etc.)
1HotMomma

writes:
2008 Dodge Charger SE
Review
Cons
Has a few blind spots. When you look to the rear to back up and if you are short, the side mirrors are hard to see over. It slides in the snow.

One Hot Car! — This car is fun to drive. I have the 3.5L High Out Put engine. It is a fast car! Has a few blind spots & slides in the snow. I get alot of looks & compliments with this car. People in this small town mostly drive Fords & Chevys. The cool people drive Chargers & Challengers.
Primary Use: Family transportation
robcel12

writes:
2008 Dodge Charger R/T AWD
Review
Pros
Great handling. Fun the drive. Comfortable for the entire family
Awesome, Fun Car To Drive — The car has great performance. Handles in the snow like dream. Acceleration is powerful yet not over the top. I'm 6'4" 215lbs and the car fits me well both in leg room and head room. One of the best cars I've ever owned.
Primary Use: Commuting to work
William

writes:
2008 Dodge Charger SRT8
Review
Pros
everything!!!!!!!!!!!!
My Well Crafted Machine!!!!!!!! — love everything on this car.............. is this car fun to drive like the interior and exterior styling acceleration, braking, handling is the best gas mileage is what you make of it.just don't stomp on it, is low on maintenance. this built to last.. for a very long time!!!!!!!!!!!!!!
Troy

writes:
2008 Dodge Charger R/T
Review
Need For Speed — Amazing car! Fast, powerful, comfortable, spaciouse and stylish! This is my favorite car I have owned and i have owned a few! Never breaks down, good on gas for a V8! I have had a lot of fun with this car!
Primary Use: Commuting to work
Displaying 1 - 10 of 63 2008 Dodge Charger reviews.
Looking for a Used
Charger
in your area?
CarGurus has

28,618

nationwide Charger listings starting at

$4,900

.