2008 Dodge Avenger
User Reviews
Average Ratings from

49

reviews
Performance:
Appearance:
Build Quality:
Overall:
Review Highlights
Click to filter reviews below
Displaying 1 - 10 of 49 2008 Dodge Avenger reviews.
dodgeamericanmuscle

writes:
2008 Dodge Avenger SE
Review
Pros
Everything about this car is a pro
Cons
the only con this car has is that its not a V6 but then again V6 has less fuel economy making this a pro.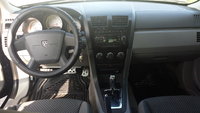 Great — The interior is neat! its very spacious! It is very wide and i enjoy that in a car. It has great front speakers. I bump those evrytime and they sound clean. The only down side of this car is that it has minor dents and scratches on the outside of the vehicle but nothing major. The exterior still looks very smooth.
Primary Use: Commuting to work
Looking for a Used
Avenger
in your area?
CarGurus has
9,190
nationwide Avenger listings starting at
$2,000
.
Jessa

writes:
2008 Dodge Avenger SXT
Review
Pros
Reliable, great sound system, LED interior lights, good lights at night.
Cons
Goes through brakes fast.
Very Satisfying Car. — My best investment. This car hasn't given me a bit of trouble in the two years I've owned it. Easy to maintain. Easy clean up of interior. Brakes were different but overall an amazing car. Wish it would last forever.
Primary Use: Commuting to work
vexus

writes:
2008 Dodge Avenger R/T AWD
Review
Pros
looks cool, sounds cooler
Cons
seating, interior plastics fit and finish, transmission is heavy. Bad performance steering.

Great For Drag Racers; Bad For Everyday Drivers Or Performance Drivers. — When I bought this car, it had 22k on it. I bought it for the looks and that I got a decent trade in for my Honda accord which had about 160k on it. I regret it now. Perfomrance is FAST. This car's engine is terrifyingly good but it is very clunky. Also the handling; anybody claiming this car handles good has clearly not driven others in its category. It's a very numb feel with no driver-feedback other than how lax it is. The front end has a tendency to understeer alot. Build quality is average for dodge. It's very plastic inside. My old honda [DX model] has far superior plastics, and it was much older. This feels cheap. The seats are highly uncomfy, however the cargo is decent and the rear seats are decent as well. Appearance is where this car shines. It looks strong, masculine and menacing. But that's the downfall I found when cleaning it. Square design makes it annoying to drive in cross winds. Mileage is not great. I find myself spending an extra 15 bucks a fillup per week for this thing. Insurance is decent however, but honestly, that engine and package really doesn't help. Tack on another 1000 for that. Fun factor. The car is FUN. It really is. You feel fast, it makes a good noise. Mine's a 5sp manual however the gear switch is like an old pull-lever from a victorian trolly. It's heavy, and slow. Not very sporty. Much closer to driving a freightliner truck. It's fast, sounds great but doesn't "perform" in the turns. I even have a squeeky left rear suspension when I do any performance driving. It's an ok car, but I'm trying to see if I can trade it in for a mazda 3 or something with a little more life to it, and honestly, practicality. I don't like driving a cheap car.
Primary Use: Commuting to work
3 of 5 people found this review helpful.
You found this review helpful
Ed

writes:
2008 Dodge Avenger SXT
Review
Cons
Learning the location of the lights, wipers, and speed control
2008 Dodge Avenger — My Avenger was purchased with economy in mind. We traded a 2002 Concorde and was scepticle about ride quality. The mid sized Avenger rides about the same as the concorde. Gas mileage improved from 17 city to 23 city and from 21 hiway to 32 mpg. the Avenger has the 2.4 inline 4 cylinder verses the concorde's 3.5. The cars weight is only a couple hundred pounds different.The Avenger has a short turning radiusand is very easy to handle. turning corners is just as easy as handling a high speed curve. It is a driver friendly vehicle and is fun to drive. The only thing was getting used to where all the controls are. Everything comes off the steering column. The speed control has it's own lever on the right side of the steering wheel. The turn signal/light control switch is incorporated into one lever on the left of the steering column. Finally the wiper control is a lever on the right of the steering column. The perfiormance of the vehicle is remarkable for the 173 horsepower 4 cylinder. It will still accelerate like a small V6. The four wheel disc brakes stop the car real good with no swaying. The car will stay in a straight line. I would not hesitate to run a slalom course in this car, it would be fun. The Avenger just turned 7300 miles and I have had no problems with the car. The only maintenance on the car has been to rotate the tires and an oil change. Dodge did a good job as to filter out noise. The exterior styling (what can I say) it is a "Baby Charger) with front wheel drive. The blue pearl paint gets many people's favorible comments. The interior is driver friendly. Everything ig easily within reach of the driver. The dash is easy to read at a glance.The sattelite radio with a 20 GB hard disc drive is great. It also has a hands free bluetooth device incorporated into the radio. This is a very fun car to drive. It has fantastic looks and makes you feel good to be seen in it. I would recommend this car to any one.
Missy

writes:
2008 Dodge Avenger SE
Review
Pros
Comes in great colors, tons of pep, 32 mpg, very very roomy, looks a lot like a charger inside
Cons
the speakers originally installed sucked (replaced under warranty), a little tough to clean the interior
Fantastic 'baby Charger' With Plenty Of Guts! — This car is fantastic all around. It's sporty and has a lot of guts underneath it's hood. Only a 4 cylinder but has plenty of pep and gets 32 mpg. Slightly smaller then its big brother, the Charger but still holds its own. Big enough to haul around a bunch of my friends and roomy enough to keep a billion things stowed away in the trunk. The grill and entire front end is meaning looking and is in a category of its own compared to other sedans. Performance wise it's great, would obviously have preferred the hemi, but being a student the 4 cyl fits my budget perfectly. All in all I haven't had much problems except for the factory speakers blowing (just one) but since its an '08 I got the nice warranty along with it and had all the speakers replaced so I could pop my own system, subs and all in there. The SE is perfect, I was able to snag it for 12k with my old car trade in. Great deal, great car, and very fun to drive, would definitley recommend it to anyone who loves a great, solid car with a kickass look. Even better, there aren't many out on the road yet so I turn heads where ever I go!
5 of 5 people found this review helpful.
You found this review helpful
Saul

writes:
2008 Dodge Avenger R/T
Review
'08 Avenger — Acceleration is lacking compared to some of the other cars i have driven. Breaking well i haven't had to do much heavy breaking so I say good.Build Quality Well The Whole Car Is MAde Up Our Plastic Parts But U GEt What U Pay For I Guess. Appearance Not No Man Out There So When U See ONe The Look Nice. Thay come Stock With A Very Aggressive Looking Styling Which Is Great. To The Best OF My KNowlege Therer Are ONly 3 Or 4 Body Kits Made For THis Car I Just BOught Mine Cant Wait TO Put It On Maybe next Week If I Have Time. Well Over All The Car Is Grate To Drive Quite Fuel Efficient As Well Can Make It From Phoenix To LA On One Tank Of Gass
Primary Use: Commuting to work
1joeramos1

writes:
2008 Dodge Avenger SE
Review
Pros
Great style, comfortable ride, great braking, great fuel economy, safe and reliable.
Cons
It's not the fastest car in the world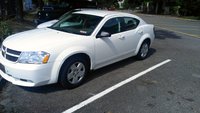 AprilS

writes:
2008 Dodge Avenger SXT
Review
Pros
Style was attractive. Very easy to work on. Parts are inexpensive and easy to find. The 4 cyl was great on gas.
Cons
While the appearance of the exterior and interior were attractive, the car felt and sounded cheap and weak. The engine was too small for the vehicle and couldn't handle the weight of the car so performance was non-existent. Despite all of the breakdowns, I was able to repair everything myself easily with minimal tools and experience using youtube videos.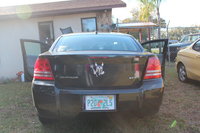 Decent Quality For Decent Price — Cheaper, Smaller, less Powerful Charger. Extreme Blind Spots on each side. Performance is limited. Not built for speed. Don't expect to hit the gas and pass, you need plenty of room to build up speed first. The cloth seats are hard, not too comfortable on long trips. The chrome gear shift reflects sun light right into your face when driving. Interior feels cheap and plastic, rattles and shakes. Pretty annoying. The 4 cyl engine couldn't handle the weight of the car. Slow acceleration. Long wheel base made it difficult to handle tight turns at higher speeds. Transmission often slipped between 1st and 2nd gear, Dodge stated this was normal. Extremely small engine in an extremely large engine compartment. Reminded me of a pebble in a shoe box. There was plenty of room for the mechanical components however Dodge decided to put the battery behind the wheel well making it highly difficult to get to and replace. I personally paid way too much for it considering how many times it was broke down in the drive way. Kind of glad I totaled it.
Primary Use: Family transportation
Trey

writes:
2008 Dodge Avenger SXT
Review
Pros
Makes you look awesome.
Cons
chrome package lacks build quality
Toughest And Best Looking Small Sedan On The Road. — Acceleration acceptable, braking great, handling swift. Flaws with interior only on chrome trim package. Gas mileage around 26 in town, good for a heavy four door four cylinder. Just kept up with fluid changes and new tires, bridgestone's that came with the car made terrible road noise and were bad at 40k miles. Again the car gets head turns all the time and I love looking at it in the garage, I would have liked the v6 srt edition but nothing a later life mod like a turbo or chip couldn't fix.
Primary Use: Family transportation
Adan

writes:
2008 Dodge Avenger SE
Review
Pros
Okay car for broke college student
Okay Car For Student — Okay car...can't beat the 30mpg on the hwy. Small engine for hilly part of town though. Cheap car to own and maintain. Questionable craftsmanship. Can't say it's too fun to drive. Get's me from A to B without any problems
Primary Use: Commuting to work
Displaying 1 - 10 of 49 2008 Dodge Avenger reviews.
Looking for a Used
Avenger
in your area?
CarGurus has
9,190
nationwide Avenger listings starting at
$2,000
.