2008 Dodge Avenger
User Reviews
2008 Dodge Avenger
Review Ratings
Average Ratings from

49

reviews
Performance:
Appearance:
Build Quality:
Overall:
Review Highlights
Click to filter reviews below
Displaying 1 - 10 of 49 2008 Dodge Avenger reviews.
Ed

writes:
2008 Dodge Avenger SXT
Review
Cons
Learning the location of the lights, wipers, and speed control
2008 Dodge Avenger — My Avenger was purchased with economy in mind. We traded a 2002 Concorde and was scepticle about ride quality. The mid sized Avenger rides about the same as the concorde. Gas mileage improved from 17 city to 23 city and from 21 hiway to 32 mpg. the Avenger has the 2.4 inline 4 cylinder verses the concorde's 3.5. The cars weight is only a couple hundred pounds different.The Avenger has a short turning radiusand is very easy to handle. turning corners is just as easy as handling a high speed curve. It is a driver friendly vehicle and is fun to drive. The only thing was getting used to where all the controls are. Everything comes off the steering column. The speed control has it's own lever on the right side of the steering wheel. The turn signal/light control switch is incorporated into one lever on the left of the steering column. Finally the wiper control is a lever on the right of the steering column. The perfiormance of the vehicle is remarkable for the 173 horsepower 4 cylinder. It will still accelerate like a small V6. The four wheel disc brakes stop the car real good with no swaying. The car will stay in a straight line. I would not hesitate to run a slalom course in this car, it would be fun. The Avenger just turned 7300 miles and I have had no problems with the car. The only maintenance on the car has been to rotate the tires and an oil change. Dodge did a good job as to filter out noise. The exterior styling (what can I say) it is a "Baby Charger) with front wheel drive. The blue pearl paint gets many people's favorible comments. The interior is driver friendly. Everything ig easily within reach of the driver. The dash is easy to read at a glance.The sattelite radio with a 20 GB hard disc drive is great. It also has a hands free bluetooth device incorporated into the radio. This is a very fun car to drive. It has fantastic looks and makes you feel good to be seen in it. I would recommend this car to any one.
Looking for a Used
Avenger
in your area?
CarGurus has

10,493

nationwide Avenger listings starting at

$3,995

.
Missy

writes:
2008 Dodge Avenger SE
Review
Pros
Comes in great colors, tons of pep, 32 mpg, very very roomy, looks a lot like a charger inside
Cons
the speakers originally installed sucked (replaced under warranty), a little tough to clean the interior
Fantastic 'baby Charger' With Plenty Of Guts! — This car is fantastic all around. It's sporty and has a lot of guts underneath it's hood. Only a 4 cylinder but has plenty of pep and gets 32 mpg. Slightly smaller then its big brother, the Charger but still holds its own. Big enough to haul around a bunch of my friends and roomy enough to keep a billion things stowed away in the trunk. The grill and entire front end is meaning looking and is in a category of its own compared to other sedans. Performance wise it's great, would obviously have preferred the hemi, but being a student the 4 cyl fits my budget perfectly. All in all I haven't had much problems except for the factory speakers blowing (just one) but since its an '08 I got the nice warranty along with it and had all the speakers replaced so I could pop my own system, subs and all in there. The SE is perfect, I was able to snag it for 12k with my old car trade in. Great deal, great car, and very fun to drive, would definitley recommend it to anyone who loves a great, solid car with a kickass look. Even better, there aren't many out on the road yet so I turn heads where ever I go!
5 of 5 people found this review helpful.
You found this review helpful
tcxd40

writes:
2008 Dodge Avenger R/T AWD
Review
Pros
Nice looks, good power, fun to drive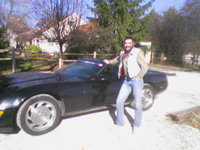 Nice Looks, Decent Power, Handles Well — I purchase the Avenger about three weeks ago. To replace one of my trucks. I choose the Avenger for two reasons looks and my daughter will be learning to drive next month. I liked the looks as it mimics the full size Charger. And for my daughters benefit I picked the AWD version which only comes in the R/T which was fine with me. I purchased the base line AWD R/T in Sunburst Orange which other than the factory floor mats are the only options. The AWD R/T is well eqpt. in it's standard form. You can have additional options with the available customer perfered packages. Which include items as SIRRUS radio, MP3 player, sun roof, leather seats and more. The fit and finish on the car is good, however there are a few areas where the factory missed in painting the inside of the front fenders. Power is good for a 235 HP V6, it performs well from a standing start and will pull very well while cruising at speed when needed to pass. Transaxel does shift quick and hard whether you are pulling out slow or standing on it. The dealer has indicated that the AWD R/T does have a different shift pattern as compared to the non AWD R/Ts, SE and SXT Avengers. The manual shift 6 speed auto works well and is alot of fun when by yourself. Interior is user friendly. The steering wheel controls for the radio are nice as is the tilt, telescopic steering wheel. The cruise control is in a bad location as far as I'm concerned. The multi control knob for the lights is a little busy as is the one for the wipers. Gauges are well placed and are easy to read in daylight or night time. The chrome on the shifter knob,steering wheel and shifter console cover are very annoying in bright sunlight and tend to shine in your eyes. Center console could be bigger can't hold much in it. I do like the sliding cover on the console as it does provide a nice resting area for your arm when extended forward. The can cooler is an interesting feature, however I use it like another glovebox. The seats in a word for comfort " suck ". The driver's side power seat does not have enough front end lift at the knees and the lumbar support could provide more support. I think it's a little shallow and does not give good support for your back. The lap and side seat bolsters are too small to do any good and they do not hold you in place. The seats are hard and not comfortable. The interior has too much plastic, they could have used some type of cloth material in addtion to the plastic. The auto climate control works very well, set it and forget it. According to the dealer the engine computer has a programed break-in period for the engine, which keeps the engine RPMs up and the fuel mixture rich for the first 3000 miles. Fuel mileage does suffer due to this program. Ride quality is good keeping in mind that it is an R/T so it is a little stiff although not uncomfortable. If my wife wants it must be nice to drive.
Owner for 0 years, 1 months
Miles Driven per Year:10,000
4 of 5 people found this review helpful.
You found this review helpful
AprilS

writes:
2008 Dodge Avenger SXT
Review
Pros
Style was attractive. Very easy to work on. Parts are inexpensive and easy to find. The 4 cyl was great on gas.
Cons
While the appearance of the exterior and interior were attractive, the car felt and sounded cheap and weak. The engine was too small for the vehicle and couldn't handle the weight of the car so performance was non-existent. Despite all of the breakdowns, I was able to repair everything myself easily with minimal tools and experience using youtube videos.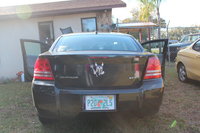 Decent Quality For Decent Price — Cheaper, Smaller, less Powerful Charger. Extreme Blind Spots on each side. Performance is limited. Not built for speed. Don't expect to hit the gas and pass, you need plenty of room to build up speed first. The cloth seats are hard, not too comfortable on long trips. The chrome gear shift reflects sun light right into your face when driving. Interior feels cheap and plastic, rattles and shakes. Pretty annoying. The 4 cyl engine couldn't handle the weight of the car. Slow acceleration. Long wheel base made it difficult to handle tight turns at higher speeds. Transmission often slipped between 1st and 2nd gear, Dodge stated this was normal. Extremely small engine in an extremely large engine compartment. Reminded me of a pebble in a shoe box. There was plenty of room for the mechanical components however Dodge decided to put the battery behind the wheel well making it highly difficult to get to and replace. I personally paid way too much for it considering how many times it was broke down in the drive way. Kind of glad I totaled it.
Primary Use: Family transportation
Kyle

writes:
2008 Dodge Avenger SXT
Review
Pros
Aggressive Styling, Decent Power (higher RPMs), Cooler above glovebox, Good gas mileage
Cons
Sit too low compared to car belt line, seat bolsters make front entry weird.
My Mom's Avenger — Nice looking car (very aggressive), interior is typical dodge, but looks attractive (the gauge cluster and the dash/console area) despite the large amounts of plastic. It has a cooled area above the glovebox inside the car, and can hold a few cans of pop. Personally, entering and exiting the vehicle is very unorthodox, due to the seat bolsters, and you sit too low compared to the belt line of the car. The seats (cloth) do repel water, though. Gets decent mileage, has okay pickup, definitely pulls in the higher RPMs, though. The 2.4L is a very loud engine, offensive to some. I don't mind it, as it has a nice mean sound for a I4. Good value for the money.
2 of 2 people found this review helpful.
You found this review helpful
Nick

writes:
2008 Dodge Avenger
Review
Pros
cool styling, punchy V6, roomy interior, side-curtain airbags standard, MYGIG Navigation responsive, Boston speakers sound awesome, AutoStick very fun to use
Cons
only gripe goes to 16/26 fuel economy for the 3.5L V6, would consider the 4 cylinder or mid-level 6 cylinder if it had more power and at least a 5-speed automatic with AutoStick
Cool Car Worth A Look — I never thought I would say this about Dodge, but the company can make cars that are fun to drive. This was the case for the R/T version of the Avenger. Almost everything was pretty great from the already powerful 3.5L V6 pumping out 235 HP mated to the 6-speed AutoStick, the Boston speakers which makes everything come to life, the MYGIG/Navigation setup and ease of use and plenty of interior space for stuff or friends. If you want better fuel economy, you can go down to the 4 cylinder or the mid-level V6 but those engines will leave you wanting more power. All in all though, a good first shot from Dodge in trying to have a stand-out product in the highly competitive mid-size class. It's definitely worth taking a test drive.
Crystal468

writes:
2008 Dodge Avenger
Review
Cons
wish mine had the dvd player
Awesome Car! — I love my car. It gets over 30 mpg and handles smoothly on the road. Plenty of room for my son and with the 60000 mile warranty I don't have to pay out of pocket for any repairs. Plenty of trunk space and having sirius satellite radio already subscribed to isn't half bad either.
2 of 2 people found this review helpful.
You found this review helpful
Trey

writes:
2008 Dodge Avenger SXT
Review
Pros
Makes you look awesome.
Cons
chrome package lacks build quality
Toughest And Best Looking Small Sedan On The Road. — Acceleration acceptable, braking great, handling swift. Flaws with interior only on chrome trim package. Gas mileage around 26 in town, good for a heavy four door four cylinder. Just kept up with fluid changes and new tires, bridgestone's that came with the car made terrible road noise and were bad at 40k miles. Again the car gets head turns all the time and I love looking at it in the garage, I would have liked the v6 srt edition but nothing a later life mod like a turbo or chip couldn't fix.
Primary Use: Family transportation
vexus

writes:
2008 Dodge Avenger R/T AWD
Review
Pros
looks cool, sounds cooler
Cons
seating, interior plastics fit and finish, transmission is heavy. Bad performance steering.

Great For Drag Racers; Bad For Everyday Drivers Or Performance Drivers. — When I bought this car, it had 22k on it. I bought it for the looks and that I got a decent trade in for my Honda accord which had about 160k on it. I regret it now. Perfomrance is FAST. This car's engine is terrifyingly good but it is very clunky. Also the handling; anybody claiming this car handles good has clearly not driven others in its category. It's a very numb feel with no driver-feedback other than how lax it is. The front end has a tendency to understeer alot. Build quality is average for dodge. It's very plastic inside. My old honda [DX model] has far superior plastics, and it was much older. This feels cheap. The seats are highly uncomfy, however the cargo is decent and the rear seats are decent as well. Appearance is where this car shines. It looks strong, masculine and menacing. But that's the downfall I found when cleaning it. Square design makes it annoying to drive in cross winds. Mileage is not great. I find myself spending an extra 15 bucks a fillup per week for this thing. Insurance is decent however, but honestly, that engine and package really doesn't help. Tack on another 1000 for that. Fun factor. The car is FUN. It really is. You feel fast, it makes a good noise. Mine's a 5sp manual however the gear switch is like an old pull-lever from a victorian trolly. It's heavy, and slow. Not very sporty. Much closer to driving a freightliner truck. It's fast, sounds great but doesn't "perform" in the turns. I even have a squeeky left rear suspension when I do any performance driving. It's an ok car, but I'm trying to see if I can trade it in for a mazda 3 or something with a little more life to it, and honestly, practicality. I don't like driving a cheap car.
Primary Use: Commuting to work
3 of 5 people found this review helpful.
You found this review helpful
Faƈebook

writes:
2008 Dodge Avenger SXT
Review
Pros
Not to expensive, well made, has decent amout of gizmos
Nice And New — Performance - Good, The 4 banger is suprisingly good for a small engine Build Quality - Good cause its american made Appearance - Mean looks like a mini charger Cost of Ownership - Cheap gets 30 miles to the gallon highway Fun Factor - All i gotta say is road trip cooler!!
Primary Use: Commuting to work
Displaying 1 - 10 of 49 2008 Dodge Avenger reviews.
Looking for a Used
Avenger
in your area?
CarGurus has

10,493

nationwide Avenger listings starting at

$3,995

.