2008 Chevrolet Corvette
User Reviews
2008 Chevrolet Corvette
Review Ratings
Average Ratings from

42

reviews
Performance:
Appearance:
Build Quality:
Overall:
Review Highlights
Click to filter reviews below
Displaying 1 - 10 of 42 2008 Chevrolet Corvette reviews.
Kristopher Melissa

writes:
2008 Chevrolet Corvette Z06
Review
Pros
Gorgeous Exterior and Interior, Mind Blowing Performance. Under 100k. Outperform's 95% of your 150k-300k exotic cars.
Cons
Stock OEM Navigation system & BOSE surround sound system. Given the price tag of 2k, I would not rate this Nav system as top quality when you can go aftermarket and get triple the quality for half the price.
2008 Corvette Z06 — *Exterior: Beautiful exterior, wide body, has that stealth super car appearance and slammed aggressive stance. *Interior: Interior is very classy with beautifully lighted guages, glossy carbon fiber center console and comfy leather seats. The dash is wrapped in leather too. *Performance: Tires are real thick and meaty which grip the road amazing. The engine is 7.0 liter LS7, V8, 505hp. The weight is around 2950 pounds which is unbelievably light for a car of this caliber. This car has been taken to a 10.9 sec quarter mile bone stock which is mind blowing.
Primary Use: Sport/fun (spirited driving, track racing, off-roading, etc.)
Looking for a Used
Corvette
in your area?
CarGurus has

11,233

nationwide Corvette listings starting at

$3,997

.
DavesZO6

writes:
2008 Chevrolet Corvette Z06
Review
Pros
Performance, performance, performance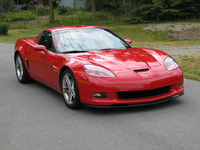 Absolutely Love It — I've bought my 2008 ZO6 off the showroom floor in May 2009, and currently have just over 8,000 miles on her. Can't say enough nice things about it. It goes like hell and is a ball to drive. The only area I'd like to see improvement is the sound dampening, still a lot of road noise, especially on worn concrete interstate roads. On new blacktop it's an absolute dream.
Primary Use: Sport/fun (spirited driving, track racing, off-roading, etc.)
Matt

writes:
2008 Chevrolet Corvette Coupe
Review
Pros
Absolutely stunning looks & unbelievable power
2008 Chevrolet Corvette Coupe — First of all, this car is stunningly beautiful! It drives like a dream and is scary fast. I absolutely love driving this car. So far, I haven't had one single problem with it. This is by far the best car I have ever owned. Custom modifications are abundantly available......so much so that it can quickly become an addiction. So far, I've added custom interior leather, cold air intake, and a Borla Exhaust. You only live once....so, go for it!
beepboop6567

writes:
2008 Chevrolet Corvette Coupe
Review
Pros
Powerful, quiet, handles like a dream, comfortable, practical, looks like it's going 100 MPH even when it's parked.
Cons
Reliability is just okay, some rattles, tires and brakes don't last very long

Everyone Should Own A Corvette At Least Once In Their Lives — I bought this car new off the lot in 2008 and have loved owning it and driving it ever since. I like everything about it, the pushbutton ignition (which is pretty common now I guess), the comfortable seats, the power band, the braking, the cargo space, the visibility. This car is very low to the ground. It is as easy to drive on the highway as it is on a city street. Imagine a 430hp cadillac, that's basically what this car is. When you see one of these out on the road, trust me, it's just as much fun to drive as it looks. As much as I love this car, it hasn't been trouble-free; the headlights stopped working (new fuse box) and the transmission cable snapped, so I couldn't shift the car. The rear end made a grinding sound. The glove box and console lid latches broke. The door handle solenoid broke. Most of these things were repaired under warranty, but then they shouldn't have broken in the first place. Also, I used to own a 1990 Corvette and the feedback of that car was outstanding, you really felt like you were part of the car...these newer Corvettes don't feel like that, there is a sense of isolation from the road, but maybe the Z51 or Z06 feel more like sports cars. All in all, I still love this car and don't regret buying it, it has been the best car I have ever owned.
Primary Use: Commuting to work
ParkerZ06

writes:
2008 Chevrolet Corvette Coupe
Review
Pros
Great Power, Gas mileage, and cargo capacity, this is the total package
Cons
low seating position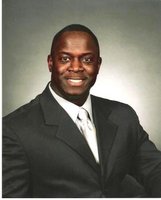 My 15 Year Wait Is Over! — After a long and arduous battle through the automotive jungle I have survived to tame the wild beast of legend. The Chevrolet Corvette is the most amazing car on American roads today, it is arguably the most fascinating car the american public can own and drive that is totally ours, built for the last 60 years to be enjoyed worldwide but mostly for us hmble americans. Great gas mileage, huge storage space and acceleration that rivals anything from Euorpe. Good job Chevrolet! and think it can be parked right beside the Chevy Cruze and get a $30.00 oil change by the same mechanic.
Primary Use: Sport/fun (spirited driving, track racing, off-roading, etc.)
Bari

writes:
2008 Chevrolet Corvette Coupe
Review
Pros
Power, sound, looks, comfort

Fantastic Performance Sports Car — I have the base model with 'only' 430 horses, but oh my gosh this thing is quick. It might be the tires are worn, but with TC on, a bit of throttle and it fishtails all over the road. And with it off, well, let's just say I've been sideways more often than I can count. This ain't no Camry, you can't just slam the pedal down (unless you're aimed straight). In other words, I'm having a lot of fun. It looks great and the leather interior is really nice. I know there is too much interior plastic for some, but it doesn't bother me. I fixed the squeaky roof easily enough, but haven't found the other rattles. Mileage has been a respectable 21-25 MPG. Love it.
Primary Use: Commuting to work
Jason

writes:
2008 Chevrolet Corvette Z06
Review
Pros
Light weight, 505 hp with a warranty, sexy, great fuel mileage (30+
highway).
Cons
Expensive, having to deal with GM.
2008 Jetstream Blue Corvette Z06 — Performance for the price, there is no equal. It'll run circles around the exotics for a fraction of the price. Build quality is pretty decent, however my former 07 C6 was built better than my current 08 Z06.
Tacosell

writes:
2008 Chevrolet Corvette Convertible
Review
Pros
Pure American Sports car at a great value.
Fun to drive
Fun to clean
Cons
Made by GM
Local Service lacking
Ride can be harsh at times
Tech is aged NAV is ok but steep learning curve
Heads up Display is great with NAV and Radio
Tires are terrible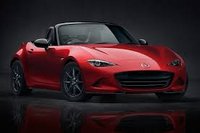 Great Sports Despite Being A Gm Vehicle — Like Harley the Corvette was illed twice and brought back from the dead. (The new C7 is the latest to come back from the dead and in my opinion GM over designed the Transformer looking car with the Camaro rear end.But this is not a C7 review. The C6 will be my last Corvette. It does everything well. Especially the 08+ with the improvements I find the car comfortable and at 5'8" getting in and out without damaging the bolter s a breeze. I don;t track the car so i have no opion there except that I am sure the car will out do my driving skills. The power and torque is great when needed. It moves from 50-90 in a blink of an eye. I would only own this car as a convertible because two seat vehicles IMO should be convertibles. I don;t have a whole lot of confidence in long term reliability of this car though. The Fit and finish is nowhere near the Japanese cars .Which is why this is only a placeholder until the 2016 Mazda MX5 is released and after that I will be looking for a certified Lexus RC350 F Sport. I want the small roadster experience though. The MX5 has a more aggressive look and probably more HP. The tech is old. I have after market BlueTooth via GMs Pal system and an aftermarket PAL 2 which puts the BT and Ipod unit behind the waterfall where the XM radio circuit box is instead of in the dash behind the stock radio. MUCH better. This is my second Corvette in a year. I had an 05 earlier this year and liked it well enough but it was a manual and I prefer the Paddle Shifting Auto. I looked for and found an 08 with low miles from a private first owner. (Dealers are out of their minds with their prices) The 08 brings 36 more horses to the table with the LS3 engine. The auto transmission is slushy except when using the paddle shifters where it tightened up a little. But I am not aggressive so that does not bother me. Hell I drive it like a Lincoln LOL The factory tires are crap and at 15k miles I am replacing them early.. They are original and hardened and the road noise reflect that. I will be putting on NON RunFlats soon for a smoother ride. I have a low profile jack and a plug kit for any stray screws or nails......or AAA. Many more tore centers will deal with a non RunFlat tire. many won't fix runflats and most don't have them in stock If a tire is needed the car is down. I am so accustomed to Japanese quality, reliability and fit and finish The Corvette is a long way from that feeling of reliability I get with my CRV and the wife's RAV 4. switches and latches are cheap and the cars electronics can get wonky. The battery needs a trickle charger as the CPU is running all the time if the car will sit for more than a couple weeks.. Service is sketchy as there are no Corvette service shops around. Only Dealers and I don't have a lot of confidence in the local Chevy dealers to fix a problem right the first time. The forum members avoid dealer service departments like the plague. Again I am used to Toyota and Honda Service which is great. I would prefer the car was made by anyone but "cut every corner to save a penny" GM. GM is a problem for me. The way they handled the ignition issue is criminal. But if you want a Corvette...GM.....I will drive this beauty until the Mazda MX5 is released next year, Then I will get back to a good feeling reliable car. Now I have not had any issues yet but I have not put many miles on it, but the forums are full of issues for the C6 Corvette. Heck Car and Driver's review 2014 C7 car blew an engine as have a few owners in the Corvette Forums.GMs and dealers response to those issues is not inspiring. So if you want to drive a fast car for the money, Not too many cars can compete with the Corvette. But buy used first or second owner car with lots of records and original parts. So it does not inspire confidence but I have not put the miles on to run into any issues so for now it's just a "feeling" and not an experience. But reading the Corvette Forums can be eye opening if one is looking to buy ANY year Corvette,
Primary Use: Sport/fun (spirited driving, track racing, off-roading, etc.)
mgheberger

writes:
2008 Chevrolet Corvette Z06
Review
Pros
This is the perfect stock car so I couldn't find the heart to tear her down and put on racing parts when I have other cars for the track.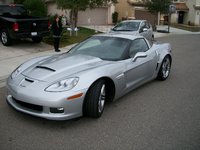 Perfect Daily Driver All Of The Way To Taking Her Out On The Track!! — I love the fact that the tint on the rear of this car keeps it cool, there are some billet items that set it apart from other black Z06's, the car is stock and runs perfectly so I cannot tare the car apart and re-build it to run the track when she is already perfect.
Primary Use: Sport/fun (spirited driving, track racing, off-roading, etc.)
Arianne

writes:
2008 Chevrolet Corvette Z06
Review
Pros
acceleration and cornering (with proper tires)
Cons
it's kinda ugly and it's a chevy
Fun For A Weekend...as Far As The "recommendation" Otherwise "no" - 50 Grand Could Be Better Spent — fun to drive; banks corners nice and tight but don't let go. decent acceleration from dead stop. inside cheap and plastic. i actually wanted to use the stereo, which sucked because the sound of the engine was wussy. possibly due to care/abuse- tremors at hundy on a smooth road.
Displaying 1 - 10 of 42 2008 Chevrolet Corvette reviews.
Looking for a Used
Corvette
in your area?
CarGurus has

11,233

nationwide Corvette listings starting at

$3,997

.