2008 BMW X5
Review Ratings
Average Ratings from

22

reviews
Performance:
Appearance:
Build Quality:
Overall:
Review Highlights
Click to filter reviews below
Displaying 1 - 10 of 22 2008 BMW X5 reviews.
Golfczar

writes:

Teriffic — Best looking and the most fun you can have driving an SUV. Strong performer in every category - inside and out. With the BMW maintenance plan owning a BMW is very reasonable. Quality materials and craftmanship seperate BMW from the rest.
Primary Use: Family transportation
Looking for a Used
X5
in your area?
CarGurus has

10,064

nationwide X5 listings starting at

$3,700

.
Dav

writes:
Pros
Stylish, tech security featured
Cons
I get an alignment every time I change the oil, constantly troubleshooting rattles in suspention, expensive to fix, very little low end torque and gutless in most times when power is needed.
Great Safety Features Comfortable Ride — I love the fit and finish of the cars interior, wood and leather, cars luxury comforts, entertainment are great. Panoramic sun/moon roof really are cool on long trips. All wheel drive is there when you need it and least expect it since its all automatic. I got 21mpg in long trip out west but only get about 16-14 in town. I feel safe, and like the room. There isnt a lot of power/pickup that an SUV should have but it does scoot once you get up the revs...its redline is 7k. Its not the original X5 and miss the solid heaviness/sturdiness of the car/doors ect. but all the safety and sensor/monitoring are really great. Glad I bought the extended 3rd party warranty...would not recommend buying this car used without it being pre-certified or adding a 3rd party warranty like Warranty Solutions. (it has died once on road for cracked expansion tank and another time dead starter..both times was rescued , full tow and most items covered...
Primary Use: Family transportation
kalahari

writes:
Pros
Performance. Styling. Having slower cars move over.
Cons
Few minor rattles. Navigation not the best.

It's Like Driving A Bmw 5-series With A Higher View! :) — I love driving this "car"! It handles so well in both wet, dry, snow and ice conditions. I do have winter tires installed during the winter. The technology installed in this vehicle is great and competes well -- obviously, it gets better every year and I would like to see some of the options that the newer models have.
Primary Use: Commuting to work
Allan

writes:
Pros
hands free bluetooth
Very Good — Pretty good car perfect for trips, very good stereo, best quality leather, good color, very high tech technlogy built into car, totally worth the money, very fun to drive, especially on the open road or the turnpike, I-95, or anything else.
Primary Use: Family transportation
Dreza

writes:
Pros
Great car to drive it can be really fun and looks great.
Cons
Gas Mileage could be better, but average for its size.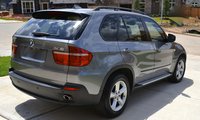 Family Fun — Love the way the car drives and handles. BMW made a great car with this X5. Very roomy, perfect for family or friends and provides an extra row of seating (3rd row.) Sports mode offers the extra performance you may need.
Primary Use: Family transportation
BMWX5model2008

writes:
Pros
The best fun driving car I ever had. Its full of power, excellent road handling, great looks inside / outside, amazing tire rims, fully computerized with advance technology, extremely reliable family car. Its the ultimate driving machine.
Cons
A bit expensive,but its worth it for a car with such advanced engineering features. Its not so good on fuel economy, but this is expected for cars with such powerful engines. The spare parts are a bit expensive, but this is expected for genuine and highly reliable parts.

Its The Ultimate Driving Machine. — This is definitely a great car to drive. I have driven many SUV's before, but the BMW X5 is in a class of its own. An amazing combination of power , beauty and technology all engineered in one machine. Without any doubt : Its the ultimate driving machine.
Primary Use: Family transportation
Ahmed

writes:
Elegance & Comfort — it's acceleration is quite & easy & the braking system is great while the handling is...AWESOME it has many specifications that is fantastic like the GPS, rear cam, sound system, ABS,........................... & in the other side it's very roomy it's a family car & in the same side it is a youth car
Jamie

writes:
Pros
Mostly Everything about it, its luxurious inside to its sleek and stylish outside.
Cons
Paying for gas. Big 400 mile tank costing over $100 to fill up and only about 16 mpg city and 20 hwy.
Bmw X5 Review : Owner — The gas mileage is a bit bad though as you have a 400 mile tank but filling up is 100$+. And yo uget onlyabout 16 mpg city. ouch. Other than that it doesn't have any other malfunctions. Watching my brother drive it it looks to be a fun car to drive. The handling is also quite good for a big SUV and it accelertes terrificly. It does make a weird sound when you move the seats occasionally but that may only be mine.
Jonathan

writes:
The Boss Does It Again! — Performance: Accleleration-pretty good for an SUV 5,000 RPMs at the start Braking- great! Handling- its a BMW Appearance- LIKE A BOSS Cost of Ownership- stay away if you don't want to pay a lot for gas Fun Factor- almost as good as sex!
Primary Use: Family transportation
Kim

writes:
Pros
Has 4 wheels and they all work
Cons
No you know why I'm always late
Pre-zimmer Bimmer — My 4th Beemer! Why can't Audi and Mercedes make better cars! Built like a Sherman Tank. Looks like a 3 series on Steroids. Handles better than a C2 around Clearwater Bay!! Go for the 4.8i. Mine takes 2 days to get around HK. Pre-midlife crisis transport. Get out of my way earthling!
Displaying 1 - 10 of 22 2008 BMW X5 reviews.
Looking for a Used
X5
in your area?
CarGurus has

10,064

nationwide X5 listings starting at

$3,700

.