2008 Audi TT
User Reviews
Average Ratings from

31

reviews
Performance:
Appearance:
Build Quality:
Overall:
Review Highlights
Click to filter reviews below
Displaying 1 - 10 of 31 2008 Audi TT reviews.
WRW

writes:
Pros
Design and style. Efficient engine with more than adequate performance.
Cons
Back seat passengers are in peril if one forgets about them when closing boot. 19" alloys are easily marked when parking or manoeuvring in tight spaces between pavements because of the prominence of the wide tyres in relation to the rim of wheel.

Great Car With More Than Adequate Performance — Owned my TT since May 07 and have enjoyed every minute. It's in brilliant red and has some optional extras, including, short-shift gearbox,Nappa Leather,extended leather package.19" alloys with tyre-pressure monitoring,Audi Symphony radio with Bose surround sound,ipod connection, heated front seats, Xenon headlights with adaptive light,cruise control,storage pack and multi-function steering wheel. It has sufficient performance and stability to cover both motor way driving and fun on the A & B roads in North Wales. Fuel consumption averages around 37mpg and insurance premiums are reasonable. Both interior and exterior quality is great. Overall it is an excellent Coupe that is great fun to drive and own.
Looking for a Used
TT
in your area?
CarGurus has
718
nationwide TT listings starting at
$3,995
.
bsoles

writes:
Pros
Sporty, Fun, Fast 4cyl
Cons
Its an import, parts are harder to find, but with the internet anything is possible.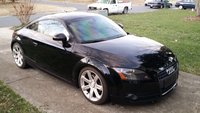 tiaank

writes:
Pros
Great gas milage, fun drive, (surprisingly) roomy trunk, 10,000 mile oil changes.
Cons
Low profiles get pretty noisy when the tread gets low. Drinks oil like it's going out of style (as expected according to Audi for the Turbo), front wheel drive loses a fair amount of power on strong acceleration.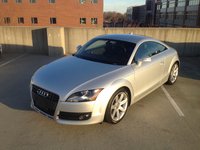 Terrific Car For A Not-crazy Price — Bought this car as a gas-friendly, fun commuter car. I have small kids, so they fit in the rear seat easily and have no problem popping in and out past the front seats - as they get older this will change. Overall it's been awesome, and has worked surprisingly well as a family car - my wife actually enjoys the days she has it rather than dreading it as you would expect.
Primary Use: Commuting to work
CoyoteJoe

writes:
2008 Audi TT 3.2 Quattro
Review
Pros
There are so many positives about this car. Read the others' reviews and you'll see a consistency in handling, styling and fit-and-finish.
Cons
Noticed minor electrical strangeness. A warning light that comes on then goes off and stays off. Window went down but wouldn't come back up. Seat support design causes the leather to wear prematurely on the outer edge.

This Car Is A Keeper. You'll Still Be Driving It When You Are 80. — Bought this car used. It had around 35k on it, is an S-Line and, other than some light wear on the driver's seat edge, it looked new. It drives new too. It inspires me to take the long way home. If you purchase one, build a bigger garage (for your next one) because you won't want to ever let this one go.
Primary Use: Commuting to work
Elliott85

writes:
2008 Audi TT 2.0T Roadster
Review
Pros
Great lines; comfortable and sporty to drive; economical; easy to insure.
Cons
Trunk space is at a premium... other than that, none.
Absolutely, I Would Recommend This Car To Anyone Who Wants A Sporty Vehicle. — When I got the car the performance was very good, but after some massaging of the engine, chip flashing and exhaust work the car is a veritable monster. The braking is very strong, but I will have to upgrade the brakes and the rotors after I do some more speedwork. Also, the car handles like it is on rails, with a short wheelbase and the standard-issue tires, which will be upgraded with custom wheels, wider tires and spacers. I have owned a lot of automobiles in my 58 years on earth, but this car seems to catch a lot of eyes and gets compliments on a daily basis. The interior is madras brown leather with the baseball glove stitching, which not only looks good but is very comfortable. I get over 25 miles a gallon and purchased a maintenance program, so my cost to keep the car running right is now minimal. I have owned the car for a little more than a year and it is still a novelty for me to drive, even with approximately 20,000 miles on the odometer. The car is not fun to drive... it's a real hoot... LOL.
puglove

writes:
2008 Audi TT 3.2 Roadster Quattro
Review
Pros
Smooth, powerful, elegant
Cons
Possibly some mechanical problems to sort out.

Just What I Hoped For... — Just test drove the 3.2 and 2.0 '08 TT's and was suitably impressed. Smooth and powerful, especially in Sport Mode. The exhaust is only heard with the top down (So, you have to get a roadster to enjoy it, the hardtop keeps it quiet). As I approach my later years, I have come to enjoy a smooth but powerful ride. Some folks like the jolt of acceleration, and a stiff suspension, but I prefer something more refined. My Grail Car would be a DB9(Yes, I did drive it), but the '08 TT comes pretty close, and saves about $100K. Only one thing I found a bit unsettling... On the car I test drove, there seemed to be a lag when the accelerator was pressed and the car responded. It was noticable to me and was not present on the 2.0 I also test drove. Perhaps it was just this vehicle (I hope so!)I will try to arrange another Test Drive in the near future and will report back. 2nd problem seemed to be in the retractable roof on the Roadster. In the showroom when I retracted the roof, one of the small side covers would not fold down. When I test drove another car the same thing happened, this time both flaps would not fold down and it engaged a warning light on the dash (the salesperson then proceeded to 'force' the side panels down in order to get the warning light to go out, to no avail).
Neil

writes:
2008 Audi TT 3.2 Quattro
Review
Ryan

writes:
2008 Audi TT 3.2 Quattro
Review
Pros
Sharp acceleration, luxurious, great traction and handling, looks awesome.
Cons
It is front wheel biased. It is very tiny with barely any cargo room, and you can only fit two tiny people- no taller than 5 foot 4 in the back. Watch out for POTHOLES --- 18 inch rims in Montreal will kill you.
It's Gorgeous And Fast -- That's All You Need To Know. — It does 0-100 in 5.3 seconds. It has quattro AWD. It turns heads. It's luxurious. What more do you need to know? Unfortunately it's my mom's and not mine, but I drive it anyways.
Cory

writes:
2008 Audi TT 3.2 Quattro
Review
Pros
This car is virtually perfect
Audi Rocks — This car is hands down the best thing I have ever driven, even other european makes. The quality and comfort are unprecidented. I still get comments about the car. I will find it difficulty to ever buy another make of car.
Primary Use: Commuting to work
Displaying 1 - 10 of 31 2008 Audi TT reviews.
Looking for a Used
TT
in your area?
CarGurus has
718
nationwide TT listings starting at
$3,995
.