2007 Jeep Wrangler
User Reviews
2007 Jeep Wrangler
Review Ratings
Average Ratings from

64

reviews
Performance:
Appearance:
Build Quality:
Overall:
Review Highlights
Click to filter reviews below
Displaying 1 - 10 of 64 2007 Jeep Wrangler reviews.
gaperez14

writes:
2007 Jeep Wrangler Unlimited X
Review
Pros
I love the look of it, I especially love when summer comes around when you can remove the doors. The drive is a lot better than you think if you have had experience driving older jeeps. You won't be able to believe that you are riding in a jeep. A ton of space, and I'm told the backseats are not bad on a long ride.
Cons
Typical of jeeps: the turning radius is not great, gas in a con, and you are not going to beat must cars in a drag race.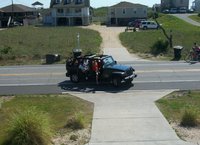 9/10 One Of The Best Cars I Have Ever Owned — The 4door 2007 Jeep Wrangler was my first new car I ever bought, and it has far out lived my expectations. When I bought it, I was in love with the idea of a 4door jeep because I do a lot of snowboarding and needed the room to carry my board and my friends equipment. What I never expected was how great it would be come spring time to fall. For the first three years of owning the car I felt like I was one of only two jeep owners in the DC area that would remove their 4 doors in the summer time. Every time I was stopped at a light – people would always come up to me and say they loved the car. But if you thought it looked great without the doors and top, it was even better to drive. This is my fourth summer with the car, and I am finally seeing more 4 door jeeps in the dc area doing the same thing. I wonder what took them so long. Maintenance and repair to the car has been minimal to none since I have had it. I had a few warranty issues when I first got it. Mostly cosmetics to the car i.e. I was getting a little too much wind noise from the passenger side, to my rear window's zipper being installed backwards. But otherwise when it comes to the actual mechanics/electrical of the car I have had no problem. Now I'm not sure if it is because of the car, or a combination of my style of driving and the car. I never took it off-roading, and if you ever drive a jeep you will find out that speeding is kind of hard. Regardless, I was never interested in driving it recklessly -so I never really had a chance to abuse the car. In return the car has repaid me the favor or never giving me problems. The only cons I can really think of, which some of them should come as no surprise – the turning radius is not that great. Overall gas mileage is a con, and you won't blow anyone away with its speed. But what else would you expect when you drive one of the least aerodynamic cars out there. The one con that caught me off guard, is that the windshield sits up higher than most cars – anytime a rock skips off the road and strikes the windshield you are at greater risk of cracking the glass. I have gone through 3 windshields since owning my jeep. Now all three replacement all came during the span of 3 months for me, so that really made me angry. A big part of that was because the area I lived in had a ton of construction going on that summer, and those giant trucks were always kicking up trash that they never cleaned up. It has been 2 years since I have had a broken windshield – so hopefully that won't be a problem anymore.
Looking for a Used
Wrangler
in your area?
CarGurus has

54,763

nationwide Wrangler listings starting at

$2,400

.
frilopo

writes:
2007 Jeep Wrangler Unlimited Sahara
Review
Pros
Its a great lookig Vehicle, It does seem to be happier off road then on the freeway. It make you relax and sort of drive slow when you are on it, because it just makes you enjoy the ride. It feels safe and its a bit higher then most cars, but not bulky at all. It can be an even better looking and more customed suv once you customize it to your taste. There are many many after market products for this vehicle, which makes it very easy and inexpensive to maintain.
Cons
On long trips get ready passengers siting on the rear seats, as it is not the most comfortable. The rear seats DO NOT recline and are pretty stright up, be ready to stop every now and then so that your passengers get to strech a little bit. The leg room for the most part is enough. The power on the Jeep is not the greatest, I believe they should have added some more power to it, especially when they know that we will lift and add bigger and heavier wheels and tires.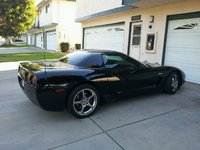 A Little Under Power But Over All I Love My Jeep ..... — UPDATE: I have had my Jeep Wrangler Sahara for over two years now, it still going strong as you know by my update I now have 135000 miles on it and as I mentioned its still going strong. I have no regreat still on having this vehicle, I drive it every day an I drive it every day. I have added some things to it I have added 17 by 9 wheels, and 35 inch mt tires which sit on a 4 inch lift, amongs other things. I do take it off road but for my daily driver still does a kick but job, I would still recomend purchasing one of this great vehicles and it seems that its one of the very few vehicles tha will keep its value for longer. I still say I love my jeep... You have probably heard this before, "Its a Jeep Thing" Well it is. I honestly never thought I would own a Jeep Wrangler 4 door. I alway thought they were not the vehicle for me. Now That i have one i would say I would get another, This vehicle all arround is good looking. People left and right complement my Jeep. I enjoy driving it quite a bit. I have taken it off road and it works like a charm. The Jeep seems to be happier when we are outdoors, and off road. I dont do any extreme off roading but it does serve its purpose and exedes my expectations when needed. The rear passenger seats are not the most comfortable, and my passengers do complaint about the comfort, BUT hey its a jeep not a limo. Its rugged. During summer time I love taking the top off and enjoy my drives under the sun. And when I drive it on the beach at Pismo, I love taking the doors off, now that is freedom.. Bottoom line is I Do Love my Jeep and I would buy it again. It is fun, my family enjoys it and Yes some people are even envious of us... I do recomend this Jeep Wrangler but that is just my opinion... Drive one to find out for your self... ......Its been a couple of years and I been driving my Jeep Jk for over 100,000 miles 110,000 to be almost exact. I love it even more, road, trails, beach you name it I have driven it in almost every surface, and it didn't let me down. Still driving very strong. When we put the rear sits down we are able to put three bikes standing, that's how much room there is in the back. After all this time I will still recommend a jeep JK they are the best and true Off road vehicle..........UPDATE: Since I got my JK Wrangler I have put almost 150000 miles on it, And yes I still love it and even more now days. I have since lifted my JK up to 4inches and put 35inch tires on 17" wheels, if you thought i got looks before well let me tell you know, There have been a couple of friend who just by looking at it Have bought them selves a JK Jeep. You just cant go wrong. The resale value of my JK is still there, but I would not sell it, I was offered 29,000 for my JK with all the miles on it, because of the way I have it set up and I still didnt sell it. Still Jeeping still Loving every single time I get on that Jeep and drive it. After 150000 Miles, A change of alternator, and a Battery which I did myself, I WOULD STILL RECOMEND A JEEP JK TO MY FRIENDS....Happy Jeeping... For more info you can contact me.
Primary Use: Family transportation
Philippe

writes:
2007 Jeep Wrangler X
Review
Pros
Fun on and off the road
Cons
Thirsty with weight, SLOW
It's A Jeep Thing — As Motor Trend put it, "...still worthy of the Jeep name," this car simply exudes the purpose driven car with a bit of refinement as of its new 2007 release. As a young, enthusiastic for just over a year, this car really is meant for one thing- go anywhere at anytime. Mine is Rescue Green (new color for '07), trim X 2dr. with the new 6 speed tranny. Sounds pretty simple, yet the astetics of it all is really where the beauty shines. Performance is no where on par with, say your average passenger car, or even conventional vehicle, yet the 6 speed is great with the car, as it utilizes the 220-something ft.-lbs. of torque well in all speeds and hauls loads with no problem (note: after modifications the car cannot go more than 70 mph on a flat road in 6th). The throw is a tad long but the clutch feels pretty good and it never becomes bothersome. The torque doesn't really kick in until about 2000 RPMs and the band streches across to 5000 RPMs, so it takes a bit to really get this puppy going, but it'll go nonetheless. The acceleration is fairly peppy for a SUV and you'll really never find yourself looking for another gear of a few extra horsepower (until you decide to checkout those bigger tires or fatter passengers). But more of this is always a blessing to this car. The quality oveall is great for a Chrysler build car, except one day in Novemeber of last year, with about 3000 miles on the odo (about 10900 miles on the odo. as I speak). I stalled out in the middle of a busy intersection and the car wouldn't start again. The car had to be pushed and towed and the entire starter was replaced. Not convenient, but I think it was a lemon part because I've had absolutely no other problems with the car, inside and out. As of Fall of 2009, the 1-pull passenger seat access has broken. The interior has worn well and the seats are much more confortable than assumed. This car rides like a Rolls compared to most last generation Wranglers and drives much smoother also. However, the addition of tighter suspension coild has made the ride much more bouncy and squirrelly. The standard equipment is enough for anyone with its good stereo and awesome mp3 jack. Interior storage is sufficient, but I wish there was a storage compartment on the center dash console or a sunglasses holder. The door pockets could be bigger also. Rear seat ingress/egress is the roughest part of the interior. I don't regret getting a two door model, yet getting between the front seat and into the high car over the seatbelt car really be tricky, especially for larger adults. Rear legroom is surprising though. Only qualm about the interior is the abundant use of easily-scratched plastic in the interior and how heavy the Freedom 3-piece top rear section is; it's a beast yet the T-top is a joy to use. Appearance is a Jeep. Dressed up with the color it's a head-turner anywhere. The car is noticeably larger than its predecessor, yet still feels spritely. Customization is endless with these cars and you can make this car look however awesome you want with the myriad of aftermarket parts and pieces offered by Jeep itself. This is one of those cars that can be 'cute' or simply be 'boss'. The car was listed as $24,100 yet we got the deal for significantly less than that. Maintenance is very cheap- last service was only about $17 for an oil change and lookover. If you're incredibly nice to the gas pedal and keep the RPMs low, as I usually do, you can get about 17-19 MPG in town and 21-23 MPG on the highway (after modifications added in the summer of 2010, MPG dropped to about 14/15). It costs about $55 to fill the tank at about $4 per gallon. I personally think over the long term this car is worth every penny. Fun factor- A++++ perfect 10. To me, this car never fails to put a smile on my face. Whether it be cruising open-topped down the highway or bulldoging down a narrow trail, leaving your friends to eat your mud, this car smiles when you smile back. It's a car you fall in love with, regardless of the quirks of akward rear seat ingress/egress in the 2dr. or not-so-great gas mileage. I guess it must be a Jeep thing.
Primary Use: Sport/fun (spirited driving, track racing, off-roading, etc.)
Richard

writes:
2007 Jeep Wrangler Rubicon
Review
Cons
Unless you go broke paying for gas.
What A Hog! — This car is actually worse on gas than my 73 Dodge Dart V8. And it's definitely not as fast!! Pros: Excellent off-roading ability, very stable, fun to drive, basically unstoppable. It's as close as you can get to owning a civilian tank. Just be ready to spend lots of time at the pump. With gas prices these days, I can't in good conscience recommend this car to anyone who doesn't have a serious gas budget. I mean, seriously, it's a 6 spd manual and I barely make 300kms (180miles) on a single fill-up. That's just sad.
jessie356

writes:
2007 Jeep Wrangler X
Review

Pleasently Surprised — I am pleasently pleased with my purchase. It handles very smoothly, accelerates with quickness and power. My only complaint is likely the same as most, gas mileage and putting that soft top back on. This vehicle is very addicting, someone told me that JEEP stands for "Just Empty Every Pocket." You get caught up spending more and more on upgrades and "tricking" your jeep out.
Primary Use: Commuting to work
Justin

writes:
2007 Jeep Wrangler Rubicon
Review
Pros
Unstoppable off road or in the snow, easy to park, convertible
Cons
Noisy cabin, stiff ride, terrible handling, soft top operation requires a Ph.D in patience
Terrible For Dd Use, But Amazing On The Trail — The most uncomfortable vehicle I have ever made the mistake of owning. It drove like a...jeep, wandering all over the road and handling like a...jeep. Braking and acceleration were both poor, and the ride was as stiff as an I-Beam. On the positive side, the thing was absolutely unstoppable off road. You would think that it was stuck, and then with a bit of wiggling, the thing would squirm out and you'd be on your way. It was just incredible.
Abdulrahman

writes:
2007 Jeep Wrangler Rubicon
Review
It's A Jeep Thing — Excellent off-road vehicle and awesome looks. Has all you would ever need to handle the terain when the pavement ends. Built carefully with very high quality parts and proper combination of upgrades with the necessary safety and durability in mind.
Primary Use: Sport/fun (spirited driving, track racing, off-roading, etc.)
Karla

writes:
2007 Jeep Wrangler Unlimited Sahara
Review
Cons
not having a lift in the garage to take the back portion off
My Most Favorite Car Ever! — I don't know much about the operations of vehicles, but this is a great ride and it is even better with the top off. Gas mileage isn't the best especially now that gas is skyrocketing, but I still love every minute of the ride! Also, love the antibacterial seats, which if for some reason the top is off and it rains it won't hold the odor!!!
Mohammad364

writes:
2007 Jeep Wrangler Unlimited Sahara
Review
Pros
+ The Image
+ The Customizability
+ Comfy and spacious
+ Offroad Capabilities
+ A Driving Pleasure
+ Removeable Doors and Top
+ It's a Jeep! I can't believe you're still reading this!
Cons
- Lack of Torque
- 3.8L would have performed slightly better
- No AC or airbags in the rear
- Poor Fuel Economy
Best Thing On 4 Wheels Ever — It is natural that drivers change thier cars to the level they're comfortable with, but how common is it for a car to change it's driver? before I was the least enthusiastic person to drive, until I saw the Jeep Wrangler JK, such a brilliant car, I love it
Ronnibear

writes:
2007 Jeep Wrangler Unlimited Sahara
Review

Love My Jeep — I love my new 4 door Sahara, I bought the rescue green one, believe me it turns a lot to heads. It is a very smooth ride. They only down fall the jeep has in the blind spots in the back. With the high seats in the back and the rear wiper blade box in the rear window and the spare tire you don't have a lot of viewing space. I look at the old 2 doors and they don't have any blind spots in the rear window. I love my jeep and wouldn't trade it in for anything else. Lots of power I am just hoping I can keep the speed down so I don't get any nasty little things in the mail.
Owner for 0 years, 1 months
Displaying 1 - 10 of 64 2007 Jeep Wrangler reviews.
Looking for a Used
Wrangler
in your area?
CarGurus has

54,763

nationwide Wrangler listings starting at

$2,400

.