2007 Honda Pilot
User Reviews
2007 Honda Pilot
Review Ratings
Average Ratings from

14

reviews
Performance:
Appearance:
Build Quality:
Overall:
Review Highlights
Click to filter reviews below
Displaying 1 - 10 of 14 2007 Honda Pilot reviews.
carGrrl

writes:
2007 Honda Pilot 4 Dr EX-L
Review

Luxurious Yet Rugged — After years of looking from afar, I recently purchased a 2007 Honda Pilot EX-L. A good friend and my sister each have one (a 2003 and 2006), so I knew the product was solid. I was not expecting to be so impressed with it that I would purchase one hours after my first test drive, but that's what happened. The exterior of the car is beautiful. It is a very large and wide automobile, yet somehow Honda has packaged the 2007 Pilot to look smaller and more nimble. It drives nimbly as well, giving the driver a commanding view of the road from up high. But I digress-back to the exterior. The Pilot I purchased has roof rails, a nice silver grille, and foglights. These blend in beautifully to the beige-colored exterior. The interior of the car is just wonderful. In 2001, I test-drove the Pilot's luxury cousin: the Acura MDX. I have kept up with those SUV's ever since, and could not detect a difference between the two, other than slightly softer leather on the steering wheel of the MDX. The EX-L comes standard with leather seats. I wasn't sure I would want leather seats, as I live in Florida and sweaty legs on leather are icky. However, the car cools itself down so quickly, you barely notice anything. The console is efficient and blends well. Two solid cup holders contain various size beverages. There are two power outlets in the console, in addition to a rear-facing one next to rear-facing climate controls for the back seat. The navigation system is a lot of fun. At $2000 extra, I wasn't sure this was something I needed, as I have enjoyed a portable Garmin C330. However, this navigation is voice-activated and also provides a camera for when the Pilot is put into reverse. The third row of seats is easy to install. While obviously not as comfortable as the bucket seats up front, the third row is passable for adults, and would definitely satisfy any children. It cuts out sharply from the available cargo room, but I don't plan to use it too often. I loved driving the Pilot. It accelerates very quickly and smoothly. In city driving, I was able to pass cars coming out of lights and going at a steady speed (much to the delight of the salesman in the backseat. =D) The navigation was easy to use, though I must admit I was disappointed when I said, "Find nearest restaurant: ice cream" and it popped up with Thai food instead. I'm guessing these are kinds that will be ironed out as I learn to better enunciate (and realize what options are available). Oooo! And the EX-L also has a system that shuts down three cylinders once a steady speed is attained. It shows a little "eco" light on the dash, encouraging the driver to keep that little light on and save some gasoline. As for the negatives, the biggest one for me is the width of the body. While it's great for comfort and stability, it makes it very difficult to back the car into a narrow garage (yes, I'm reaching for the negatives here). Even though I already knew the 2007 Honda Pilot EX-L would be a great product, it has surpassed my expectations. It has quality and luxury everywhere one looks, and excellent safety ratings to boot.
Owner for 0 years, 1 months
Looking for a Used
Pilot
in your area?
CarGurus has

25,560

nationwide Pilot listings starting at

$2,500

.
Ashley

writes:
2007 Honda Pilot 4 Dr EX-L 4X4
Review
Pros
Dvd Player and the room
Love It — I love how much room this car has. You would not know it to look from the outside, but it seats eight people. Also having a DVD player helps keep the kids entertained. Gas mileage is about the same as the Equinox.
Primary Use: Commuting to work
raysen

writes:
2007 Honda Pilot EX-L w/ DVD
Review
Pros
nice compact look car that can seat up to 8
Cons
Not enough cargo space in the back to handle bulky items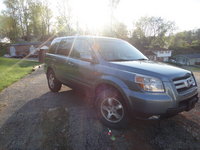 Nice Looking Car — very nice looking car and holds more that what it looks like it would from the outside. The only time we had to take it to the shop was for oil changes and tires, very reliable in that regard. I felt very comfortable with the overall handling of the vehicle.
Primary Use: Family transportation
gk646423

writes:
2007 Honda Pilot 4 Dr EX 4X4
Review
Pros
Reliability, looks, price
Cons
Handling could be better!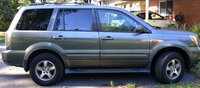 ok2b4u

writes:
2007 Honda Pilot 4 Dr LX
Review
Pros
Reliability
Low maintenance
Unibody design
Comfortable front seats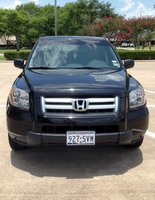 Reliable Family Car — Decent look, good build quality, unibody design, low depreciation, comfortable front seats for long journey, 2nd and 3rd row seats for extended family with young kids and friends, easy upgrade for car electronics with after market options, tall view of roads
Primary Use: Commuting to work
essgee

writes:
2007 Honda Pilot 4 Dr EX-L 4X4
Review
Pros
Good power and brakes, comfortably seats 7-8 people, and you can put real adults in the third row.
Cons
Original tires lasted a long time, but had poor traction in rain and snow.

Solid Daily Driver And Family Transportation. — I drove nearly all the SUVs under $80k in 2007, and this was the clear winner for me. It is a great balance of utility, comfort, power, and good looks. The leather seating is still in great condition after 6 years, and I've only had to change the oil and buy gas to keep it running. I added the towing package after the original purchase, and it has very capably handled towing duties.
Primary Use: Family transportation
Joshua

writes:
2007 Honda Pilot EX-L w/ DVD 4WD
Review
Pros
Very reliable, good handling, holds good re-sale value.
Cons
not much cargo room with third row up
Awsome Vehicle For Small Family — Very good for a small family that doen't need the third row all the time. Fuel and maintance cost are very low compaired to other 7-8 passenger vehicles. Very good resale value. The only thing I found wrong is that with the 3rd row up there is a small amout of cargo room. The body style changed in 2009 which added a couple of more inches.
Primary Use: Family transportation
encsmith711

writes:
2007 Honda Pilot EX-L w/ Nav
Review
Pros
Reliable, safe, low maintenance costs, super family car
Cons
fuel economy could be better - at least its a V6

Canyonero Light — We love this vehicle. It has been an exceptional family car. I give it five stars across the board, with the exception of fuel economy. At least the engine is a V6, so we get about the same gas mileage as our former, smaller SUV (Ford Escape). We were fortunate to find an EX-L with BOTH the DVD and Nav systems installed. I should add one caveat about the backseats. They are very roomy and comfortable for adults and young children. We have an infant, however, and her car seat does not fit well on the base in the backseat. You have to move the front passenger seat up substantially. I have read other reviews on websites that mention this same issue, so I thought it might be worth mentioning here. We took the base off the seat and have not had any problems since. It seems to be the angle and width of the front seat that created the problem. Removing the base lowers the car seat so that it slides under the top of the front seat more easily.
Primary Use: Family transportation
caprik35

writes:
2007 Honda Pilot EX-L w/ Nav 4WD
Review
Pros
This suv looks great and has very good performance!
Cons
Sometimes I wish the cargo space was bigger

Great Family Vehicle — This is truly a wonderful vehicle that I have owned for 3 years . It has many added features including alarm system and a back-up camera. It looks great and the maintenance cost and fuel cost is low. The new owner would be very pleased!
Primary Use: Family transportation
sd76

writes:
2007 Honda Pilot 4 Dr LX 4X4
Review
Pros
appearance, safety, room
Cons
poor mpg, lots of small issues, not automatic locks for child safety

Great Overall Value, Fun, But Has Some Minor Issues — I want to start off by saying this vehicle helped save our lives last week during a blizzard where I had to swerve out of the say of a disabled vehicle on I95 in Maine. I bought this Pilot after really enjoying my 2000 Honda Civic. I really like the vehicle but have had to bring it back a few times for things missed by the dealer's "150 point inspection." It pays to buy from a dealer that offers an extended warranty. Most issues were minor, but I have spend a total of 12 hours in the shop already for these issues. I have an issue with the steering column that is under warranty, had an issue with the mirror, and there is a slight knocking noise under the body of the car. Other than that, it is perfect for the family that needs to go from a sedan to a larger car. Great on ice and snow, starts up quickly, looks great, drives well. A major con is poor mpg with AWD. Since AWD helped save my life I will not complain, but I think i am only geting 13 MPG in the city. Overall a great vehicle. I would suggest buying the extended warranty, lojack, back up sensor (but it is too sensitive), and tire warranty. All these are negotiable by the way.
Primary Use: Family transportation
Displaying 1 - 10 of 14 2007 Honda Pilot reviews.
Looking for a Used
Pilot
in your area?
CarGurus has

25,560

nationwide Pilot listings starting at

$2,500

.