2007 Ford Explorer
User Reviews
Average Ratings from

18

reviews
Performance:
Appearance:
Build Quality:
Overall:
Review Highlights
Click to filter reviews below
Displaying 1 - 10 of 18 2007 Ford Explorer reviews.
magnumforc

writes:
2007 Ford Explorer Ironman Edition 4WD
Review
Pros
Pricing, Auto 4X4, Ride Quality, Appearance, Overall Build Quality
Cons
Useless third row seating, lack of real skid plates, number and location of 12 volt power points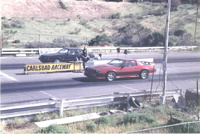 Great Vehicle With Good Value For The Money. — Bought the Ironman 4X4 for an out the door price including tax, license, doc fees etc for 30K flat. Options included the third row seats, rear air, class III/IV trailer tow package, XLT comfort group, Sirius Satellite Radio and the 3:73 axle. This is my fourth Explorer (Three XLT's and one Sport) and this handles better than any of the previous models. I didn't go for the V-8 simply because none was available in stock except in Orange Frost, which I didn't want, (Mine is Red Fire) and the V-8's were loaded up with navigation, and all sort of up packages that was bringing the MSRP's to about 39-40K for things I just didn't need or want. It's hard to justify thousands for a navigation package when a TomTom One does just about as well, can be taken with you when you change vehicles, and you don't have to pay through the nose for map upgrades. A suggestion is that unless you are a real audiophile, to forego the upgraded stereo. The stock stereo with MP3 and single CD is awesome, and the 80 watts is plenty to fill the cabin with sound. The jack for your iPod is handy and lets you connect to the stereo with a simple connection. One gripe is the lack of a 12 volt power connection on the dash, or under the dash...there are only two available, one on the front of the console next to the iPod jack and another on the rear of the console for the rear seat passengers. That means plugging anything in virtually infringes into the shifter and cupholder area. A better move would have been to place the iPod jack and the power outlet IN the console as was done on the Edge and other vehicles. The vehicle has auto 4 wheel drive. Meaning it decides when 4 wheel drive is needed, normally being in rear 2 wheel drive mode and switching to 4 wheel drive when traction is needed on the front wheels as well. You also have the choice of manually selecting 4 wheel drive high or 4 wheel drive low for off roading, snow or sand. The low is the typical "grunt" gear, and similar to that found on the earlier edition Explorers which had the option of turning off the 4 wheel drive completely. I don't know at this point whether there is any disadvantage to the auto 4WD system over the old switch it yourself; it could prove invaluable in improved stability in emergency maneuvers and the ability to automatically have traction on unstable ground without switching over. My 1996 was the first Explorer AWD and had no transmission or transfer case problems, nor did it eat tires any faster than standard 4WD's, so I rather doubt this Ironman will be any different in that area. The Ironman also has Traction Control, Rollover Stability Control, Anti-Lock Brakes, front and side air bags and intelligent safety systems for seat belt tensioning as standard. It's a far cry from the old Explorers and I'd like to say, my 2003 Explorer was struck broadside by a loaded 1 ton van traveling at 55 MPH (I was moving at 5 mph) and I'm here writing this, so I can attest to the structural integrity of the Explorer firsthand. The full frame exhibits no squirm or creaks and the body is tight. Steering is centered and tight, but not as tight as I might like, but then again, I'm used to driving sports cars and other high performance vehicles, so the Explorer isn't expected to steer like them anyway. Throttle response is adequate and it has no problem merging with Freeway traffic at normal speeds. The 5 speed automatic shifts crisply, although there can be a lag at lower speeds below 20 mph; I attribute that to the 4 wheel automatic drive perhaps hunting on turns in slow speed through city streets. It exhibits none of that on the highway. Leather front and second row seats are comfortable, and both front and the rear seats recline, something unusual for Explorers of the past. The heated front seats are a single temperature, but pleasant so you're not likely to have a poultry burn nor feel too cold. Just about right from what we can tell, although it is still summer. Drivers seat is 10 way power and passenger is manual; both do have lumbar support although passenger is also manual like the seat. Air conditioning will freeze you out front and rear. The third row seats are about useless unless you know some little people you plan on taking on a trip, or have enemies to torture along the way. Cramped and too small for humans in my book and difficult to access. But they are there. I find anything about them way overrated and I wish they had not already been part of the installed package; $895 for this option was wasted in my opinion. Don't bother. Plus, it's not even leather!! (On Eddie Bauer models, they hammer you further for power fold leather 3rd row seats...that's even more insulting since the seats drop at the touch of a button, but you still have to pull them up manually. And, that adds even more to the cost and they're no more usable or comfortable.) Ride is smooth and not choppy. It's still a truck though and you'll not be getting a Lexus ride in any event. But better than most. The 18" wheels are nicely done and add to the ride quality. Standard tires on my vehicle are Michelin M&S rated, meaning we can go to the snow without chains most of the time. Note there are NO real skid plates under this vehicle. The Ironman skid plate is faus or fake, so if you're a serious off-roader, you'll need a real skid plate package before you tackle the wild outdoors. Just a word of caution! All in all, a great vehicle for a great price. We looked at others but the build quality, features and pricing brought us back to the Explorer.
Owner for 0 years, 2 months
Miles Driven per Year:12,000
Looking for a Used
Explorer
in your area?
CarGurus has
48,471
nationwide Explorer listings starting at
$1,495
.
lillie1210

writes:
2007 Ford Explorer Eddie Bauer
Review
Pros
When you first open the door, it has a customized step up to which you can get inside, it automatically slides out and in. It makes you feel like a princess. Most Fords trucks, just have a regular built up step up.
Cons
Gas prices are high....to fill tank is 60.00 or so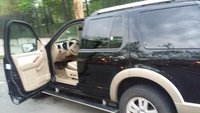 Spacious, Confort, Ride In Luxuary — Average Gas 60.00 a week. This car overall is great for taking family, friends out of town. It's a beautiful car to ride in with a many people. It has a third row, which can be removed to make a bigger trunk. It has sensor, sun roof , nice vehicle.
Primary Use: Family transportation
Hisham

writes:
2007 Ford Explorer Limited
Review
Pros
Everything except fuel consumption
Cons
Effect on your wallet at the gas station
Ford Explorer Limited 2007 — One of the best cars ever....if it wasn't for the fuel consumption ;) Couldn't ask for more on an icy slippery road in winter or towing your boat to your cottage in summer.....plenty of interior space and storage area...powerful engine and good finish BUT....... The fuel cosumption is ridiculous
Jon

writes:
2007 Ford Explorer Eddie Bauer 4WD
Review
Pros
Tons of gadgets, plush interior
Best Explorer Yet — This is by far the best Explorer we have owned. This is the family's 5th Explorer. I love the features. It is packed with electronics such as Navigation, Sirius ,DVD player, ipod jack. On the road the handling is adequate. the short wheelbase makes for a little bit of a bumpy ride. The acceleration is awesome with the big V8. The transmission is not the smoothest. When you come to a light it has a tough time shifting back to first gear. The memory seats also have a tough time holding the setting. Other than those two little issues this is a fantastic, safe vehicle for the family. The third row power fold down seats come in handy when carrying more than 2 kids somewhere.
Eric

writes:
2007 Ford Explorer Eddie Bauer
Review
Pros
They still offer only 2 rows and they fold entirely flat
Cons
it's an SUV, gas mileage sucks
Our 3rd Explorer — Great for what we need - hard to cart arround a Great Dane in a sedan. Lots of space, the only full size SUV that has back seats that truly fold flat and do not leave any gaps for feet to get stuck in. Plus, it looks good, I like the new headlights and the tailgate.
KTHansen

writes:
2007 Ford Explorer Eddie Bauer V8 4WD
Review
Pros
Lots of upgrade features. Reliable. Stylish. Good power. 4wd. 7 seats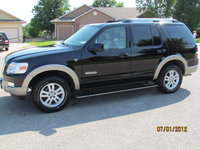 Excellent Mid-size Suv — Love the fact that ours has the 3rd row for the additional seating. One of the most spacious 3rd rows we sat in. Downside to that is you sacrifice cargo space with the 3rd row up. Smooth ride for road trips yet nimble enough for city traffic. DVD is a must with kids! V8 and 4wd means that I'm driving in almost all conditions. All the necessary safetly features and then some. ABS, airbag (front and side), etc. No overall complaints. Repair costs are speculative at best since we've not needed any service after almost 64000 miles. VERY happy with our SUV.
Primary Use: Family transportation
wesdog7

writes:
2007 Ford Explorer XLT 4WD
Review
Pros
Great Styling, Safe, Sufficient Power, Ride comfort
Cons
Gas Mileage at best is about 16.4... 4x4 v6! Had problems with thermostat housing... CRACKED and leaked out all the coolant. If I did it again, I would have gottten the V8. They are more reliable.

Reliable, Good Looking, Smooth! — I've had problems with the thermostat housing cracking. The v6's aren't very reliable with the transmission. Get a V8. Same engine and tranny as a f150. Good car, but try if you can, and get an older Expedition. They are a lot more reliable.
Primary Use: Family transportation
Nicolas

writes:
2007 Ford Explorer Eddie Bauer 4WD
Review
Pros
Interior space and third road capacity
It Is A Great Car But It Really Needs A V8 — It is a great car but in Panama you can only choose the V6 version and is never as good as a V8 even in fuel consumption every other thing ism above performance. It is agreat car to drive and very comfortable for an entire family a real american family car
Pauline

writes:
2007 Ford Explorer XLT
Review
Cons
Windows are a little too dark for me to see at night...
Me And My Husband Still Can't Believe God Shocked The System And Blessed Us With This Truck!! — I'm still learning how to use all the function!! We have room for 6 other passengers, too much room for us now!! This truck is so lovely, nothing will go wrong without it tell you.
Antonio

writes:
2007 Ford Explorer XLT V8
Review
Pros
Good power, comfortable
Cons
The least reliable vehicle ever
Very Poor Reliabibility!!!! — Horrendous transmission problems that have taken the dealer over seven months to solve plus a myriad of other smaller issues make me conclude that I never will buy a Ford vehicle again. A piece of crap that when it works is quiet and comfortable. What a difference with my previous Honda, Toyota and Mistubishi products!
Displaying 1 - 10 of 18 2007 Ford Explorer reviews.
Looking for a Used
Explorer
in your area?
CarGurus has
48,471
nationwide Explorer listings starting at
$1,495
.