2007 Chevrolet Optra
User Reviews
2007 Chevrolet Optra
Review Ratings
Average Ratings from

23

reviews
Performance:
Appearance:
Build Quality:
Overall:
Review Highlights
Click to filter reviews below
Displaying 1 - 10 of 23 2007 Chevrolet Optra reviews.
pravi814

writes:
2007 Chevrolet Optra
Review
Pros
Performance - acceleration-Good, braking-Very Good, handling-Excellent
Cons
Dealer Service is a bit expensive.

To Buy This Car Is The Best Decision I Have Taken. — Excellent Car. Its been 3 years that i own this car in Dubai & it has never let me down despite the fact that it was even submerged in water in 2008 as After two days kept un touched, the engine started after two tries.Today i have a battery down.. but then its ok.im still happy with this car and would reccomend to all looking out for a mid size sedan. excellent fuel efficiency.
Primary Use: Commuting to work
Ahmed

writes:
2007 Chevrolet Optra
Review
Pros
stability, braking, steering and boot space.
Cons
noise at high speeds, quality of materials, and lack of torque.
A Nice Car When Unloaded, But When Loaded, It Is Dead. — acceleraion is reasonable, and i shows great responsiveness when shifting gears down, but its maximum cargo is so low. braking is great, and the brake pedal is high, might be somehow annoying to new drivers, bu you'll ge used to it. hand brake is sof and has almost no sound, and holds the car good. seat position is high, which might give you false impression about the road, and the suspension is so soft. he car is stable at high speeds, but the cabin noise starts to be high beginning from 110 km/h. driving while having windows opened is also annoying as air gets ino the cabin from low speeds beginning from 60 km/h. the steering wheel is responsive, sharp, and gives you adequate sensation to the road. seats are comfy and have medium support, and the cabin is large, it can have 5 adults in great comfort. the sound system is fair, but the speakers are less than predicted, and the controls are reachable for the driver and the passenger, and are easy to use. the DOHC engine in all its sizes shows geat responsiveness, but somehow lacks torque, and the fuel consumption when the rpm are kept less than 3000rpm is very good, but higher the consumption goes on rapidly. the stability is great, and the car gives you false impression about its speed. the styling is accepted, but the car would have looked better if it was wider. boot space is accepted and larger than many of its rivals, but the loading tip is somehow a bit high. plastics used in the interior are of medium quality. head lights cover a wide range of the road. front and rear bumbers can withstand small and medium hits with no malformation or breaks.
Deody

writes:
2007 Chevrolet Optra
Review
Cons
need to improve the sound system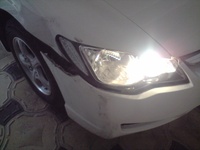 Good Alternative Car For Japanese Cars — Classically elegant car. Good interiors /exteriors. Engine quite serviceable. It has steady ride at 120kph but cant stand at 140kph.Performance on acceleration and braking is good. Fuel mileage is best for a 1.6 engine..but the tires must be mag wheels standard.
Primary Use: Family transportation
Martin

writes:
2007 Chevrolet Optra
Review
Pros
reliable, cheap n clean
2007 Chevy Optra — the chevy optra is a wtcc winner of 2006 that makes it a winner of hearts. being born a deawoo nubira, it lifts up the ghosts of deawoos past. GM did a good job but it could use more power and variants. the near perfect weight distribution makes a meal of the handling. good steering feel n response. the spongy brakes needs little work and am sure GM will rectify this in up-coming models. all in all a good, reliable car to own. needs a facelift as soon as possible.
Mo'men

writes:
2007 Chevrolet Optra
Review
Pros
nice performance and good quality
Perfect — its a strong car and have good performance and its dont useing alot of benzen and its breaking good and handling not bad and have a nice quality and its a fun car to drive it and i hope to get a new body it well be better but its orginal body is good
Primary Use: Family transportation
Vedanshu

writes:
2007 Chevrolet Optra
Review
Pros
coz its smooth to drive and luxurious.
Cons
coz it is a big car and coz of traffic it eventually gets struck in traffic jams.
Remarkable Car! — its performance is nyc and smooth.ItS quality and features are very gud.its looks are very very impresive.Yahh! its maintainence is costly coz of lack of spare parts.It is fun to drive as to impress someone with is marvelous and incredible luks.
Primary Use: Family transportation
pius

writes:
2007 Chevrolet Optra
Review

Not For Long Distance Travel — frequent alternator failure. Weak acceleration response. good exterior, most owners have same issues with alternator even under warrantee but no replacement. would not advise any friend to buy tis car. it happens to be my first brand new car and i must say that i am not impressed.
Primary Use: Family transportation
Suleman

writes:
2007 Chevrolet Optra
Review
Cons
Boot space. its nice but myy family wants a bigger boot.
!!! — Its fun and low maintenance. with nice acceleration and handling. mileage is also fine! not that great but what can you expect from a car that is 102 ps 1600 cc. In short its fun to drive. And that's my first car.
Primary Use: Sport/fun (spirited driving, track racing, off-roading, etc.)
Dhana

writes:
2007 Chevrolet Optra
Review
Pros
Comfort, ride quality, NVH, low end torque
Cons
shift quality, handling
Chevy Optra Magnum Diesel — What i like: Comfort class is what i will say first. Chevy Optra has the best in class seat comfort for both front and rear passenger. Ride comfort is good for bad Indian roads. Super acceleration.... thanks to the phenomenal low end torque. Good NVH pack. You will hardly notice you are driving a diesel motor. What i dont like: Poos stick shift quality. Doesnt inspire confidence in the handling aspect. The instrument panel is touch old. The audio unit doesnt gel with the interior. Overall: Good value for money.
Shelbyguy

writes:
2007 Chevrolet Optra
Review
Pros
Good all-round station wagon; seats fold flat; good on gas

A Daewoo By Any Other Name ... — In Canada, the Optra only comes in a 2.0L and was a Daewoo Nubira with a new name. It is not the same as an Aveo or Pontiac Wave, which were Daewoo Lacetti's, the successor to the Lanos. I have had two Nubiras, and had such good luck, I bought an Optra wagon, and yesterday bought an Optra 5 for my daughter. The cars get good gas mileage, and have enough zip for the 401. My only complaints were the GM stereo (which I changed out using a Suzuki Verona install kit), and the GM spec rear wiper blade that you cannot get anywhere else.
Displaying 1 - 10 of 23 2007 Chevrolet Optra reviews.
Looking for a Used
Optra
in your area?
CarGurus has

thousands of

nationwide listings and the tools to find you a great deal.