2007 Chevrolet Colorado
User Reviews
Average Ratings from

12

reviews
Performance:
Appearance:
Build Quality:
Overall:
Review Highlights
Click to filter reviews below
Displaying 1 - 10 of 12 2007 Chevrolet Colorado reviews.
jasonh123

writes:
2007 Chevrolet Colorado LT1 Extended Cab
Review
Pros
Decent performance even with the 4-cylinder.
Cons
Ventilation controls keep burning out.

Chevy Colorado, What A 5 Year Old Would Draw If You Asked For A Truck. — The Colorado is a decent appliance that is difficult to get emotional over. Definitely built to a price it fairly screams "hey, I'm really cheap." Not really much more economical than a full-size. Had issues with the HVAC fan controls going out 3x in the 7 years I owned it. Not expensive to repair, just annoying. Also had trouble keeping the front end aligned. Overall just kind of ...there.
Primary Use: Commuting to work
Looking for a Used
Colorado
in your area?
CarGurus has
6,876
nationwide Colorado listings starting at
$2,295
.
jimmie2057

writes:
2007 Chevrolet Colorado LT1 Crew Cab 4WD
Review
Pros
body style,interior room,
Cons
dont offer longbed with crewcab, brakes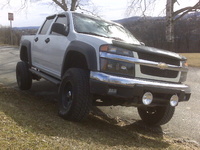 07 Colorado — i have a 07 crewcab z71 with the 5cyl i could use a bit more power but they offer a v8 option now so that takes care of that also would like better fuel economy i only get 15city and 19hwy i dont like the brakes sometimes they feel like they dont want to stop the truck and would like the option of a longer bed with the crewcab like the tacoma offers i put flowmaster catback exhaust and a k&n airfilter on and also teflon coated A/R 15x8 rims and lift shackles in the rear and turned the torsion bars up two turns
Lisa

writes:
2007 Chevrolet Colorado
Review
Pros
takes regular gasoline, crew cab, xm-radio, sunroof, 6-disc in dash cd player, a freakin' truck bed, the spray-in bed liner, my new topper, GM Friends and Family first discounts, 0% financing, end of year close-out, 4-wheel drive with a push of a button, nice looking, no more scary drives to work on snowy days, 21 miles to the gallon highway!
Cons
white isn't my favorite color, but it's growing on me:)
This Is My New Baby. His Name Is "my Little Beastie" — I highly reccomend the crew cab on this model. I only lost about a foot of bed space in the back, but the space I gained in the cab is irreplacable. I feel like I have all the benefits of a truck, but still most of the benefits of a car too.
Jeff

writes:
2007 Chevrolet Colorado LT1 Crew Cab 4WD
Review
Pros
fun small easy to manuver
Cons
not much for the power
One Fun Little Truck! — truck is designed for average sized people lots of cab space not too much for the storage. has great looks inside and out, i opted for a canopy to add to the covered storage and not lose and height. I also mounted some bfg all terrain t/a's and its like a whole different truck. also looking to install a turbo to make up for the small lake in power with the I-5
Adrienne

writes:
2007 Chevrolet Colorado LS Extended Cab 4WD
Review
My Perfect Little Truck — Does what I need it to do, tough and it packs my sled and a lot weight. Good on fuel and doesn't brake very much so not much to fix. As a manual I love to drive it and it has gone to California and all over B.C. It's a beautiful little truck.
AngelicaR

writes:
2007 Chevrolet Colorado LS Extended Cab
Review
Pros
Great on gas! Smoke free! Really nice shape!
Cons
A few minor scratches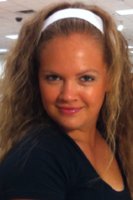 Salavage — Nothing love my truck ! just need something a little bigger to drive my friends around in. Best thing for geting to and from work! Drove it every where. really good on the road. Clean and smells good. A really great truck for a new driver!!
Primary Use: Commuting to work
notsoaveragejoe

writes:
2007 Chevrolet Colorado Work Truck
Review
Pros
Reliable, sweet after-market sound system, good gas mileage, always starts up right away, plenty of cargo room.
Cons
Seats two, simple trim, not a flashy truck.

It Does What It's Supposed To: It Trucks. — After having driven a few different pick ups, I settled on this one for one simple reason: it was a smooth ride. Even after a few years, the ride is surprisingly comfortable and doesn't get really bouncy at any point. I had to put an after-market stereo in it, because it only came with an AM/FM radio. Afterwards, though, it has been good to go, whether it is trips to the hardware store or long road trips across the southwest.
Primary Use: Commuting to work
falksey

writes:
2007 Chevrolet Colorado LT1 Crew Cab 4WD
Review
Pros
Styling, power, maintenance, comfort, gas mileage, Z71, solid build, safe.
Cons
Gas mileage - post lift, a/c blower motor regulator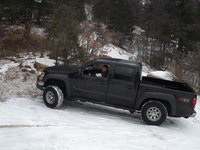 Excellent Mid-size Truck — The 2007 is my second Colorado, as I had an '04 before it which I will reference several times. My decision to continue with the Colorado was that these little trucks live up to the like a rock standard of the bigger Silverado, and make me feel safe. In my '04 I rolled on my driver side, 100% driver error I'll admit, but not a scratch to me. Fortunately I didn't roll over, but a few swings of a hammer and draining the oil out of my cylinders and she kept right on running. Also after falling asleep at the wheel, I did a nasty number to some construction barriers. However the damage was minimal; limited to a busted windshield, significant abuse to the passenger A pillar and a few dents on the roof. Even drove 20 miles back home, but the insurance said that the gig was up. In the '04 with the 3.5 L 5 cylinder I enjoyed 21 city and 25 hwy mpg. Though those numbers haven't repeated themselves with the 2007 3.7 L 5 cylinder (15-16 city 18-19 hwy), I chalk it up to the body lift. It has what I believe in impressive towing for the engine, however you will notice it both in your acceleration and gas gauge. Simple maintenance is a breeze, not even needing a jack to have working room for oil changed in standard Z71 stance, and it isn't too computer Dependent that I can't work on it myself. Has a very pleasant ride for a 4x4 and my only issue with parts failure has been the a/c blower motor regulator, which seems to be a gm wide issue, but simple fix. It is my hope to make this truck last forever, and I think it's fair to say that it's possible, but if for some reason it falls short, that wouldn't stop me from getting a third Colorado in the least bit. Finally, I find I won't be able to select a primary use below, as I use it for everything.
Vince

writes:
2007 Chevrolet Colorado LT2 Extended Cab
Review
Pros
Good value for the $14,000 I paid with only 2,500 miles on it.
Cons
I hoped it'd be a little better on mpgs.
Rado — An amazing little truck! Built to such a high standard that some weaknesses are unfortunately amplified. Acceleration is great, braking and handling leave something to be desired for. Build quality is great! But with tolerances so tight and everything fastened down so well that things like a popping in my passenger window are overly annoying. But that's about to get fixed by the dealer. Appearance has definately improved since I bought it in stock form. Will improve with time. Gets constant 19-20 mpg. Pretty much identical to the old Ranger but this truck is nearly twice as powerful!
Amber201

writes:
2007 Chevrolet Colorado LS 4WD
Review
Pros
It's a Standard and 4WD
Best Littletruck Ever! — I love my truck. This the best purchase I have ever made. Mine has a 4 cylinder engine, which isn't the greatest for me specifically. It does drives great when I need to accelerate faster. My truck is really good on gas as well. For being pretty much all stock (no extras), it is the best thing I have.
Displaying 1 - 10 of 12 2007 Chevrolet Colorado reviews.
Looking for a Used
Colorado
in your area?
CarGurus has
6,876
nationwide Colorado listings starting at
$2,295
.