2007 BMW 3 Series
User Reviews
2007 BMW 3 Series
Review Ratings
Average Ratings from

192

reviews
Performance:
Appearance:
Build Quality:
Overall:
Review Highlights
Click to filter reviews below
Displaying 1 - 10 of 192 2007 BMW 3 Series reviews.
Kelli

writes:
2007 BMW 3 Series 335i
Review
Pros
Amazing to drive. This car loved me but it treated me like crap. I got to test drive a lot of other loaner BMWs while mine was in the shop.
It Was My Lemon And I Loved It — I researched, and test drove like a maniac for a month before finally getting the BMW. I wanted power and this car had it. Unfortunately, like a cat, this car had 9 lives and used all of them in less than a year...so it had to go back. List of problems: 1) Computer screen blew, replaced, 2) Sun roof motor died, replaced, 3) Mirror retractor motor died, replaced, 3) Bad fuel pump, replaced, 4) Timing belt broke, replaced, 5) Headlight assembly installed incorrectly, repaired, 6) Rear brake sensor cracked, replaced, 7) Vacuum seals not sealed, repaired, 8) Oil line kinked, repaired, 9) and finally, Engine failure, repaired...but that was the final straw. My nine month love affair with my perfect car had to end, and luckily BMW worked with us and let us terminate the lease w/o penalty. This car was like Brokeback Mountain - I didn't know how to quit it. :) I LOVED the car when it was working properly and that darn malfunction light wasn't on, it was perfect. Turbocharged and fast as hell. Beautiful interior, comfortable, sporty, had every convenience possible. After about the third major problem, Neal tried to convince me to give the car back, but I just couldn't, I loved it. I've never driven something so smooth, so fast, something with more than 300 horses! I didn't want to give it up...until I was driving out in the middle of the desert and the engine failure light came on, then reality set in..I had to let it go. At least I got a new MINI out of it. :) We'll try BMW again in a few years, hopefully next time I won't the get the lemon.
Looking for a Used
3 Series
in your area?
CarGurus has

34,889

nationwide 3 Series listings starting at

$1,995

.
Lee

writes:
2007 BMW 3 Series 335i Coupe
Review
Pros
Great handling and the engine is amazing ... strong power across the band.
Cons
A rough ride for city streets, and poor luggage capability even with the fold-down rear seats.
Very Fun Car. — This car is a ton of fun to drive. I picked it up in Germany, so I've had it all the way up to 150 and it was solid as a rock and still had some get up and go... It's unfortunately a poor choice for Boston roads and short surface street commutes, since the stock tires are very hard and the shocks are stiff. With higher aspect performance snows on it, though it rides much better.
illiamw

writes:
2007 BMW 3 Series 335i Coupe
Review
Pros
Handling, brakes, acceleration, 6 speed manual transmission, styling, TwinTurbo engine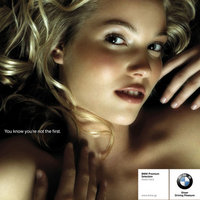 The Best Selling Ultimate Driving Machine... The E92 3 Series Coupe — To make this the newest, fastest generation 3 series coupe, BMW has to do something to step it up a notch from the previous E46 3 series. What did they do? They put in a TwinTurbo onto the engine of the new E92 335 and fine tuned it until it has barely any noticeable turbo lag with excellent handling. With the Turbo engine pumping out a adrenaline rushing 300hp and 300tq, this car is born to be in the tracks and windy mountain roads. The styling looks much more aggressive than the previous generation E46 coupe. Perhaps you would sacrifice a little gas mileage if you have a lead foot, but who doesn't love driving it hard when it begs you to? Overall, BMW has done an excellent job of revamping the 3 series coupe, and it might be the best one yet.
Primary Use: Sport/fun (spirited driving, track racing, off-roading, etc.)
Steven

writes:
2007 BMW 3 Series 328i
Review
Cons
16 inch rim is too small
Get One — Acceleration is awesome; can beat 70% of NORMAL car on the road. It's smooth and quiet. 24 MPG is great, 4/50000M free maint. HID lights are good looking and bright. Folding rear view mirrors and LED light for all four door handles. Run flat tires.
Primary Use: Commuting to work
Stacie

writes:
2007 BMW 3 Series 328i
Review
Cons
Cup Holders are in a weird spot.
bobkat

writes:
2007 BMW 3 Series 335i Coupe
Review
Pros
Just like the commercials say - it is absolutely fun to drive. BMW says Premium fuel is required, however it will run just fine on good quality of Mid-Grade gas. We occasionally used regular when gas prices spiked and did not notice any significant loss of power and mileage.
Cons
Regret trading this in on a 2008 BMW 335i Coupe. This was definitely the better car of the two.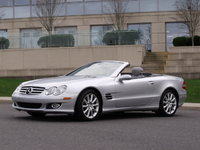 Just A Complete Blast To Drive — Edmunds did a test on this car in 2006 and was amazed at the results. The test performance was far better than BMW claimed the results would be. I can attest, It is absolutely true. This car definitely is a rocket on wheels. And the amazing thing is the mileage that it gets - even on Mid-Grade gas. The average of all driving (with at least 50% in town driving) should easily top 20 mpg. For a coupe - this actually had a useable rear seat that people could sit in. Trunk space - plenty of room for golf bags ans suitcases.
Primary Use: Commuting to work
gknam

writes:
2007 BMW 3 Series 335i Coupe
Review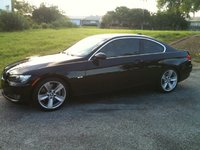 Bimmer! — This car is fun and fast! I cannot think of another car that I have enjoyed more. I handles exceptionally well and accelerates phenomenal, even more so with paddle shifters! Test drive on and see, you will fall in love as I have!
Primary Use: Commuting to work
William

writes:
2007 BMW 3 Series 335i Coupe
Review
Pros
Accelration, handling, braking, luxury, great build quality, great system and gadgets, great gas mileage, warrantied if bought new, attracts a lot of people and c'mon, it's a bimmer.
Cons
If you want something cheap, go buy a civic.
Get It If You Can, The Greatest Car Next To An M3 In This Price Range And Category Of Cars. — Performance - Great acceleration and handling. Brakes aren't the best, but a car for daily driving, I can't really complain. The car operates off a 3.0 Liter Engine (N54) that's forced induced with twin turbo chargers. 300 hp and 300 lb. of torque for a bone stock 335i. Build Quality - Driving dynamics is impeccable and I can't think of many cars that can put you in the driver's seat like a BMW can. Being made by the Germans, electronics isn't too reliable nor is many parts on the car, but the craftsmanship is excellent. Appearance - Tasteful yet subtle interior and exterior styling. The gauges are visible and simple, no flashy gadgets or annoying beeps when you get in the car, the exterior is magnificent and they really did a good job designing the taillights and the side view of the car. Cost of Ownership - Go buy a Toyota or Honda if you're looking for something cheap to maintain. If you get the car warrantied, that's a different story. Gas mileage is pretty decent for biturbos actually at an estimated 28 on the highway and 20 in the city, mixed is about 22. Fun Factor - Oh yes, lots of torque at my disposal and with a $600 chip, 100 horsepower and torque can be added on an otherwise stock 335i.
Primary Use: Commuting to work
Kenan

writes:
2007 BMW 3 Series 328xi
Review
One Of The Best Cars That I Have Driven — great breaks and handles like a charm, sturdy and quick car, interior was flawless, Gas mileage was pretty good and I got about 25-27 mpg on the highway, and this car is a dream and a great car to drive
Primary Use: Commuting to work
Bruno

writes:
2007 BMW 3 Series 335i
Review
Cons
Gas mileage a bit low
Almost Perfect Car — Basically an awesome car. Powerful, fast, confortable, high-tech, looks beautiful, finish is perfect, amazing handling, good trunk space, 0-60mph in 4.6 seconds, satellite radio, room for 4 adults easy, easy to drive, german performance, tinted windows, sensitive braking, 300hp, 300lbs torque, twin turbo, ... Basically, there is no competition in its class. It's director competitor would be the nissan 350z, with a smaller engine, not as much torque, not as fast, not as much room, ... Gas mileage around 18mpg, a bit low
Displaying 1 - 10 of 192 2007 BMW 3 Series reviews.
Looking for a Used
3 Series
in your area?
CarGurus has

34,889

nationwide 3 Series listings starting at

$1,995

.