2006 Pontiac GTO
User Reviews
Average Ratings from

60

reviews
Performance:
Appearance:
Build Quality:
Overall:
Review Highlights
Click to filter reviews below
Displaying 1 - 10 of 60 2006 Pontiac GTO reviews.
Preston

writes:
2006 Pontiac GTO Coupe
Review
Pros
The seats are amazing! It has four bucket seats in the front and back. They are probably the most comfortable seats I have ever experienced in a car. Of couse, it is powerful enough to bring a smile to your face even on a bad day. It also has a great Blaupunkt sound system with a 6-disc CD changer. The ride quality is remarkably smooth and quiet, which is quite different than what you will get with any of this car's closest competitors.
Cons
Gas prices are going to be a bit shocking with this car. With the 6speed manual, it gets decent fuel mileage for a big V8. It will get between 20 and 23mpg on the highway depending on how fast it is driven. If driven frequently in the city, it will get between 15 and 17. I average between 18 and 19 on mine and I drive in the city and highway in fairly equal measures. The only other complaint I have is that the doors are fairly heavy and awkward to open sometimes
Gto-a Best Kept Secret — There has been a lot of disinterest in the GTO since it was reintroduced in 2004. They criticized it for its lack of retro styling like the new generation Mustangs. People called it a "Cavalier on steroids." Some say it isn't "American" enough to be called a GTO. But what do they know. I was personally a fan of the new GTOs when GM reintroduced them in 2004. One look at the GTO 5.7 Litre emblem on the front quarter panels and I knew that it was an incredible machine. At the time, I was driving a 2000 Hyundai Sonata, which was a reliable and practical car for me at the time, but I had always wanted something a little more special. Even before I was old enough to drive, I always wanted a fast, sporty coupe that would be fun to drive and eye-catching as well, and I got all of that and more with my 2006 Pontiac GTO. If there is any question about power, the 6 Litre Corvette-shared LS2 V8 should quiet any skeptics. At around 400 horsepower and torque, this car will get from 0 to 60 miles per hour in about 4.6 seconds. With the help of its traction control system and stout suspension setup, handling is very stout for a car of its class despite the immense rear wheel horsepower. The car also keeps a very smooth ride with the stiffer shocks. The new generation Pontiac GTO is actually not built by Pontiac at all. These cars are made by Holden in Australia and are designed with extremely high quality. I have not noticed any squeaks or rattles with my GTO. While most skeptics of the GTO criticize it for its bland styling, I happen to really like the way it looks. It is unique and I don't see loads of other GTOs on the road (unlike the dime-a-dozen Mustang). If driving a muscle car is a new experience, gas mileage is going to be a real bummer for some. However, this car actually gets remarkeable gas mileage in proportion to the size of the engine. With a 6speed manual, it gets between 21 and 23 on the highway depending on driving style. Lots of city driving will bump it down to around 16 to 17 mpg. As far as maintenence goes, I haven't experienced any issues after about 8,000 miles of driving it and I am not aware of any other GTO owners having major issues with the car. I really enjoy this car. It is comfortable, affordable, and very sporty. All of my friends are crazy about it and some are even talking about buying their own! This car will not leave its riders disappointed. However, the unfortunate rice rocket/Mustang foolish enough to try to race it might be... By the way, for all of those naysayers who criticize the new GTO for not being American enough, the letters GTO were originaly taken from the Ferrari 250 GTO, which stands for Gran Turismo Omologato.
Looking for a Used
GTO
in your area?
CarGurus has
276
nationwide GTO listings starting at
$7,988
.
vw1610

writes:
2006 Pontiac GTO Coupe
Review
Pros
For the price it can't be beat. It's a sleeper for sure.
Cons
The only problems I have are that the trunk is too small.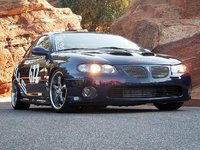 An Awesome Sleeper. — The GTO is a great car for the price. The first mods that need to be done are the radius rod bushings and a single piece aluminum driveshaft. After those must have upgrades I would recommend a set of shorty headers and exhuast. I've had mine for 9 years and its been pretty reliable. I think I've gone through a radiator and 1 set of front brakes.
Primary Use: Commuting to work
EngrTom

writes:
2006 Pontiac GTO Coupe
Review
Pros
All around performance - "Bang for the Buck" with good styling, comfort, ride/handling and reasonable mpg for the power level and weight of vehicle.
Cons
Lack of 7.0L V-8 (LS7 505HP/470TQ) Engine Option during last year of GTO production (2006).

2006 Pontiac Gto, 400hp Ls2 6-speed Manual Transmission — I strongly recommend a 2006 GTO to anyone out there seeking a refined modern muscle car. The car is powerful and fun to drive, very comfortable and offers suprisingly good fuel efficiency (dependent on driving style), specially considering the weight (3990 Lbs.) and power levels (400HP for 2005-2006 and 350HP for 2004 models). I've experienced no problems, failures or issues. My "Goat" is a 2006 Phantom Black with black interior and factory options of 6-Speed manual trans. and 18" wheels. The 6.0L Corvette based LS2 engine is smooth, powerful, ultra reliable and returns good fuel economy. I average 21-22 mpg (per tank) driving in Los Angeles traffic every week; approx. 90% highway/10% city but note that about 1/3 (or more)of my highway driving is in bumper-to-bumper stop and go traffic. My best ever is 25.0 mpg from one tank, achieved while steady state crusing on the interstate at 75MPH. My upgrades include: Hurst Shifter, Volante Cold-air Intake, Magnaflow 2.5" Catback Exhaust System, E3 Sparkplus and MSD Sparlplug Wires. ZMax fuel system cleaner/treatment and oil additive products are used regularly. Full synthetics lubricants are used in the engine, gearbox and rear differential. My choice for motor oil is my own 50/50 mix of 2 synthetics from Royal Purple and Mobil-1 E.P. Tire pressures (cold) of 33psi (front) and 35psi (rear) are maintained, along with proper alignment specs. I've not yet had my car on a dyno, but estimate that I've picked up at least 25HP/25TQ from the intake and exhaust alone. Continuing upgrades will include a 180 degree thermostat (195 is stock), shorty headers, valvetrain upgrade kit (CompCams), full roller rocker arms (Harland Sharpe, Crane, others), upgraded intake manifold (F.A.S.T. or Weiand)and re-tuning the PCM (using Diablosport or HP Tuners programs). Additional upgrades are planned to strengthen the drivetrain with products from BMR, along with suspension upgrades from Pedders are also in the picture. At engine rebuild time, a premium 4.00" stroke rotating assy. is planned to increase displacement to 6.6 Liters (402-408 CID dependent on bore), along with upgraded heads (or reworking of the stock LS2 heads) with a camshaft upgrade (increase in lift with moderate increase in duration). A supercharger may also be in the future for my "Goat". Undecided at this time regarding items such as wide-body kits, heat extractor hoods and different rear spoiler styles.
Stevie

writes:
2006 Pontiac GTO Coupe
Review
Pros
Great looking car, fun to drive, pretty uncommon on the streets so you can get quite a bit of attention.
Cons
Not really a "GTO" to me, Should have had a 6 speed automatic.
My Review Of My 2006 Gto — Performance ~ Out of the box I'd have to say the GTO isn't exactly the quickest car. It does make an impressive 400HP/400TQ, but for having a 6.0L V8 I would expect more considering there are smaller V8s out there that make more power. However, with some minor tuning and bolt-ons, this car can be a beast. Build Quality ~ The build quality of this car is probably one of the most impressive I've seen compared to other Pontiacs. This probably makes sense because this car isn't a Pontiac at all -- It's built by GM's Holden division in Australia. Most vehicles you see overseas have slightly better build quality than in the US. There are a few interior noises and rattles driving down the freeway at higher speeds, but the overall build quality of this car is pretty solid. Appearance ~ I've never understood why GM brought this car into the US as a "GTO". It looks nothing like the original. In fact, it looks more like a late-model Grand Prix (and often gets mistaken for one) However if you take the name away and just look at the car's features, I believe it's a great-looking car. From the front end you can definitely tell it's a Pontiac. I love the lines and subtle curves, it really looks like a modern day "muscle car". Cost of Ownership ~ On a car like this you'd expect it to be a bit pricey to maintain - especially since this car was built in Australia. That's not necessarily the case. It uses traditional Mobile 1 Synthetic oil and a brake system with components borrowed from the Corvette. I've had no trouble finding replacement parts at a price that's typical for a Pontiac. Depending on your driving habits, a good 20mpg could be had, even with the automatic transmission. I find that it gets pretty good mileage for being such a large V8. Fun Factor ~ Is this car fun to drive? Yes! Even with the 4-speed automatic it's a blast. With the tune I have it can screech the tires into 2nd gear, and sometimes into 3rd. Being that it's only a 4-speed, there are a couple dead spots which can get a little annoying at times, but if you punch it at just the right spot, you better hang on!
Primary Use: Commuting to work
67chevy

writes:
2006 Pontiac GTO Coupe
Review
Pros
400 hp LS2 engine... Handles well. Really quick and quite fast (~178 mph) once the electronic speed limiter was disabled (hehe)...
Cons
The struts and bushings were all replaced (by the dealer at his cost) the day I picked it up new (I made it a condition of the purchase). So, I didn't have all of those problems that everyone else was having with them...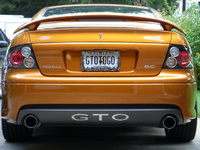 Sweet Ride! — The driver seat moves to slow when you move it forward for rear seat acccess. Also, the seat does not have a memory function to automatically return to your prior position. The stereo is a bit underpowered for a Blaupunkt. But those minor annoyances are overlooked once you get behind the wheel and crank it up!!
Primary Use: Sport/fun (spirited driving, track racing, off-roading, etc.)
barrettgr

writes:
2006 Pontiac GTO Coupe
Review
Cons
Can't keep rear tires on it.

Exactly What I Wanted — You have to know what you are in for with this car. Fast and fun to drive. Don't plan too many family trips though. Can't wait to get it on the track and have some real fun. Only a few modes but that is all you need.
Primary Use: Sport/fun (spirited driving, track racing, off-roading, etc.)
D_dimaiox1

writes:
2006 Pontiac GTO Coupe
Review
Pros
Big back seat. Fits children perfectly with a lot of space.
Cons
It's a 6.0 engine yes gas mileage is not great compared to an economy car. But you do not buy a GTO for that.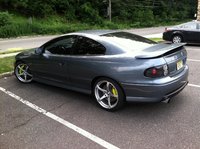 Awesome Car Needs No Repairs Or Maintenence. — I love these cars I've had 2 2006 GTOs. It's the only car you can get a corvette v8 six spee manual and fit the family in. They handle very well. Ride very well. And Maintenence is very cheap. Of course it's a GTO what's not to like.
Primary Use: Family transportation
Michael

writes:
2006 Pontiac GTO Coupe
Review
Pros
Big engine, big thrills
Cons
Big engine, BIG gas bill
Love It — This car is my baby. Its frighteningly fast, can stop on a dime, and turns much better and flatter than most cars around. It is an attention grabber everywhere and has never let me down. It is by far the most fun car i have driven to date.
Primary Use: Sport/fun (spirited driving, track racing, off-roading, etc.)
Yannick

writes:
2006 Pontiac GTO Coupe
Review
Pros
You're going to get your money's worth. If you put more money into it, it will only return the favor with its untapped power.
Cons
If you are only an A to B kind of driver.
Realistic Dream Car — The GTO attracted me with its long list of standard features and the amount you get per dollar. A Corvette drive train, with four seats, and plenty of money to spare? I like the styling that its unique in its own way but at the same time, is a total sleeper and is not going to grab the attention of every cop in town. The performance is something to experience directly behind the wheel. The suspension is a subjective issue, but if you like something comfortable and still responsive with the progressive springs as you would expect with an everyday driver, this is it. In regards to negatives, be prepared to spend a pretty penny on parts and gas. Although it isn't a Corvette, often times the parts are priced as though it is. The brakes are firm but expect fading and warping with hard use. Only major issue was a leak in the rear differential (warranty).
Primary Use: Commuting to work
cyclone06gto

writes:
2006 Pontiac GTO Coupe
Review
Pros
Power, build quality, comfortable interior,
Cons
Wish the tires lasted longer,Stereo is not up to Bose quality

2006 Gto — If GM had put this kind of quality into all of their cars they wouldn't be in the shape that they are today. The LS2 engine is a torque monster. I love the 6 speed tranny.Though the shifter needs to be one of the first things to go. The car is hard on tires, front and back.The interior is a great place to be.Few cars have seats as comfortable as these.As far as not looking like the 60s GTO? I'm glad. This car looks like no other car on the road.And will smoke any 60s GTO ever made...And, will do it in comfort.It's called the Austrailian BMW...And for good reason.Thus far I've had no maintanence issues.And saying this car is fun to drive is an understatement.
Displaying 1 - 10 of 60 2006 Pontiac GTO reviews.
Looking for a Used
GTO
in your area?
CarGurus has
276
nationwide GTO listings starting at
$7,988
.