2006 Mazda MAZDA3
User Reviews
Average Ratings from

65

reviews
Performance:
Appearance:
Build Quality:
Overall:
Review Highlights
Click to filter reviews below
Displaying 1 - 10 of 65 2006 Mazda MAZDA3 reviews.
Gabriella

writes:
2006 Mazda MAZDA3 i
Review
Pros
Its a manual trans and fun to drive and awesome gas mileage
Cons
Ya....the struts and the cv axles dont hold up in the car. already had to replace everything on the right side.
If You Dont Get In Accidents With This Car Or Drive Like A Jerk....this Car Is Awesome! — I honestly think my car is junk. Everyone else thinks its a good car cuz its only 4 years old but it needs a lot of repairs done to it cuz i have been neglecting her. She has over 50,000 miles on her cuz i drive ALOT! But i love to drive her cuz she is manual and pretty quick. Looking to do some repairs along with adding some horsepower by putting on a cold air intake when the weather breaks....super excited. Kinda glad she needs some work done cuz it gives me something to do! By the way...her name is Lola, thats why i refer to her as "she".
Primary Use: Family transportation
Looking for a Used
MAZDA3
in your area?
CarGurus has
27,183
nationwide MAZDA3 listings starting at
$2,000
.
Cortney

writes:
2006 Mazda MAZDA3 s Touring Hatchback
Review
Pros
fast, fun, and gas friendly.
Cons
I WANT IT BACK!!!!!!
3 Is The Charm — I bought this car at Carmax in January. It was a black 2.3 with a 5 speed manual. loaded and lots of fun to look at. got behind the whell I was in love. It wasn't hard to see why Mazda always markets their things with "zoom-zoom" you punched the throttle and it went. Now I can't say how fast I got it up to a couple times "cough120cough" No matter how you drove it, it seemed to want more and be comfortable. It never guzzeled gas either it just sipped at the tank. I think the estimates were off on MPG as I often found my calculator reading 30+ even in more city then highway mixed driving. If your a fan of hot hatch...try and 3 and tell me I'm wrong.
Essais

writes:
2006 Mazda MAZDA3 i Touring
Review
Pros
Mileage CHAMP: 40+ on warm days, flat roads at 65 with a/c on! Never below 34 MPG, except while towing sailboat (28-30 over continental divide) or loaded trailer (30 with scooter on heavy trailer), best case was 45 MPG mathematical (not just on the mileage computer); Cloth interior door panels give better feel to the car, maybe make it quieter; No service on two M3s for 70k and 85k miles, oil changed every 3k-4k miles. Good in snow and ice. Fun to drive, even on cross-country highways.
Cons
Sorry. None. My preference is efficiency, and this car is IT! Can tow light trailers 10% of the time and have plenty of pep the other 90%. Same for back seat legroom limitation.

Efficient Use Of The Planets Resources And Man's Auto Technologies — Replaced a 2000 Passat with 2006 M3. Liked it so much, my wife wanted a 2007 M3. Now at 70k miles and 85k miles respectively (I drive less often). Both are 5-speed manual for fun; both are mileage champions (see Pros). Replaced original Toyo tires at 40k with Michelin X-ice tires for use in Idaho ice and snow (not deep, just frigid). 45k miles on X-ice tires. Original brakes still have 1/8" left. No dealer services required. I change oil frequently, and these cars are still like new. Selling to my kids after college for $1. UPDATE: Both kids inherited their M3s now. Replaced those with a 2014 M3 a year ago, and I'm not sorry. The Gen1 M3s were both great cars, and they're still going strong. The new M3 (Gen3? Gen4?) gets even better mileage, with over 50 mpg in high desert driving with the good gas in Summer, and consistent 40+ mpg around our small town with -- even with winterized gas. The very spartan interior of Gen1 was replaced with a more comfortable and roomier feel in the Gen3. Its 6-speed manual is still tight and responsive, and the high compression engine is quick to jump when you need, or want, a boost. I'm loyal to the end.
Primary Use: Commuting to work
Taylor

writes:
2006 Mazda MAZDA3 i Touring
Review
Pros
Unsurpassed Performance for the Price
Cons
Quite a few plastic parts secured by more plastic parts.
If You Want Fun And Fuel Efficient, Get This Car! — Mine has the Velocity Red which is a Japanese color only. The steering is so tight it feels like it rides on rails. I can even efficiently maneuver on gravel roads without fear of losing control. I wish I could have gotten a manual, but less than 15% of all 3's are manual. The 4 speed automatic has a couple large power gaps in downshifting causing it to get sluggish. It has loads of pep from a dig, even with the 2.0L motor. The engine compartment has plenty of room to maneuver around the motor but the Air filter box is nearly impossible to get too especially since plastic pieces attached to it from the frame are attached with plastic screws that strip very very easily. The Auto Clutch manual is fun to use sometimes and it helps with decelerating in slick or icy conditions. It has the shortest 60-0 braking time in it's class blowing every other car out of the water. It is a little heavy for a compact car, but it has more safety features in its construction and engineering than the others. The projector head lights turn night into day and provide excellent visibility. The interior has sharp looking seats, 3 point steering wheel with convenience buttons, and a very slick looking dash. I drive it aggressively most of the time and i still average 28 MPG. The gas light turns on at about 300 miles. I would recommend this car for anyone who is looking for a Fuel Efficient and Fun car to drive. Zoom Zoom!
Primary Use: Commuting to work
bbrogan

writes:
2006 Mazda MAZDA3 s
Review
Pros
Overall aesthetics, Handling, and Interior
Cons
Leather seats are worn in some areas, but not noticeable, still very nice interior

Sophisticated Fun — I really like the Mazda 3. Always complimented on the appearance, and love the leather interior. Low maintenance and great gas mileage, driven mostly on the highway, and could go a week on 1 tank of gas. Performance and handling made it fun to drive, almost like a race car, even with 125,00 miles, the pick up is awesome.
Primary Use: Commuting to work
Brendan

writes:
2006 Mazda MAZDA3 s Touring Hatchback
Review
Pros
Swift, Economical, Unique
Cons
Body Integrity Lacking, High End Acceleration
Balance Of Badassery And Economy. — It may not be the fastest car on the road, but it definitely has the pep it needs to hold its own. The balance between this pep and the fact that 35 mpg is not unattainable make this car ideal. Definitely a winner for less than $20k. The 3 is a small car for sure, but the hatchback has the room it needs. The maneuverability of this car is responsive and punchy. It does have a good deal of body roll but that just takes some getting used to.
06mzda3

writes:
2006 Mazda MAZDA3 s Hatchback
Review
Pros
fun to drive, peppy, handles great
Cons
hard to think of anything

samson_rml

writes:
2006 Mazda MAZDA3 s Grand Touring Hatchback
Review
Pros
Styling, fuel economy, handling, performance.
Cons
leg room in the rear (especially if your tall)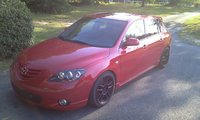 Mazda 3 Gets 2 Thumbs Up — I'm 6'2 and can surprisingly fit in this car. It's fun and sporty, and very stylish. This car is easily upgradable for different modifictions. Automatic shift-tronic makes it fun to drive, and can really flow through traffic. This is the first small car I've ever owned and loved....
Primary Use: Commuting to work
Derek

writes:
2006 Mazda MAZDA3 i Touring
Review
Cons
people seem to always hit it dam
Love My Car!! — quick car, big power band for a four cylinder. handles very nice with little power help. the rear brakes seem to always wear unusually fast. interior is very nice for the price much better than alot of cars out there. mpg very nice in the low 30s for spirited driving.
Vernon

writes:
2006 Mazda MAZDA3 s Touring Hatchback
Review
Like My Mazda 3, Not Love Just Like. — Lots of pickup for a small car. Handles very well, very sporty. Gas mileage can be good if you drive it reasonably. Interior only available in black when I bought it, so it gets a little warm in there. This car is very fun to drive. Would recommend to anyone looking for an inexpensive yet fun car.
Displaying 1 - 10 of 65 2006 Mazda MAZDA3 reviews.
Looking for a Used
MAZDA3
in your area?
CarGurus has
27,183
nationwide MAZDA3 listings starting at
$2,000
.