2006 Audi A4
User Reviews
Average Ratings from

46

reviews
Performance:
Appearance:
Build Quality:
Overall:
Review Highlights
Click to filter reviews below
Displaying 1 - 10 of 46 2006 Audi A4 reviews.
Jon

writes:
2006 Audi A4 2.0T Quattro
Review
Pros
well this is my firs turbo charged car
Cons
not enough power in the turbo no bov and neede morepower and better exaust and per manuel
It Decnt Car To Drive But If You Would Like Some Thing Better Get Car That Is Afordle And Fast . — what i hate about this car is that it doesnt have enough power a turbo shoulde give it does thave a bov and it should be manuel wish it little more comfortlbel and wouldnt have turbo lag but it nice luxary car for once.
Primary Use: Sport/fun (spirited driving, track racing, off-roading, etc.)
Looking for a Used
A4
in your area?
CarGurus has
10,493
nationwide A4 listings starting at
$1,795
.
bdkhome01

writes:
Pros
Excellent Drive and Mileage on Interstate and Freeways. When you need power, its there!

Sharp Audi — Excellent sports touring car but if you go into manual shift or S automatic your mileage will drop. Average 35mpg on trips from KC to Iowa routinely. Only wish it had a newer head unit for the sound system with an USB / auxiliary input for my iPods.
Primary Use: Commuting to work
Shawn0223

writes:
2006 Audi A4 3.2 Quattro
Review
Pros
its an audi. everything is great so long as you take care of the car
Cons
maintenance can be costly if you dont keep up with it.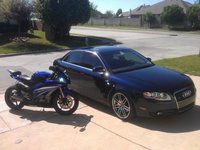 Awesome — Had this car since 2009. love it to death. have spent countless hours modifying it and working on it and have rarely had any issues that were extremely costly. great reliable and a fun car to have. very fun with an rs4 rear swaybar
Primary Use: Commuting to work
Lakedeck

writes:
2006 Audi A4 2.0T Quattro
Review
Pros
Excellent handling,. very smooth ride,and great in the snow. Back seat have ample room.
Cons
Fuel is not the best per gallon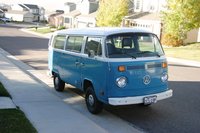 Perfect Colorado For Are Wild Weather — This auto has the comfort with out going over board with complex options. Seat are heated and wish the back seat were also. Nice creature features like the sun roof and ample trunk storage. Color is an eye catcher for sure.
Primary Use: Family transportation
dudajack

writes:
Pros
Style and power are both strong
Cons
Premium fuel and turbo lag.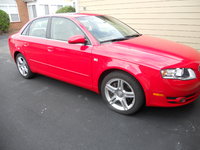 Pramod

writes:
Pros
Everything - performance, handling, fuel economy, quality finish
Cons
A5 is prettier - and I WANT one!
Audi 4eva — Summary: Performance is sublime, torque right through rev range. Superbly comfortable on long journeys. Great handling (viva Bridgestone Potenza tires!) Stunning sound system, music rules :) Brilliant service from Audi SA Will never part with it - saving for A5 :) Review: I bought the car brand new, and Audi were really terrific in terms of sales support, and good customer interaction. I love the car, its fast enough to be a thrill to drive, but still leaves you feeling safe and comfortable. I once took a wrong turn and ended up on a gravel road, and driving too fast on a road I didn't know, I came over a steep hill and all 4 wheels lifted off the road, when the car landed on the gravel, it started to slide... before I could react, the ESP kicked in and the car corrected itself. Awesome safety, awesome handling, and stunning performance. In 2nd and 3rd gear, you get brutal acceleration that throws your head back into the headrest, and it doesn't let up. For lazy highway driving, there is torque in every gear from 2000 RPM - that FSI technology really is fabulous. I really have zero complaints about the car - there is not a thing in it that I can fault - every detail is there for the driver: - automatic lights that turn on at dusk, or in underground parking - automatic wipers that keep your visibility good - a perfect cockpit, everything is clear and intuitive - great gearbox, smooth and easy shift - superb fuel economy, I average 9l per 100km in town (heavy traffic), and on the open road, 6.7l per 100km with an average speed of 125km/h -- for those of you that know me - that's hammering it! I love this car, and the only reason I don't have an A5 is because I refuse to trade my A4 in for the A5 - I cannot bear to part with it. The experience of buying, owning and driving this car has turned me into an Audi fanatic - I will never own another brand of car, unless I win a lottery and get a Lamborghini :)
Marcus

writes:
A4 Review — Excellent performance for a 2.0 4 cyl. Very well balanced and looks great. Needs rims and to be lowered to look perfect. Very fun to drive and great on gas on the highway. Lots of fun in sport or manual mode!
Primary Use: Commuting to work
Marshall

writes:
2006 Audi A4 2.0T Quattro
Review
Pros
Awesome almost everthing
First Class Black Bullet Train — Not one problem with this car except expensive sporty high profile tires wore out after 15k miles. I think a little toe-in on the front suspension is to blame. Othewise, this car ROCKS. Great mileage, fast as a bullettrain, hot to look at, unparalled interior, fantastic radio, sunroof, heated seats, rides like it is nailed to the street. Such an awesome care. Drawback is small back seat. Not good for real people, this is a sports car.
flywes

writes:
2006 Audi A4 2.0T Quattro
Review
Pros
I really love this A4. 6 speed manual is a lot of fun to drive. It is also great for gas mileage throwing into 6th on the highway (34+MPG).
Cons
Car tends to understeer. Being an audi, maintenance can be expensive.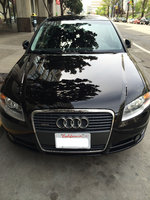 I'd Buy Two More If I Could/needed Too Of The Same Model Year — This car has been in our family since 2008. Very minor problems. It is great in the snow, rain or in gravel as well as the streets. I highly recommend this car to anyone looking for a fun, reasonable 4 door car. Plus, the 2.0T models are easily chipped to produce upwards of 250hP with no additional component changes. I haven't done this to my car, but the forums all seem happy about it.
Michael

writes:
2006 Audi A4 2.0T Quattro
Review
Pros
Fast, Amazing Handling
Cons
Expensive, reliability has yet to bed tested.
Very Nice Car, Well Worth A Try. — 2006 Audi A4 2.0T 200hp Turbo. Bought used in June 2008 through dealership. Low financing rate was a main selling point. Car handles and performes amazing one of the nicest car's I've ever sat in. Cost was a bit steep but so far worth it over it's competitors. Gas mileage is adequate but you won't be saving a ton either. Overall it's been a very fun and enjoyable car so far. Before buying I also test drove Lexus IS 250 and 300, Infinite G35x and Coupe, MazdaSpeed3, Acura TSX and TL. I preferred it over all cars mentioned based on overall feel and drive of the car. The Speed3 was the quickest but lacked comfort, the TL had comfort but had bad blindspots and felt a bit bulky. The A4 seemed like a perfect mix.
Displaying 1 - 10 of 46 2006 Audi A4 reviews.
Looking for a Used
A4
in your area?
CarGurus has
10,493
nationwide A4 listings starting at
$1,795
.