2006 Aston Martin DB9
User Reviews
2006 Aston Martin DB9 Review Ratings
Average Ratings
from 5 reviews
Performance:
Appearance:
Build Quality:
Overall:
Review Highlights
Click to filter reviews below
Displaying all 5 reviews
06DB9

writes:
2006 Aston Martin DB9 2dr Coupe Review
Pros
I think the DB9 is the most beautiful car on the road. It's simply magnificent to look at. And while it has its idiosyncratic quirks what supercar doesn't? The car's exhaust note is by far the best; it's fast, responsive & I love the 6 speed paddle shift. The interior smells like a fine gentlemen's club, rich with the aroma of Bridge of Weir leather and fine piano finish wood trim. The car is a joy to drive and a work of art to behold
Cons
Now the quirks. The rear seats are useless-I'd rather have the storage space but what the heck? If I'm going to be away for awhile I have to plug in the battery charger or risk losing the charge. Gas ileage is poor but i didn't buy it for its fuel economy. Also, the instrumentation visibility & Linn audio system could do with some improving. That said, the little negatives are a small price to pay for having the privilage of driving one of the world's finest motor cars.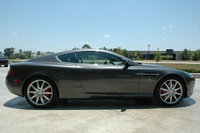 A Joy To Drive; Simple Beautiful To Behold And A Real Head Turner Anywhere I Go In It — I love my DB9. Owning an Aston Martin has been a dream of mine for most of my adult life and I was fornutate to recently find an "06 for sale with just 1850 miles on it. Virtually a new car. It's by far the most beautiful car built-bar none. It may not be the most powerful in its class or the best handling supercar out there, but the combination of it's superb styling, unparalelled exhaust note & a peformance package that's plenty good enough for most discerning drivers for me make the Aston Martin DB9 one of the most desirable cars in the world. I'm fortunate to be able to own & drive one.
Primary Use: Sport/fun (spirited driving, track racing, off-roading, etc.)
Bradford

writes:
2006 Aston Martin DB9 Volante 2dr Convertible w/Manual Review
Pros
One of the most elegant motorcars every created. Everyone loves it. The ultimate James Bond car, especially because it has a manual transmission which is very rare.
Cons
The car drinks fuel and to repair can cost large dollars.
The Most Elegant Car In The World — An ultra luxury sports car for the automotive connoisseur. It turns heads at every stop light, restaurant or club. It has been quite reliable and overall a wonderful experience to own. The car is fast, very fast however it is not for cornering at high speeds. It is an elegant grand touring motorcar that make you feel like James Bond whether you are in jeans or a tuxedo.
Primary Use: Commuting to work
John

writes:
2006 Aston Martin DB9 Volante 2dr Convertible w/Automatic Review
Best Exotic Daily Driving Supercar Out There — Heavy for a 2 door. Not much in the way of a back seat or trunk, but who cares anyway. While barrier to entry is high, the maintenance costs are pretty low. Polite at low speeds but gobs of torque when you need it. Acceleration is amazing but cornering is a bit heavy (remember this is a 3500 lb car). Easy to drive for a car who's speedometer goes to 220.
Primary Use: Sport/fun (spirited driving, track racing, off-roading, etc.)
Mark

writes:
2006 Aston Martin DB9 2dr Coupe Review
Pros
Awesome engine, rapid car !!!!
Cons
Complete handful, especially in the wet !!!!
Quick Test Drive Aston Db9 — The Aston DB9 - with nearly 500 (angry) BHP thumping out of a stonking 6L V12 this car is a full on experience. The handling is lively to say the least, the engine sounds absolutely amazing and it is a truly rapid car, very stable at high speed. The DB9 is a gorgeous car in pictures and even more so in the metal.
Milo

writes:
2006 Aston Martin DB9 Review

Eh. — I was super excited to drive this around the hills in Brentwood's Mandeville Canyon. I was nervous, but that happens driving a car worth the same as the house you grew up in as a kid. Anyway, I found the acceleration response TOO much. I couldn't find the smooth, middle ground. The car handled great, but the car was almost too low to the ground for everyday driving. Inside was beautiful. Again, handled great. Speed was nice once I got going, but in stop and go, it was tough. Great car, but not for me.
Displaying all 5 reviews
Ask CarGurus about the 2006 Aston Martin DB9
Average response time:
8.5 hours
,
# of Aston Martin DB9 owners:
4,821