2005 Saab 9-3
User Reviews
Average Ratings from

24

reviews
Performance:
Appearance:
Build Quality:
Overall:
Review Highlights
Click to filter reviews below
Displaying 1 - 10 of 24 2005 Saab 9-3 reviews.
Jarrad

writes:
Pros
Everything.
This car gets amazing gas mileage, brakes well, rides well, has amazing room for its size, has incredibly low maint. and is very easy to learn how to drive for beginner stick shift drivers. I taught my wife how to drive a 2003 Saab 9-3 Linear fairly easy. The clutch on that vehicle plus this 2005 are both great.
Cons
Backseats are comfy, but not enough leg room if your a big person
Interior noise is a little loud, GM didnt add enough sound deadening
Best Work Car Ever — If your buying a used car (which is very likely since SAAB went out of business because GM sucks at managing itself) then SAAB is a great car to invest in. The 9-3 is a sporty car that handles well in all conditions and costs very little when compared to its Audi, BMW and VW counter parts. It has as much power if not MORE than its counter parts for MUCH LESS $$$. Maint. is minimal. The hardest part about this vehicle is finding one that wasnt driven into the ground by a terrible owned. My best advice is to find one with 30,000-100,000 miles on it for the best deal. Check the engine for any oil explosions, get underneath the car to see if the transmission is leaking (after your test drive) and check the head lamps for looseness, excessive fading on the head lamps. Most Saabs that are used from 2003-2006 are beaten to hell in one way or another because owners dont take care of their cars. Ive owned an 2003 9-3 Linear, and a 2005 9-3 Arc. Loved em both, and plan on buying newer models up untl the final 2012 model. They are very cheap to come by, and very cheap to fix when compared to their counter parts! Drive one, love one, and you'll be hooked :) Keep in mind, Ive driven a Charger RT, Challenger RT, Camaro SS, Shelby Cobra, etc. I know what power feels like and even tho this car doesnt have 300-600 HP, it runs VERY well. I actually put my 2005 ARC vs my 06 Charger RT, my wife was in the charger... and the 05 ARC beat the Charger off the line, and all the way up until I hit 3rd gear. Hope this all helped! Also just went from WV - Ohio to find a Saab for my friend.
Primary Use: Sport/fun (spirited driving, track racing, off-roading, etc.)
Looking for a Used
9-3
in your area?
CarGurus has
1,287
nationwide 9-3 listings starting at
$994
.
Andrew

writes:
Pros
Good steering (ReAxs) system.
Cons
Suspension too soft.
Saab's Make Good Sports Saloons. — Pretty good all round sports saloon. Pretty soft suspension as standard though, which was not to my liking. The best looking Saab 93 in my opinion. Leather interior was very comfortable as well. Diesel engine was fantastic for fuel economy, while still delivery pretty decent performance.
Steve

writes:
2005 Saab 9-3 Aero Convertible
Review
Pros
great interior and headlights, excellent heated seats and sound insulation with convertible top
Cons
Better milage and less turbo drag
My Green Machine — Power is great but until you get used to driving a car with turbo you may not like the off the line performance. The SAAB is wonderful on long trips, the heated seats are great and the AC will put icicles on your nose. The body of the car was always a favorite, I had an unusual colour, it is sort of a Mt. Dew green. People either love it or hate it. If you are considering a European make car do yourself a favor and check out the SAABS.
All

writes:
Pros
This is a nice ,clean , safe and reliable car. Very clean inside and out. shows overall in very good condition. Car is running smooth and perfect at 113-k miles. with no issues to deal with. Everything works like its supposed to and yes the Ac even blows cold.
Cons
There are no negatives.
This Is A Nice ,clean , Safe And Reliable Car. — Car is running smooth and perfect at 113-k miles. with no issues to deal with. Everything works like its supposed to and yes the Ac even blows cold This is a nice ,clean , safe and reliable car. Very clean inside and out. shows overall in
Primary Use: Commuting to work
jbrenner

writes:
2005 Saab 9-3 Arc Convertible
Review
Pros
Looks great and runs great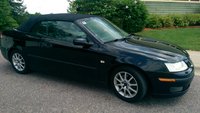 Great Summer Car — Love the look and the way it drives. Parts can get expensive. It is my second Saab and would defiantly buy another one. With top down its one of the nicest vehicles on the road. Handles great very good acceleration. Extremely safe and fun to drive
Primary Use: Commuting to work
Martín

writes:
2005 Saab 9-3 Linear
Review
Pros
great on gas and comfort
Cons
Ignition key is in center console
The Warrior — Car is very comfortable, very smooth and quiet. Even though is a four cylinder, the turbo helps get the boost when you need it. Inside is much more elegant than appears to be on the exterior. Decent space in the cabin and big trunk...good car!
Primary Use: Commuting to work
Charlie

writes:
2005 Saab 9-3 Linear
Review
Pros
Smooth, sleek , just all round gorgeous!
Cons
Lack of cup holders!
Saab 93 Linear — How sad am I to be babbling about my car hehe. But i'm such a saab fan. What i love most is the controls. The saab's have slight different knobs and buttons as it's a company that make airplanes to, which also comes through in a saab design. The air vents are similar to that found on planes, and love the cool finger buttons on the indicator and wiper sticks. The handling is fantastic, and so smooth. The gear box is flawless! and love how it has six gears :) Seats are so comfy. Has nice big thick wheels, with lovely alloys :) The car looks great to! very sleek. It does 45 miles to the gallon, so very economical, the sixth gear comes in handy for that. Wheels cost a lot though, with them being so thick. It's fun to drive to, taking corners really well. It also has duel control, so when i'm going at a constant speed on the motor way i can just flick the button on, and it will keep me at the speed i'm going without having to keep my foot on the gas. Ok so on to the down points ..... There seems to be a lack of cup holders! the saab really fell flat when it came to designing the storage in the car. The glove box is nice and big, and the storage in the doors is great. But would be nice if there were some cup holders. Sorry but thats the only bad point i can think of :p
floridadriver

writes:
2005 Saab 9-3 Linear
Review

Fast, Reliable, Greatlooking, Comfortable, Quiet. — I love this car. Solid as a rock; quiet; fast. Great gray leather interior still looks new. Even the cupholder rocks. Has never given a moment's trouble (I take it in for every single maintenance check, religiously, but no problems).
leo1954

writes:
2005 Saab 9-3 Linear
Review
Pros
Handing and gas mileage

Great City Car — Great car for the city fits anywhere and sips gas two weeks on full tank of gas. Handles corners like a BMW with half the maintenance cost. If you are in the market for a used 3 series BMW try a Saab just as good 1/2 the price great sport sedan
Primary Use: Commuting to work
David

writes:
Pros
Handling, Looks, Cost of ownership
Cons
Interior build quality, lack of bluetooth
Saab 9-3 2.0t Arc 2005 — Perfomance is fine. Again not the fastest off the line but overtaking is a breeze with that turbo giving a big shove in the back. I'm not sure what the 70 to 100 is, but I'm willing to bet it would give some of those German and Japanese sports sedans a pretty good run for their money. Of course with a Saab you also don't run the risk of being branded a certain type of person by Top Gear presenters. Handling is very good. The only car I have driven recently (I've test driven a ton over the last few weeks) that beats it is the Beemer 3 series. However the 3 series may be little stiff for our pot holes. I think there has to be some trade of for ride comfort even if you are a total petrol head like myself. So I actually prefer the Saab. Build quality is not as good as the 9-5 probably due to a little too much use of the GM parts bin. The engine and chassis are fine, it's the interior that lets it down. Vibrating window switches especially with bass tones. Cracked tone buttons on the stereo. The odd buzz and creak from the air vents. This iteration of the 9-3 has cleaner lines than the new model and I feel it is better looking because of it. The new one has tried to be more muscular and has a more in your face nose. Not very Saab quite frankly. I do wish that this car was any other colour than grey. I had to take a car off the lot to get a deal, if you know what I mean? Why do Ontario car dealers stock 95 %sliver and grey cars? It drives me insane. Grey is a non-colour, I am not a grey person. Cost of ownership is in the same realm as any other car or maybe even better. No dealer telling you to change the oil at insanely small intervals. The car is a blast to drive and rewards you for pushing on. For a front wheel drive car the understeer is quite minimal. Tihs maybe something to do with the passive rear wheel steer system. A little extra throttle through the apex brings everything into line quite nicely.
Displaying 1 - 10 of 24 2005 Saab 9-3 reviews.
Looking for a Used
9-3
in your area?
CarGurus has
1,287
nationwide 9-3 listings starting at
$994
.