2005 Nissan Xterra
User Reviews
2005 Nissan Xterra Review Ratings
Average Ratings
from 14 reviews
Performance:
Appearance:
Build Quality:
Overall:
Review Highlights
Click to filter reviews below
Displaying 1 - 10 of 14 reviews
Matt

writes:
2005 Nissan Xterra S 4WD Review
Pros
An suv that's actually a real body on frame truck. Wont get stuck in 2+ feet of snow, personal experience. Easy to clean interior. It'll chirp the tires going into 2nd.
Cons
Rides like a truck, wish the mpg was better when my wife drives it.
Looking for a Used

Xterra

in your area?

CarGurus has

7,324

nationwide Xterra listings starting at

$3,290

.
xterraowner

writes:
2005 Nissan Xterra S Review
Pros
265hp, power package, design,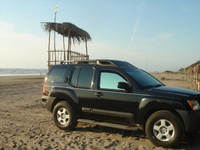 Just Logged 90,000 Miles On My 2005 Xterra..... — purchased in october 2005 s automatic-new, installed the K&N 77 series air intake system and shatter guard window film. after carefull consideration of the many suv's in this category, i went with nissans 265 hp xterra model. i liked the way the front/rear was designed. I have driven this xterra from florida to california and all over mexico. Driving in various types of highways in mexico, as far down as chiapas. i cant explain how i have never had to have my allingment done. the original long trails where replaced at 44k with rugged trails "e" rated since i was using this xterra in mexico. I replaced the factory stereo with a kenwood xm tuner. at 56k replaced the carbon canister purge valve that was damaged by fine dust. At 76k had nissan dealer in usa replace the chain guide under warranty. spark plugs where changed at 56k. I changed to the 14hp K&N air intake kit to use the extra horsepower for passing cars on the highways down in mexico. the design of this xterra plus the extras such as the emergency road kit, power package, rubber floor mats front and back- basically when i purchased the xterra, i did not have to buy anything else i might need since it already was equipped with it. i have driven this xterra very hard and long hours. i enjoyed the seats and the comfort it has given me on my 8 to 18 hour trips. Having always serviced every fluid ahead of requirements to keep it in perfect runing condition. i wish that nissan would give me the off road xterra to test under the same rough environment i have placed my s model under. if you drove my xterra today, it still rides as the very day i purchased it. thank you nissan UPDATE:11/2013 still own the xterra and just rolled 218,000 miles..... to date I have done the following: at 102k replaced radiator with a koyo at 120k replaced both front bearings I have done a total of 5 atf poor mans flush to keep automatic transmission good as new. no rear end issues or any leaks to date. I did the rear breather mod around 90k to avoid having any issues with stuck breather or broken breather. the heater core purge valve did break on a road trip but managed to get back to town ok. I did have the heater core fail around 190k no big deal just replaced it. tires: ran the oem long trails to 44k and switched to E load rugged trails for about 68k then I installed E load 265 75 km2 mud terrains....I managed to put 86k on those tires by rotating front to back for first 30k then X pattern after that. I went with the 285's km2 but after a couple of months I did not like the feeling of pushing a lot of rubber so I switched to 255 km2 still running oem rotors (had them turned around 100k drivers seat fabric began to wear, just ordered replacement fabric for edge to fix replaced front o2 sensors around 180k its been a great truck and has taken care of me and my amazing journeys south of the border... I don't think I will be selling it although all my friends have called dibs on when I sell it due to my maint. schedule and how I have taken care of truck.
Owner for 2 years, 6 months
Primary Use: Sport/fun (spirited driving, track racing, off-roading, etc.)
Miles Driven per Year:30,000
Eric

writes:
2005 Nissan Xterra SE 4WD Review
Pros
Quick, Off-Road Capabilities are excellent, cool looking car
Cons
How stiff the ride is and uncomfortable the seats are
Pretty Solid Rig — Very fast for an SUV. The 4 Litre v6 really picks up. Front seats hurt my back on long trips and the ride is a little stiff for my liking. Fun car to drive, especially off road with friends. Bad gas mileage though.
Primary Use: Sport/fun (spirited driving, track racing, off-roading, etc.)
Chad

writes:
2005 Nissan Xterra SE 4WD Review
Pros
The stance and power
Cons
fuel mileage, would like a few mods to it.
Offroad Camping Machine — Fun to drive, lots of interior room, good roof rack system. aftermarket basket on roof rack holds gear in place! always drove by Xterras and would see myself owning one in the future, first camping trip in one more sleep! Wifey and I already slept a night in the back, not bad if use an air mattress.
Primary Use: Family transportation
Cbushey

writes:
2005 Nissan Xterra S Review
Pros
Lots of space for cargo and very comfy for long rides.

Enjoyable Comfy Ride — This car has been great! It has lasted me four long years and still has many more years left. The spacious interior makes transporting cargo a breeze. The comfy seats make those long car rides seem like a trip to the store. This car has great power and reliability. It will be sad to see it go.
Primary Use: Commuting to work
badq45t

writes:
2005 Nissan Xterra S 4WD Review
Pros
Inexpensive to buy, reliable, good power, great look and overall excellent build quality
Cons
Gas mileage isn't great

1st 2nd Gen X-terra — This was the first of the next generation X-Terra. They always say don't be the first guy in, and guess what, I am always the first guy in for a new model. I was looking at used 4-Runners and Pathfinders when someone asked me if I'd seen or driven the 05' XTerra. I hadn't so jumped on-line to find out that they old tired (and trusty) VG33 engine was dropped in favor of a VQ (no more timing belt changes ever) 4 liter that put out 261 horse and even more torque. I went to drive it and I was there. Then I find a 6 speed (if I had it to do over again I might have gone for the slush box) in the color i wanted (Granite) for 18k in a S with power everything and 4 wheel drive. That was 45k ago, the truck is extremely reliable, powerful and gets the job done every time you ask it to do something. I had it in the snow in Lake Tahoe many times now and it is like a snow plow, never once leaving me feeling at risk. I am not an off-roader so I cannot comment on the off-roading stuff, but snow and other bad weather it is a rock star.
Primary Use: Family transportation
Adam

writes:
2005 Nissan Xterra S 4WD Review
Cons
Possible radiator failure coming...
Off-road Truck Meets Suv — Love everything about this car! Great off road capabilities and great for driving in snowy conditions. This SUV is also great for traveling as well. This car has been taken on many trips with no problems to date and no complaints about the ride cause it is OUTSTANDING for a off road vehicle.
Keith

writes:
2005 Nissan Xterra S Review
Pros
Power and Build Quality
Cons
Gas Mileage & rear passenger access.
Xterra Rocks!! — Performance - It has good acceleration, but handling is meh... Build Quality - Very solid strong build. Appearance - Not the best. It's difficult to get in and out from the rear doors. Cost of Ownership - Bad gas mileage. Fun Factor - Awesome!! Wouldn't recommend this car for daily commuting, but driving off road kicks ass!!
Primary Use: Commuting to work
Diedra

writes:
2005 Nissan Xterra S 4WD Review
Cynthia

writes:
2005 Nissan Xterra Review
Pros
looks great in white
Is One Of The Safetiest And Economical Vehicle — Is big and comfortable in the inside, Have a good space in the truck, On the road is excellent, cruise -control, easy to use, button for almost everything inside,economic with the gasoline, all the window (glass) came tinted, On the road when driving you can't feel the road for its smoothness, when hitting the brakes it really respond, Been through flooding and there is no fear to this vehicle.... and more to see
Displaying 1 - 10 of 14 reviews
Ask CarGurus about the 2005 Nissan Xterra
Average response time:
8.5 hours
,
# of Nissan Xterra owners:
1,285
Looking for a Used

Xterra

in your area?

CarGurus has

7,324

nationwide Xterra listings starting at

$3,290

.