Average Ratings from

12

reviews
Performance:
Appearance:
Build Quality:
Overall:
Review Highlights
Click to filter reviews below
Displaying 1 - 10 of 12 2005 BMW Z4 reviews.
myblackz

writes:
Pros
Body styling, fast, fuel efficient considering it's a roadster, blue tooth, leather seats very comfortable even on long drives. Very dependable, has never left me sitting on the side of the road.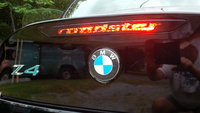 Beautiful Body Styling — Love the appearance and handling, the sport package is a must have for wet winding roads. The cold weather package is great for the colder months. Excellent quality top with real glass back window w/defroster, heated side mirrors and heated windshield washer nozzle's come in very handy in the winter months. Acceleration is fast, braking is great and I always feel comfortable regardless of the weather. Love the speed sensing wipers and the rain sensor. Most maintenance can be done by yourself, I've not had to take it to BMW but once, for a sensor that didn't reset itself.
Primary Use: Commuting to work
Looking for a Used
Z4
in your area?
CarGurus has
1,285
nationwide Z4 listings starting at
$5,997
.
Don_Durant

writes:
Pros
This is a true sports car that's totally reliable, goes 16,000 mile between services, looks great, is fun to drive, and cheap to operate. What more could you ask?
Cons
It's a roadster, so the ride is "firm."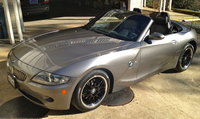 Fun & Fast Without Being Frivolous. — This is a really fun car to drive. It's fast, corners like it's on rails, brakes like you dropped anchor and although the suspension is firm, the car is still comfortable — automatic air conditioning, heated seats, rain sensing wipers, power windows, power top & other luxury goodies that make it very civilized. The GPS navigation is great & clearly visible with the top down in blazing sunlight. The trunk holds two suitcases even with the top down, so it's a great grand touring car. And as a bonus, it's got a built-in Passport radar detector/scrambler, so in 7 years of ownership, I've never gotten a ticket. I'd keep it except we don't need two convertible in the garage.
RAFASBMW

writes:

Great Ride — I like everything about my car. I'm the 2nd owner and when I boght it I never thought to keep it for such a long time. I'm glad I did and I enjoy everytime I drive it no questions asked.
Primary Use: Sport/fun (spirited driving, track racing, off-roading, etc.)
BlondieMIA

writes:
Pros
Convertible! Fast & Good Handling. Ive had the car 5 years & haven't had any engine issues. Never broke down.
Cons
2 seater. Cup holders suck.

Sporty, Powerful, Fun & Reliable. — This is a sports car, so as far as the "extras" go, the car is fairly limited. The car is a real 2 seater, & not heated ones. The engine runs smooth but the ride is on the bumpy side. Great weekend car. Ive never been in an accident in it so I can't comment on its safety. Acceleration, breaking & handling is great. Run Flat tires is a plus as well. Uncomfortable ride for long distances. Gas mileage is ok. Trunk is larger than you would think. One thing that really sucks on this car though are the cup holders. They are located by the doors, somewhat close to the door handles. They don't hold any real drink, I think they're just for decoration.. or to say you have cup holders. Ive replaced mine countless times. They always pop open on their own. Drinks fall through them without warning, & if you forget to slowly & properly close your cup holder prior to exiting the vehicle, plan on it getting stuck to you on the way out.. then having to replace it. They are just in a horrible location & cheaply made. Beyond that I don't really have any major complaints. Simple, powerful & reliable.
Primary Use: Commuting to work
judyv

writes:
Pros
Car has really great power for a 4 cylinder. I was really surprised a how fun it is to drive. Also, the trunk is very large for such a small car
Cons
Don't like the locking system as it seems the passenger door and the trunk are always locked when I need to get in there.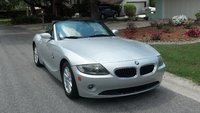 Great Car, Fun To Drive And Love The Large Trunk — Handles well as I seem to zip around town in no time. Very sporty, comfortable and easy to manuver convertible top, even while sitting at stop light. Very peppy for a 4 cylinder. Trunk is far larger than competitors roadsters.
Primary Use: Family transportation
Reece

writes:
German Engineering — driving is very pleasurable, accelerates fast and stops on a dime. est car i ever owned, very nice to have the top down and flying through traffic. this car is built the way cars should be built. super fun to drive
Primary Use: Sport/fun (spirited driving, track racing, off-roading, etc.)
Josh

writes:
Pros
design, handling, engine, etc.
Cons
prefacelift, but I wanted a dipstick and the newer models don't have one.
2005 Z4 = Awesome — Great car, it comprises all of the things I loved about my past e46, e34, and even the e28 with the fun top down of my old Z3. It has every option I could want. I love this car. I can't wait to take it to the track. Great performance. And if ever I feel it needs more pick up, I can change the diff or drop in a supercharger from ESS or ActiveAutowerks. One of the last BMW's that still has a dipstick. Don't buy a car without a dipstick. Electronic sensors fail. Pulling out the dipstick to ensure the level of oil will never be a problem. There are one or two rattles from the plastic parts of the interior, but significantly less than in other convertibles that I have driven. Compared to a full size luxury sedan, its noisy, compared to an S2000, Mini Cooper vert, Miata, TT, etc. this thing is built quite well. It is fantastically fun to drive. I highly recommend it.
Bryan

writes:
Cons
noise from the roof and rubbish in icy conditions, if you wanter to get there in one piece
Timo

writes:
Cons
..comfort in topspeed.
Maybe The Best Roadster In His Class... — Only the Nissan 350Z Roadster would do better, but is more an agressive sportscar than the Z4. So for the average consumer maybe the better advice is Z4. Sporty, accelerating incredible, great sound, perfect handling in curves, immediate feedback.. you just always feel the ride. ESP is interacting late, following BMWs sporty ambition. If you like it a bit slower and more comfortable the SLK would be your choice, the better car is by far the Z4. But if you are above 190cm both cars would not fit! Beside that the only con I could find is the comfort in topspeed... even a sporty car does not need to bounce like the Z4 with 210+. Desing has the potential to remain timeless.
Chris

writes:
Pros
Looks performance sound of 6 Cylinder engine
Cons
Shoddy build quality for a 'prestige brand'
Displaying 1 - 10 of 12 2005 BMW Z4 reviews.
Looking for a Used
Z4
in your area?
CarGurus has
1,285
nationwide Z4 listings starting at
$5,997
.