2005 Acura TL
User Reviews
Average Ratings from

32

reviews
Performance:
Appearance:
Build Quality:
Overall:
Review Highlights
Click to filter reviews below
Displaying 1 - 10 of 32 2005 Acura TL reviews.
Tylor

writes:
2005 Acura TL 6-Spd MT
Review
Pros
reliability. it carries the honda name.
Cons
seems that the valves need adjusted around 60k miles on most reviews.
Just Plain Amazing — 30mpg in a car that doesnt hesitate to hit 150mph. all leather interior. even the base model is LOADED! smooth power all the way through the RPMs. Torsen LSD keeps things tight in the corners. suprisingly well handling for a FWD car.
Primary Use: Commuting to work
Looking for a Used
TL
in your area?
CarGurus has
5,892
nationwide TL listings starting at
$1,000
.
c6z51vette

writes:
2005 Acura TL 5-Spd AT w/ Navigation
Review
Pros
after 9 years was only in the shop for routine maintenence what a reliable car
Cons
that they do not make this body style anymore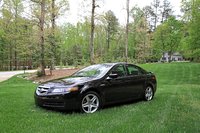 ctoro99

writes:
2005 Acura TL 5-Spd AT
Review
Pros
Super responsive, solid feel for life, amazing breaks, very nicely equipped (even the base model) and full of tech.
Cons
Rear seat not very comfortable for adults, love or hate type looks (I love it), rear visibility could be tricky w/o the back up cam.

The One To Own For The Long Run — Very reliable and strong in every aspect like power, handling, feel. Everything in this car is tight and remains tight. Many better looking cars out there but not many that reward the driver with such a high level of confidence. I have had 2 Acuras (TL and MDX) looking at getting a newer TL soon.
Primary Use: Family transportation
oldtimer37

writes:
2005 Acura TL 5-Spd AT
Review
Pros
Minimum expense, Handles well, Great brakes
Cons
Not what I call a true luxury car appointments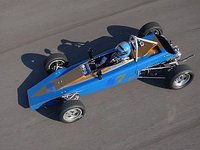 Would Reccommend One To Anyone Who Really Enjoys Driving, Wants Some Economy And Likes Performance. — 94k miles and no major repairs (knock on wood). Only expensive cost was new Michelin tires at 88k miles. I keep accurate records on all my cars and this one averaged 17mpg in town and 28 on the road. Best was 34.8. great acceleration, I love driving around Interstate cloverleafs. This is mainly my wife's car but we do use it on trips also because of the milage. Not the best looking of the semi-luxury cars and does not have some of the bells and whistles of other $35k cars. Probably will get the Infinity M35 next year. UPDATE: Bought M35S model. WOW, what a car. I will write a revue on it after awhile.
Primary Use: Family transportation
shirleyyoung

writes:
2005 Acura TL 5-Spd AT w/ Navigation
Review
Cons
I had to replace the transmission but post that I have had no issues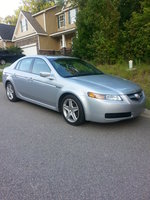 Vera;s Report Card — I loved this car. I usually trade every two or three years. However, with Vera, I enjoyed her so much and her handling is so good I have had her just shy of 10 years. New TL was too expensive for the life style I choose to live now but would recommend them to anyone.
Primary Use: Commuting to work
Ghost2004

writes:
2005 Acura TL 5-Spd AT
Review
Pros
Color, Bluetooth, styling, sound system
Cons
turn radius, no ability to stream audio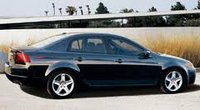 Sexy Family Sedan With Punch! — I like this car and the 2001 TL I owned. You will be impressed when you get out the car about how many times you take a look back at the car. The styling paved the way for many cars you see on the road today.
Primary Use: Commuting to work
Huntandpark

writes:
2005 Acura TL 5-Spd w/ High Performance Tires and Nav
Review
Pros
stylish, quick, easy to drive, all bells and whistles you could ever want, good economy driving, reliable

Perfect Car For Me And Anyone Looking For Sport And Practicality — Could not look for a more perfect overall car between electronics, size of engine, low cost, reliability, space, ease of driving, quality, fun to drive, ease of driving, sophistication, great maneuverability, braking, acceleration, comfort, and overall quality and ability to have fun while driving.
Primary Use: Family transportation
Scott

writes:
2005 Acura TL 5-Spd AT
Review
Pros
Its named Kira because its an Acura (A Kira get it?)
Acura Tl, Generally A Good Mid Level Car, Fun To Drive — Performance - Good acceleration and braking, handles nicely Build Quality - Black dash fades quickly for some reason, otherwise good Appearance - Sleek and sexy ;-) Cost - Reasonable for what you get Fun Factor - It is definitely fun to drive, even as a manual
Primary Use: Commuting to work
Tyler

writes:
2005 Acura TL 6-Spd MT w/ Navigation
Review
Pros
This car is a solid car that is a great value for the money, and very fun to drive.
Cons
The only thing i dont like about this car is its massive 40ft turning radius.
Rocket Ship — `This car is a rocket, luckily i got one of the very few manual tl's out there before the year where the engine was refined. 0-60 in less than 6 seconds in a family/luxury sedan out of a 3.2 liter is quite good for the size of it. The brakes are far better than those of the average car because they're 4 piston brembos; they have kept me out of a lot of accidents with the idiots who inhabit the road. Handling is pretty good for a 3500 lb car, but there is some understeer and torque steer when your punching it. The build quality is phenomenal, not one thing is broken and its a 6 year old car. the nav is a little out of date, but generally gets you to where you want to go. Mechanically this car is bullet-proof; besides the gearbox problem with all hondas. This problem can, however be solved with a simple swap of transmission fluid with amsoil. It is the best looking tl in my opinion, and the interior does not appear to be cheaply made. And its optional tech-package gives you the feeling that your in something resembling a spaceship. Gas milage is average around town, but 28 mpg on the highway is very good for a v6 that runs on premuim. Maintenance is on the expensive side, but this car is a acura so that is to be expected. This car feel rock solid, while still having that amateur racer feel to it, so it is very fun to drive, athough it is notorious for its clutch being hard to learn.
Primary Use: Sport/fun (spirited driving, track racing, off-roading, etc.)
kjgaret

writes:
2005 Acura TL 5-Spd AT
Review
Pros
Many luxury options for a reasonable price. Good acceleration, smooth ride
Cons
Trunk Space, no fold down back seat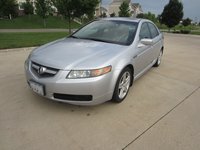 The Third Generation Tl Is A Winner — The third generation TL is a good combination of looks, luxury, and low cost maintenance. Acura is known for added value for your money and the third generation TL seems to have the perfect mix of sporty feel, luxury options, and low cost of ownership. Acceleration from the 3.2 liter V6, is nice with quick pickup to cruising speed when entering a highway on ramp or passing other vehicles. No need to worry about power. There is plenty of it available (270HP) to the driver whenever it's needed. Acura requires premium gasoline for this enging, and that may make some buyers shy away from this car, but I'm a firm believer in the fact that if you pay for the premium fuel in this engine, you will not have the problems that others have in some competing luxury brands. Braking seems confident, but not too "grabby". It's generally a smooth process to slow the car, however it will come to a stop quickly if you need it to. There is an abundance of seating room in both front and back. The leather is of nice quality and the heated front seats work well. Seating is comfortable in both front and rear. The only possible area of issue would be legroom for a passenger in the back behind a taller driver. The heating and cooling work efficiently and seemingly without much effort. There are dual climate settings to adjust for each individual in the front seats. The Acura Hands Free Link is supposed to be extremely easy to use with a cell phone; unfortunately I am unable to get my specific phone to work with it to try it. I hear from others that it is very convenient. Too bad that there are still bluetooth profile and pairing incompatiblities in 2013! The stereo with XM Radio and a multi disc changer works flawlessly. The sound is fantastic and the multi speaker setup (Including subwoofer) provide an amazing aural soundscape. I would say that this is a major highlight of the car. The only additional feature that I was hoping for in the stereo, was the ability to play back mp3 files from disc. Apparently that ability was added in later model years. There is really only one area that I wish could be improved, and that's cargo space. There is plenty of room to carry things like groceries and bagged items in the trunk, but trying to put in several large suitcases or any extra bulky items can be difficult. Also without a folding rear seatback, many longer items are basically impossible to move in this vehicle. Sure there's a pass through, but I'm not a skier and about the only thing else I could see fitting through it would be a couple fishing poles. I wouldn't give this generation of the TL a failing grade by any means, but I really believe that a folding rear seatback would help go a long way on improving the overal cargo carrying ability. Reliablity is first rate for Acura products and I have experienced just that. The visual appearance is a winner and looks classicly attractive without being over the top with styling cues. Build and quality of materials is excellent. Overal the 2005 Acura TL is a very nice mix of features for the price. It has many luxury options without paying an excessive cost to enjoy them.
Primary Use: Commuting to work
Displaying 1 - 10 of 32 2005 Acura TL reviews.
Looking for a Used
TL
in your area?
CarGurus has
5,892
nationwide TL listings starting at
$1,000
.