2004 Volkswagen Jetta
User Reviews
2004 Volkswagen Jetta
Review Ratings
Average Ratings from

46

reviews
Performance:
Appearance:
Build Quality:
Overall:
Review Highlights
Click to filter reviews below
Displaying 1 - 10 of 46 2004 Volkswagen Jetta reviews.
Adam

writes:
2004 Volkswagen Jetta GLI 1.8T
Review
Pros
This car has a combination of acceleration, sporty handling, ride comfort, quality feel, excellent gas mileage and fun factor that is unmatched by ANY other compact sedan on the market - period.
Cons
It's a 2004 model so it doesn't have the MP3 player aux jack. It's very low to the ground with makes steep driveways and speed bumps a challenge. The warning bong for seatbelts not fastened, doors open and headlights on with doors open will drive you insane.
Easy To See Why So Many People Own A Jetta. Not Easy To Explain Why So Many Others Are Missing Out. — Performance - The 1.8L Turbocharged engine delivers a very satisfying flood of acceleration, it pulls hard in the power band for all 6 gears. The brakes are ferocious: more than enough to stop the weight of the car and anyone or anything inside. Handling is superb thanks to a beautifully balanced weight distribution, solid suspension, and 18 inch BBS wheels with wide Z rated tires. All you have to do is think about a lane change and the car will respond quickly and smoothly. Build Quality - I bought the car with 85,000 miles and had to replace the water pump and timing belt almost immediately. Since I had done research on the car and knew this was something it would need, it was not an issue. The car now has 91,000 miles and the only rattle comes from the trim around the radio where it meets the center console. My overall impression of the build quality is: EXCELLENT. This car is in better condition than other cars with less than half the miles. I was built to last, and it IS. Appearance - One word: gorgeous. The body kit and big wheels on the Red Badge GLI model I have make the car look agressive and sporty. Volkswagen's wing spoiler on the decklid is sporty without making the car look like a rice-burner. The factory black metallic paint is stunning in direct sunlight. The inside is well-appointed in black with black cloth seats but somewhat monochromatic. Minimal use of cheap plasctic panels combined with brushed aluminum and fabric trim give the inside a quality feel. The best part of the interior is the two factory-installed RECARO racing bucket seats up front. These seats are the best passenger car seats available for lateral support and are infinitely adjustable with lower back lumbar support Cost of Ownership - Insurance is cheap since it's a small 4-door sedan. It only added 3 dollars for six months to my policy coming from the Saturn ION sedan I had there previously. If driven conservatively, the car will average 30-32 mpg highway and 25-27 mpg city. Premium fuel is required due to the turbocharger, but conservative driving will more than offset the increased price for premium fuel. Maintenance is about the same as what you'd pay for any American or Japanese compact sedan. I know, I've owned them all. Fun Factor - I could go on forever in this section but I'll try to summarize. This car blew my mind on the test drive. The balance between sporty driving/handling and ride and noise comfort is better than any other car I have ever driven, or ridden in for that matter. The 6 speed manual shifts smoothly and deliberately, and the clutch is very forgiving. Traction is superb in the dry and wet, and the top speed is eye-watering yet surprisingly comfortable. What else can be expected from German engineering? Autobahn tested, Autobahn approved.
Primary Use: Family transportation
Looking for a Used
Jetta
in your area?
CarGurus has

31,639

nationwide Jetta listings starting at

$1,495

.
Mariepod

writes:
2004 Volkswagen Jetta GLS 1.8T Wagon
Review
Pros
Great car! Handles and drives great . Clean lines. Love the real leather seats and interior layout of this car.
Cons
Back seat a bit stiff.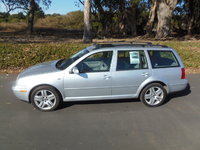 For A Wagon The Gas Milage Was Quite Good. Normal Repair Costs. — Volkswagon always makes a great product. I have owned several and love them all. They have clean lines and handle well on the road. very solid feel to all the materials in the car, not cheap feeling like so many cars today.
Primary Use: Family transportation
Jason

writes:
2004 Volkswagen Jetta GLI 1.8T
Review
Pros
It's a fun little car that is good on the eyes and can hang with it's fair share of other cars for having a small engine.
Cons
Turbo lag. If you aren't going to put the money into the car and complain about it, don't get the car.
The Car Is Only As Good As The Driver Wants It To Be. — For being a stock car, it has some potential. The acceleration is decent, but because of the turbo it obviously has it's ups and downs. Really there is no problems mechanically. Suspension is tight, as it should be. Interior and exterior is both good for style, but I will have to say it is not made for truly carrying 4 people. usually just two. You can fit 4 but it's not a very comfortable ride for them. Cost of ownership is all dependent on the driver and how much he is willing to spend. Cost of gas is higher for me because I only use premium or equivalent to 91+ Octane. Maintenance is normal probably a little more for me because I clean(wash, and vacuum pretty much every week, and wax once a month) it more than the normal driver. Overall it's a pretty fun car to drive.
Primary Use: Sport/fun (spirited driving, track racing, off-roading, etc.)
Wade

writes:
2004 Volkswagen Jetta GLS TDi
Review
Pros
Amazingly fun to drive!
Cons
Aftermarket products for it are quite expensive
Jetta Gls Tdi — I love the fact that I can drive anywhere from 800 to 1200 km (depending on my lead foot) on a single tank of diesel. And the torque coming from this little thing is amazing! I have alot of work to do appearence and performance wise still, but it's a work in progress. This car has seen everything from class city commute driving, to gridlock, to interstates all across america and highways all across Canada, it has even seen a fair deal of offroading all across Alberta to get to rig sites. Let's put it this way: i put a skid plate on it to go some of the places that I've taken it, and it still runs like a dream!
RHM7

writes:
2004 Volkswagen Jetta
Review
Pros
economy, style, sturdy, all around great car. the best i've bought
Cons
crank seat adjustments in front a pain. cup holders a little awkward.

Great Ergonomics, Diesel Economy Is Exellent, Car Actually Appreciated After I Bought It! — I bought this car certified used at 55K, and now have 109K on it, and LOVE the car. Same coloring and body style as my wife's Avalon, but over twice MPG, and plenty of room for the two of us. We take it on trips instead of the bigger Avalon, because we don't need the room and the car feels great. Now the Avalon is more comfortable, but the Jetta is more than sufficent for the oil consious (patriotic American at a time of war). I will buy another Jetta next time, expecially if they make a diesel HYBRID in the near future! All the efficency of the Prius without the complication or need to replace batteries. A little less prestige, but a great buy.
Owner for 2 years, 0 months
Miles Driven per Year:35,000
Brandon

writes:
2004 Volkswagen Jetta GL TDi
Review
Cons
cost of parts/interior smells
I Would Buy Another For Sure — I love the diesel! Cold starts are kinda rough however there is a spark plug recall. Parts are expensive but worth it. Decent stock sound system, nothing fancy. I like my standard transmission. The fuel economy is mostly my favorite!
Primary Use: Commuting to work
Marc

writes:
2004 Volkswagen Jetta GLS TDi
Review
Pros
gas milage, overall quality, performance
Volkswagen Jetta Tdi Sport Edition — -Interior styling: quality materials and lighting really sets the car off (blue and red) -Good performance, does not feel like a stereotypical diesel, but still gets amazing gas mileage and it is fun to drive - the car has a very good sound system sport edition only 2000 released in canada
Josiah

writes:
2004 Volkswagen Jetta GL 1.8T
Review
Pros
it has a great stereo great handiling and pick up
Good Car — this car has great pick up and great handliing this is a great car it is an over all great car. i got it up to 60 in 200 ft thats preety good there is a lot of trunk space i have put a guitar and amp and 1/2 a drum set in there it big!
Kaete

writes:
2004 Volkswagen Jetta GL 2.0 Wagon
Review
Pros
30 MPG, Roomy, Leg Room, zippy
Cons
No turbo, no sun roof
Good Little Car — I should have bought a turbo, but other than that I love it! It carries my golf clubs & rescued cats just fine. It gets 30mpg on average. Solid car. I bought it with only 9k miles and a year later I've put over 18k on it. I've hauled camping equipment through the Adirondacks with the A/C full blast; she still pulls up the hill just fine.
Michael

writes:
2004 Volkswagen Jetta GLI 1.8T
Review
Pros
Recaro Seats, 6 Speed Manual, Turbo
Cons
Front-Wheel Drive, Heavy
Quality Economy Car Thats Fun To Drive Daily. — Although it is front wheel drive, and will oversteer like the world is about to end, this car is fun to drive every day, and has enough power to put a smile on your face. smooth ride and great german engineering make this car a great choice.
Displaying 1 - 10 of 46 2004 Volkswagen Jetta reviews.
Looking for a Used
Jetta
in your area?
CarGurus has

31,639

nationwide Jetta listings starting at

$1,495

.