2004 Nissan Maxima
User Reviews
2004 Nissan Maxima
Review Ratings
Average Ratings from

25

reviews
Performance:
Appearance:
Build Quality:
Overall:
Review Highlights
Click to filter reviews below
Displaying 1 - 10 of 25 2004 Nissan Maxima reviews.
Hussain

writes:
2004 Nissan Maxima SL
Review
Nissan Maxima - Road King — Best Car i have owned so far, Super Quick, Excellent interiors. Muscle car yet elegant, The interior was very spacious and the wooden trim inside gave a luxurious look. Once you buy a maxima, you can never go back to a toyota or any other saloon.
Primary Use: Family transportation
Looking for a Used
Maxima
in your area?
CarGurus has

18,897

nationwide Maxima listings starting at

$1,750

.
Brittany

writes:
2004 Nissan Maxima SE
Review
Pros
powerful engine, smooth handling, stylish looks
Cons
turning radius, cheap interior
Keep Tweaking, Nissan — Ok, so I had my Maxima for 1 year and the only reason I sold it was because the turning radius sucked. Very roomy interior and lots of pep in the engine. The car was powerful, stylish, and fun to drive, but not being able to do a standard u-turn really irritated me. And some interior compartments were cheaply assembled.
amoretheryn

writes:
2004 Nissan Maxima SE
Review
Pros
Smooth Ride, Sporty, Very Fast, Responsive, Roomy, Comfortable, Non Robotic Feel, Skyview Roof
Cons
Transmission Issues (only on 04-06 models), No Auxiliary ports on 04 model,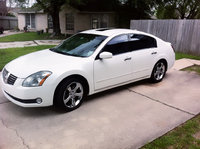 Maximum Appeal In A Maximum Sedan — My ultimate dislike in this vehicle was the transmission issues which of course I knew nothing about and Nissan apparently knew everything about. It upset me that more that 75% of Maxima owners with 04-06 models experienced this issue with their vehicles after 4 or more years of having the car. My car is currently at 170,000 miles and it jerks everyday! There is no recall on these transmissions which is crazy to me. At one point this seemed like a small dent in the car's reputation because the look, speed, feel, style, and comfort of the vehicle overshadowed that issue. It handles amazingly when going into a curve and then just shoots off once it get out of one. The braking is good however the car has too much power for such small brakes. The 18" rims are a good look as well especially if they came with stock chrome wheels. I enjoy the sound system (I'm a music buff) but the Bose system doesn't need some work on the mids if it's going to have a lot of bass. I love Love LOVE the Skyview Roof on the vehicle; it really opens up the car. It's roomy enough for 5 adults over 5"11 to sit comfortably. There are lots of buttons that you must get used to but it's fun to know that there are lots of features those buttons control. Gas mileage for me has never been an issue because you have to spend money regardless of the kind of car, especially if it's a full size vehicle. I get 23-24 MPG. I drive highway all the time because my job is 33 miles away. Now that I have had the car for over 9 years though the transmission issue has become an issue of safety and I don't want to spend 4,000 to buy a new one and 500 to get put in. This is why I will be upgrading to a 09-11 model.
Primary Use: Commuting to work
maximabert

writes:
2004 Nissan Maxima SL
Review
Pros
Fast, comfortable, roomy rear seat
Cons
A new tranny at 88k? Need I say more?

Not Recomended, Get A Different Year, These Are Nice Cars, But Not The 2004. — This is a fun car to drive, fast, nice features. Why the low scores? At 80,000 I just sunk $3500 for a new transmission, this model year is notorious for bad automatic trannies - BEWARE! Get a different year model of this car.
Primary Use: Family transportation
Frank

writes:
2004 Nissan Maxima SE
Review
Pros
Power, Build, features and looks good
Cons
torque steering and sunroof
2004 Maxima — Acceleration and braking is great with the torque steering as a minus and the turning radius is less than average. It's a nissan so the car is lasting so far as most foreign cars are more dependable when you maintain it well. MPG is about 18-21 miles per gallon on average so its not bad...I think.
jcompguy

writes:
2004 Nissan Maxima SE
Review

Awesome Car - Sporty Yet Refined — I was impressed with the 2004 Nissan Maxima 3.5SE. I have been driving it as a loaner from a family member while my car is in the shop. Even with 102,000 this car is running strong and I believe shows the normal reliable Nissan reputation. The car's design is very modern and has the typical Nissan sport look but yet seems to be more on the side of luxury. Under the hood however, is all sport. With dual exhaust and a powerful 3.5 V6 the car is very impressive. The car is very fun to drive due to this fact if acceleration is important to you. Passing power is also nothing to worry about, in tight situations where going from 50 - 70 in a hurry is important, this car handles the task with ease. Inside the car is very sporty yet has a hint of luxury with leather, Bose audio, auto climate control, seat and steering wheel memory, heated steering wheel, etc... you'll find a lot of touches that are typically reserved for luxury cars. Also this car has the Nissan Skyview Skylights. Though they don't open to let air in (simply for light only) I have had many people comment on how they like the look from the outside and I've had almost all my backseat passengers comment on how they enjoyed having the skylight in the back as well. If properly taken care of, this is an awesome car that has excellent reliability.
Owner for 0 years, 5 months
Miles Driven per Year:10,000
Lflores72

writes:
2004 Nissan Maxima SE
Review
Pros
this car for a vq3.5 v6 is smooth,and very fuel efficient
Cons
is how much i paid to make her new again.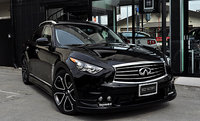 I Will Never Ever Trade Nissan/infiniti For Another Manufacturer — love the car as a whole leather heated seat,fast,added a few touches a double din kenwood. the only thing i despise is the fwd, and the heat of the engine coming into the cabin in the summer.its a load of fun ,and the color radiant ember is sexy,& the reason why i got her. she has 169k miles,replaced the transmission @ 120k just because,replaced the cv joints last yr, all 4 rotors,2014 i replaced both left,right side axle rods with seals upper n lower ball joints,shocks,struts,all four springs,rear camber original Nismo parts,ngk platinum spark plugs,head gasket seal just in case,valve cover gasket just in case,tension wheel and tensioner,belts,hoses, i my self flushed and replaced the anti freeze,change the oil monthly like clock work use only Mobile high mileage and lucas oil additive,replaced the oil pan seal,i only use mid-high grade gas only,every season change i replace the air cabin filter,and the air filter nismo parts only,...in one yr i've spent approx 5,500 dollars and well worth it. i have traveled from Pennsylvania to Massachusetts,to Kentucky,Atlanta Georgia,South Carolina,Virginia,and back to Massachusetts she has never left me stranded on the side of the road,comfortable,easy access to all buttons easy read console,also you can replace original wheels with any Nissan/infinity wheel package 5x144 bolt pattern. i have 245-45-r18's GoodYears the rims came from an 2012 7th gen Maxima i just painted them black...currently i use the car to go to school 20 min away and home...
Primary Use: Commuting to work
Scott

writes:
2004 Nissan Maxima SL
Review
Pros
Speed, styling, interior room
Cons
Fuel economy, broke down on 2 occasions
It's My Most Prized And Loved Possesion — Pretty fast in a straight line, handling isn't the best. Difficult to drift because its FWD Huge car, lots of interior room Beautiful Takes premium fuel and gets 19 mpg Decent enough to get by in the snow Maintenance isnt too expensive, Japanese cars are pretty cheap to maintain
Primary Use: Commuting to work
nelfig54

writes:
2004 Nissan Maxima SL
Review
Pros
Great car for long trips
Cons
being a six cilinder it always cost a little more to fill up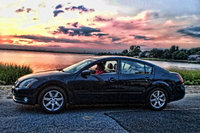 Lovely — Had this car for about 2 years, bought it from a relative who was getting a Lexus at the time. Love the looks and the feel of the car. Nothing beats those heated seats in New Yorks cold mornings. Drove it to Boston (500 miles two ways) on one tank and a quarter. Very confortable ride.
Aloha

writes:
2004 Nissan Maxima SE
Review
Pros
25K was a good price for a car of this class.
Cons
Torque steer, I dislike Eagle SE-R tires, 3 recalls
Look At Motor Trend Or Something Else To Find The Best In Class Cars — The Performance was good, with its VQ 3.5, but the FF layout made this car torque steer. Manu-Matic is fun and automatically shifts up after 6k RPM. Build Quality was a little less than I hoped for, some fit and finish problems near the console and passenger cabin. The Appearance was slick, but the midnight blue color begs to be cleaned often. It costs alot more gas than I thought it should but it was mostly for city drivin., IMO the car has problems with the engine mount and AC vents, especially on the passenger side. The Fun Factor is average, it feels somewhat unrefined and the sport suspension isn't too comfy on some bad Hawaii roads.
Primary Use: Commuting to work
Displaying 1 - 10 of 25 2004 Nissan Maxima reviews.
Looking for a Used
Maxima
in your area?
CarGurus has

18,897

nationwide Maxima listings starting at

$1,750

.