2004 Mercedes-Benz CL-Class
User Reviews
Average Ratings from

7

reviews
Performance:
Appearance:
Build Quality:
Overall:
Review Highlights
Click to filter reviews below
Displaying all 7 2004 Mercedes-Benz CL-Class reviews.
Dondi2

writes:
2004 Mercedes-Benz CL-Class 2 Dr CL55 AMG Coupe
Review
Pros
Neck-snapping speeds and quickness with 500 HP handmade engine. A ride unlike you have ever experienced. Smooth as silk. Engine sounds incredible. Best interior of all the Mercedes-Benz ever made. Touch shifting, auto start, park assistance are just a few of the cool toys every car company is copying now. Cruise control is the best ever. Dynamically slows your car down when approaching an auto in front of you. The car can automatically stop without you pressing the breaks. It can actually freak you out for a second. The brakes are so huge and can stop this pretty monster on a dime. Very roomy for a coupe too. Crowd pleaser.
Cons
Hard to find. Very expensive even at the used car lot. Expect to pay out of the nose for one of these. Gas is a con no matter what car you drive these days. This handmade V8 that kicks out 500 HP only uses high octane. If you get into any accident or need this car fixed, you will pay so much. The regular Mercedes-benz service won't touch it. They call in an AMG specialist to service your car. This can be three times more expensive than having a regular Mercedes-Benz serviced. And having any OEM car serviced is very expensive as is. I do not recommend to a friend or anyone just because this car is kind of impractical. You can get a CL 500 and look just as good, but won't go nearly as fast but you save money. And if you're a "minority" driving one of these expect to be frequently pulled over for no reason what so ever. Hey, I'm only telling the truth. Stick to your Ford Focus and you'll be fine.
Best Car Ever Made. — I love this car so much. Although she is a 2004, she is still faster than the heavier 2008 CL 63 AMG and better interior. She zips through traffic jams as if they weren't there. She is luxury at its finest. Talk about solid; this car is a tank. When the door closes you feel like you've been sealed inside a vault. The AMG has more airbags than any car in its class. And the roar of this engine alerts everyone to your coming. When fools pull up next to you in some sort of BMW or Rolls-Royce, you can leave them at the light wondering why they wasted their money. Girls love this car and Guys will always walk up to you with questions and admiration. The police stop you just to see the interior. Being a young man, old guys are so jealous when the see you in this. There were only 300 of these cars imported to the United states, a rare car.
Looking for a Used
CL-Class
in your area?
CarGurus has
721
nationwide CL-Class listings starting at
$4,990
.
DavidNS

writes:
2004 Mercedes-Benz CL-Class 2 Dr CL55 AMG Coupe
Review
Pros
One of the best looking cars ever.
Cons
Scary repair record but so far it has been reliable.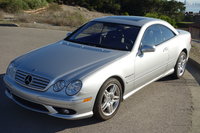 A Keeper On Looks Alone And Phenomenal For Grand Touring. — A very good looking car and is just about as solid as a tank. I've not owned it long, but at reasonable speeds it actually got about 24 mpg and that surprised me. It is in about perfect shape and that makes looking for parking a bit of a chore.
Primary Use: Family transportation
300SDLGUY

writes:
2004 Mercedes-Benz CL-Class 2 Dr CL600 Turbo Coupe
Review
Pros
PERFORMANCE, HANDELING, COMFORT, LUXURY
Cons
Fuel economy, maintenance costs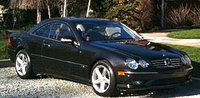 1 Or 1 2004 Cl600 Designo Espresso V12 Bi-turbo — This particular CL600 is the only one produced as equipped. Not only is it equipped with the $9500 designo package, but it has the optional AMG sport pkg, Distronic cruise control, upgraded sirius equipment, and unlike many coupes it did not have the parktronic sensors deleted for credit. It is hard to find any other coupe available in the US that can rival this car, in fact it hard to find ANY car in the US that rivals this car overall. I have the Sedan version as well and prefer its higher comfort factor over any marginal gains the lighter, shorter coupe version might provide. Unfortunately, like the sedan this car wasn't cheap to purchase, and maintenance costs are not inexpensive if kept by the book as I do, but nobody should be surprised about this, at the end of the day its a trade-off I am willing to accept.
Primary Use: Commuting to work
tonyj61

writes:
2004 Mercedes-Benz CL-Class 2 Dr CL55 AMG Coupe
Review

Affordable Super Car — Must drive to appreciate Mercedes Engineering. This car has 3 power modes for cruise, city and sport. Rubber seals and air sealed actuators in doors keep road noise to a minimum. Adjustable height for high parking curbs. If you can think of it...the car has it.
Primary Use: Sport/fun (spirited driving, track racing, off-roading, etc.)
Ian

writes:
2004 Mercedes-Benz CL-Class 2 Dr CL55 AMG Coupe
Review
Cons
Repair bill pricy, be sure to have full insurance coverage.
Cl-55 Amg, Pure, Refined Power. — The Mercedes CL-55 AMG is and outstanding car. It has 493 BHP and a 0-60 time of 4.7 seconds. But it's not the only fact that its fast, but it's also luxurious, with leather trim and a Bose sound system factory installed. This car is one of a kind with AMG rims that came with the car have been chromed. 40,000 miles on a 5.5 liter V8 supercharged engine. This is one 120,000 dollar (2004 cost) coupe sure to never let your expectations down.
Stuart

writes:
2004 Mercedes-Benz CL-Class 2 Dr CL500 Coupe
Review
Pros
Smoothest ride of any car I ever had
Cons
Don't break anythign that's not under warranty
I Loved It — I have owned many luxury cars from Audi, BMW and mercedes and thsi car had the best smoothest ride by far and yet it still handles like a (big) sports car. All the fit and finish of the car were top shelf and luxurious. The only reason I got rid of it was my yen for a conveertble. I traded it on on an SL500 and now have an SL550. I loved them both as well, and they have the obvious advantage of top down motoring, but they don't ride like the CL.
Primary Use: Commuting to work
Noushin

writes:
2004 Mercedes-Benz CL-Class 2 Dr CL500 Coupe
Review
Displaying all 7 2004 Mercedes-Benz CL-Class reviews.
Reviews From Other Years
Powerful Highway Cruiser
Despite it's "a-little-bit" clumsy outlook,inside it's just absolute luxury.Don't expect sports car handling.The 5000cc engine will give u all the power you need Read More
Read all 1998 Mercedes-Benz CL-Class reviews
I Absolutely Love This Car, Even At 14 Years Old.
I like most everything about W215 CL500. The performance is descent, handling is superb, It still gets attention even at 14 years old. The ABC suspension is a remarkable suspension. Though it can also... Read More
A Car Like No Other.
I absolutely love my CL500. I love it's ride, it's features and definitely it's looks. I get compliments on it all the time. Performance is good for it's size. The power assisted closing doors and tru... Read More
Read all

5

2000 Mercedes-Benz CL-Class reviews
Fast & Furious
I absolutely love this car and it is the fastest thing I've ever owned. No one believes me when I say it's a 2001.... But that's how a timeless Benz can be. I feel like a superhero when I drive this c... Read More
The Black Beauty
Love it one of the best cars I've ever had, very smooth and powerful, always catches peoples eyes and is beautifully styled could be better on gas but what can you expect from a 360hp car. always brin... Read More
Read all

7

2001 Mercedes-Benz CL-Class reviews
Very Elegant Sporty Car
I have owned the car for 10 years and i have been very happy with it. will buy another one. great on road trips although also handles well in traffic. good visibility and traction. very powerful engin... Read More
10/10
the car is fast you can pull off a 0-60 in just under 4 secs', its a 5L car so dont be fooled in thinking its jus like any other merc! this car can go when you want it to! Read More
Read all

3

2002 Mercedes-Benz CL-Class reviews
Great Car
sportive family car. it is a 2+2 seater only, however suitable for a small family. acceleration, braking, handling always gives the feeling of safe and fun driving. the comfort and support systems... Read More
All The Style And Performance One Needs.
This car has been a joy to own. After 10 years, and 60,000 miles it still looks and feels like a new car. It still turns heads, and people assume it is a very expensive car. For the most part, with ... Read More
Read all

10

2003 Mercedes-Benz CL-Class reviews
Looking for a Used
CL-Class
in your area?
CarGurus has
721
nationwide CL-Class listings starting at
$4,990
.