2004 Ford Mustang
User Reviews
2004 Ford Mustang
Review Ratings
Average Ratings from

104

reviews
Performance:
Appearance:
Build Quality:
Overall:
Review Highlights
Click to filter reviews below
Displaying 1 - 10 of 104 2004 Ford Mustang reviews.
Jeremy

writes:
2004 Ford Mustang Mach 1
Review
Pros
Plenty of power and performance straight from factory. Plenty of room for upgrades.
Cons
Sucks down premium fuel like no tomorrow
In A Nut Shell — Plenty of power and performance straight from the factory. The 32 4.6L V8 leaves more than enough room for upgrades and perfromance. Only downside is it guzzles down premium fuel like there is no tomorrow. Overall it is an amazing car that any kid my age would love to own. Very fast and very powerful.
Looking for a Used
Mustang
in your area?
CarGurus has

32,761

nationwide Mustang listings starting at

$1,450

.
Anthony

writes:
2004 Ford Mustang Base
Review
Pros
Price, looks, performance, drivablilty
2004 Base Mustang — I bought this car in June of 2007 with 29,000 miles on it. It was built in August of 2003. It has a 3.8L (232 ci) V6. It produces 193 horsepower and 225 lbs/ft torque. It also came with a 5 speed manual transmission. It produces enough power to be a fun little car, that can easily be daily drive and still look nice. Also there is a large after market for the Mustang that allows for easy customization of the car. The breaks are sufficient along with the handling though some say its too floaty for a sports car. This is fixed on the GT model. Acceleration is quick with 2nd gear at 55, 4th at 115. The car tops out at 125+ mph with the governor off. The quality is good. Everything is tactile, though cheap. The radio is decent, and the seats are comfortable though fitting more than 4 in the car becomes difficult. The trunk is decent as well, not offer too much room but enough for a pair of golf bags. Like any Ford it does not like the winter or the cold. It squeaks though those are easily tuned out by the engine. The only repairs it has needed was a new serpentine belt at 60,000 miles, and of course regular oil changes Appearance is classic American Muscle coupe with a long hood and short rear deck and spoiler. Cost is cheap. It gets about 16mpg in the city and 29 on the highway. Maintenance is cheap as well, just basic up keep. The Fun Factor for the car is decent. It's fun, quick, and a sporty car for the value
Angela

writes:
2004 Ford Mustang Mach 1
Review
Mach 1 Mustang Review — Wow! I love this car and I wouldn't trade it for any other. Performance: V8, 32 Valve DOHC has excellent acceleration, and good braking. I don't complain about the handling though I would not recommend this car for wet weather. It isn't the fastest car in the world, obviously, but it's one of the rare newer cars that has that old school muscle feel. There are bigger engines with more horsepower but being lightweight this Mach can outrun many. Build Quality: I have owned mine for going on 2 years and so far I have had no problems. Appearance: This is where the car really shines! What a beautiful Mustang. It wins at car shows almost everywhere. Ford put retro touches all around, including the famous shaker hood. It is a serious blast from the past! If you can't afford a pristine looking classic muscle car but want one, then get an 03-04 Mach 1. Cost of Ownership: It depends on the owner as always. I don't abuse my car so it hasn't cost alot to maintain. It does require 92+ octane fuel so all of that premium gas can cost you. Put a nice rumbling exhaust on it and you will want to accelerate hard and there goes the budget for gas. Insurance may be costly for higher risk people, at my age this is not a problem. I am choosy about the car and I use only Mobil 1 synthetic oil so oil changes cost a little more. It isn't an expensive car, but you will be tempted to 'mod' it and all of those modifications will add up. Modifications would be optional, of course. Fun Factor: In my opinion, it just doesn't get much better than this car! It gets mucho 'smiles per gallon'! This is a car that can make a bad day into a good one ;)
drumchick

writes:
2004 Ford Mustang Premium
Review
Pros
Fun to drive, handles well, and has "giddy-up" when you want/need it!
Cons
The only downside is for the backseat riders. Not for 4 large-sized adults going any distance.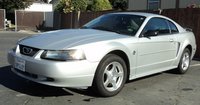 Every Girl Wants A Pony To Love! — I could carry my full drumset in this car, much to people's amazement. (Most in the trunk, bass & floor tom in the backseat.) It is more fun than a "practical" car, and more practical than you'd think a sportscar would be. Never gave me a lick of trouble, always very reliable but also said "fun". All I had to do was take her in for regular oil changes and manufacturer's maintenance, and she did her job well toting me around. Just like the namesake, the Mustang. It's probably the best named model of a car ever!
Primary Use: Commuting to work
Brett

writes:
2004 Ford Mustang GT
Review
Pros
Power, Style, RWD, Handling, V8
Cons
Stock exhaust is too muted, 2 valve head design is inefficient
Great Sporty Used Car — Performance: The Ford Mustang has always been known it's great sounding engine, and the 2004 GT is no exception to the trend. 260 horsepower and 303 lb/ft may not sound like a lot, but this car is rather deceiving it's power delivery. Because of it's light weight and small proportions, one is easily lead to believe, especially when comparing to more modern autos, that it's putting out much more grunt from under the hood. It's not ballistically fast, but the mustang is definitely a quick car, with 0-60 happening in fewer than 5.6 seconds. The 5 speed manual is fairly precise, but the throws are somewhat long and a little on the rubbery side. It just doesn't click into place like it could. However, with all that said, I wouldn't want the car without it. Handling is certainly great, and is especially good considering the continued usage of the solid rear axle. It grips the corners well and steering feel and turn in prove to be pretty sharp.
Primary Use: Commuting to work
Michael

writes:
2004 Ford Mustang Mach 1
Review
Cons
kind of poor interior from industri
Mustang !!!! :o — performance: medium acceleration, abs sys medium braking, good handling, fantastic traction... build quality: amazing car dont need any repairs appearance: good interior, excellent extirior, amazing sound sys. mach1 sound cd box 6 powered speakers... cost of : 100km/h, very good fun: try it and see ;)
Primary Use: Sport/fun (spirited driving, track racing, off-roading, etc.)
James

writes:
2004 Ford Mustang GT Deluxe
Review
Pros
The ac, handling, and heat good powerband.
Cons
Water likes to hang on the roof. It tends to dip inside with the windows cracked.
Great Car — Great car. Low end power its ok. Really need a set of gears to getting going on the take off. The car hp wise runs otta steam after 400rpms. Thats where it makes ots max hp an tq. Handling is great. Car will roll on the hwy. I have personally taken my car to 140 on the hwy before having to switch to fifth gear.
Primary Use: Commuting to work
Joseph

writes:
Pros
It's an amazing vehicle
N/a — This car handles great, runs great, and sounds great. I recommend this vehicle to anyone that loves american muscle. The V8 gives off a lot of power especially as a standard transmission. The greatest thing about this vehicle is that it is very easy to work on and the job shouldn't take days to complete. This vehicle is reliable and functional for any purpose.
Primary Use: Sport/fun (spirited driving, track racing, off-roading, etc.)
Chris

writes:
2004 Ford Mustang Mach 1
Review
Pros
For that new age American muscle feeling
Cons
Winter...Need I say more
Very Good Bang For Your Buck! — Strait from the factory this machine puts out 310 hp, and 335 lb/ft tq. at the crank. Acceleration is pretty impressive, it will pull hard from 0-130mph. The car comes stock with sub frame connectors so off the line you will have no problem hooking up. This car comes standard with the cobra brake system so when you need to stop on a dime it'll do nothing short of that. As far as purchasing aftermarket parts for this car, bolt-ons will not really do awhole lot other than make the car louder. I already have almost 2k into my car. Steeda CAI, Steeda Underdrive pulleys, Steeda tri-ax short throw shifter, Bassani O/R x-pipe, Borla Stingers cat-back exhuast, and a Diablosport Predator Tuner. To be honest, the only thing that I have noticed a power gain from was the tuner. What this car really needs is forced induction, i.e. a supercharger, turbo, or nitrous. I have required no repairs since I have owned the mach. Although my 3rd gear sychronyzer is starting to go, and my clutch is starting to slip a little bit. However I do push her pretty hard on the weekends and at the track. The interior is pretty simple, the black leather seats are very comfortable. Exterior is very unique and stylish. I have been known to get 26+ mpgs on the highway. As far as city driving goes, you better be ready to pay, not to mention the car requires 91 or higher octane. The fun factor is always there, put it this way, you will never hear me say that this car is not fun to drive.
Primary Use: Sport/fun (spirited driving, track racing, off-roading, etc.)
Shawn

writes:
2004 Ford Mustang GT Premium Convertible
Review
Pros
i would buy another one just to say i have two!
Excellent Car — over all 5 stars! its fast fun and a cop magnet! haha a little heavy tho because its a convertible. Will leave a 50ft patch of rubber without even trying! putting the top down on a nice sounding car is one of the best feelings in the world!
Primary Use: Sport/fun (spirited driving, track racing, off-roading, etc.)
Displaying 1 - 10 of 104 2004 Ford Mustang reviews.
Looking for a Used
Mustang
in your area?
CarGurus has

32,761

nationwide Mustang listings starting at

$1,450

.